Director of National Intelligence visits FIU
The intelligence community "will not be able to address the challenges of the future unless we've got a talented and diverse workforce," the director of national intelligence told FIU students studying to enter the field. 
September 27, 2021 at 3:43pm
---
On Sunday, September 26, the Honorable Avril Haines, director of national intelligence (DNI), visited campus for a conversation with President Mark B. Rosenberg focused on sharing the mission of the intelligence community and career opportunities in the field with FIU students. They also discussed several current national security issues like cryptocurrency, climate change, election interference and China.  
The United States intelligence community (IC) is a group of separate government intelligence agencies and subordinate organizations that work separately and together to conduct intelligence activities to support the foreign policy and national security of the United States. Member organizations include intelligence agencies, military intelligence and civilian intelligence and analysis offices within federal executive departments.
Rosenberg, who is an expert on Latin America, and Haines discussed topical issues about the region, particularly regarding Venezuela, Cuba and Nicaragua. Haines spoke about challenges the IC is focusing on such as migration and transnational organized crime, among others. She spoke not only of efforts to find effective solutions to immediate crises but work to uncover the drivers of these challenges.  
"Many countries in the region are our partners. These are countries we work with to promote health and security throughout the hemisphere," she said.
Haines is the seventh DNI and the first woman to hold the cabinet-level position. She serves as the principal intelligence adviser to the President of the United States. 
"This is my first appearance at a university," she told the students who came to listen to her speak at FIU. "The reason I'm here is because there is talent here. I'm interested in bringing that into the IC."  
Haines started her tour of FIU with a stop at the Critical Technologies and Intelligence Open Source Lab on campus, where student fellows in the FIU's Intelligence Community Centers for Academic Excellence IC-CAE Intelligence Fellowship Program shared their research on critical topics of interest to the IC. She also engaged with the new cohort of about 40 student fellows in a private social engagement.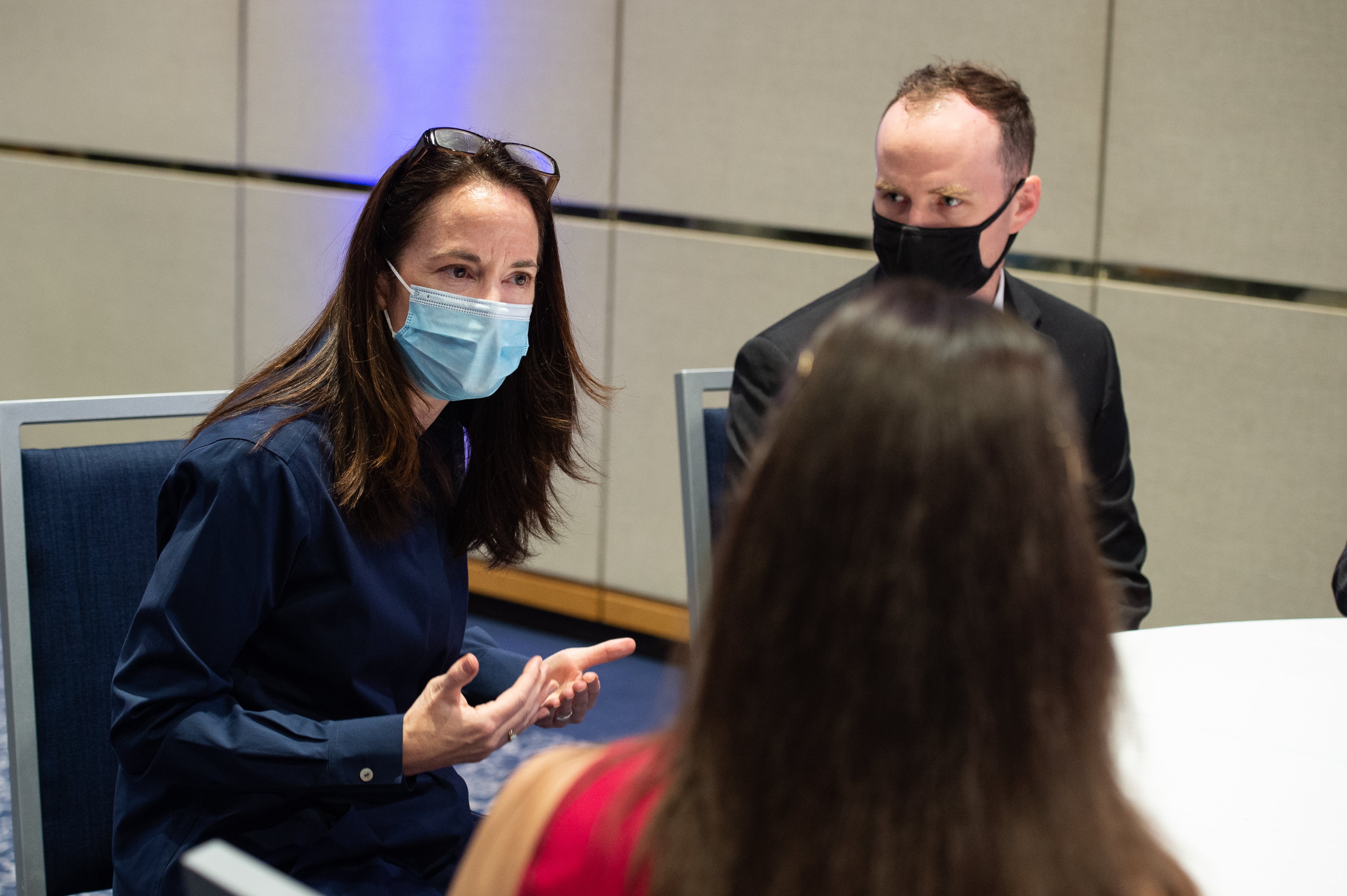 "As a first-generation student, being able to talk to DNI Haines solidified that a career within the IC was possible for someone with a diverse background like myself," said Scarlett C., a junior in the fellowship program. [Students pursuing careers in intelligence must typically not be active on social media or online, so her last name has not been shared.] "I look forward to working in a diverse workforce with others who strive to advance national security further to safeguard this nation." 
Led by the Jack D. Gordon Institute for Public Policy, the IC-CAE fellowship is a one-year workforce development program that prepares students to be the next generation of intelligence professionals. FIU was one of four pilot institutions designated as an IC-CAE school by the Office of the Director of National Intelligence in 2005.  

"We look for diversity in a variety of different forms and geographic diversity is a piece of the puzzle," Haines said. "We want to get to the best talent wherever they are." 
During their conversation, Haines and Rosenberg also shared their thoughts on good leadership. Haines suggests listen to your team, have strong ethics, and be authentic.
To watch the recording of the fireside chat, click here.