FIU is the proud keeper of Miami's history
Recent bequests by a descendant of Miami's founders confirm FIU's commitment to serving the future by safeguarding the past
---
The great-granddaughter of Miami pioneers Mary and William Brickell visited campus today, on the city's 125th birthday, to call attention to a trio of recent bequests and a thriving relationship with FIU that she plans to keep going.
"This is going to be a continuum," the descendent of the famous pair told a roomful of wellwishers that included President Mark B. Rosenberg and Miami-Dade County Mayor Daniella Levine Cava. "We want to bring out as much of the Brickell things as we have, and I have quite a bit."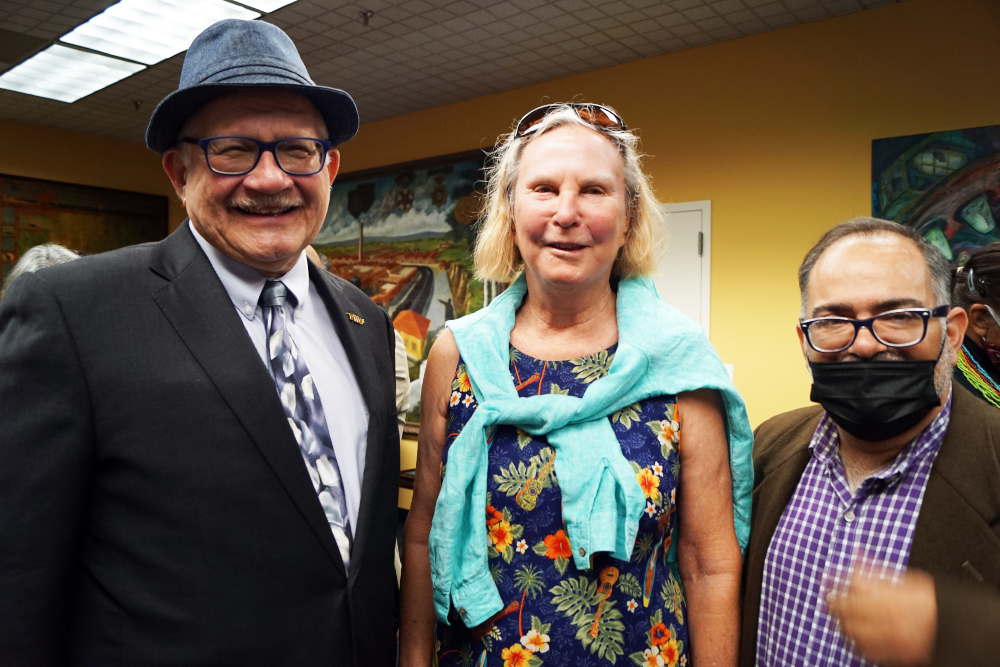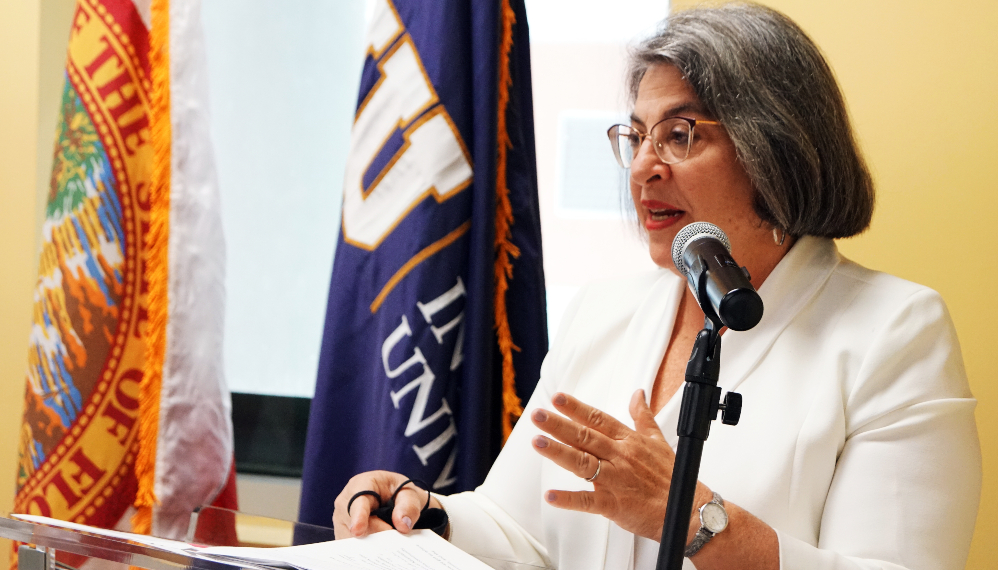 With those words, Bea Brickell acknowledged the university's decades-long commitment to safeguarding the history of the city of Miami, a place her ancestors helped found and whose early work launched a future metropolis. The university holds the world's largest Brickell legal and personal archive.
Bea Brickell months ago delivered to FIU Libraries a mahogany loveseat along with two gold-weight scales used in the 19th century at the Brickell trading post, a harbinger of Miami's current status as a major international financial hub. The gifts now resides among the myriad historic treasures that call FIU home. Under the direction of longtime librarian and archivist Althea Silvera, the Special Collections department over the years has amassed some 90 individual collections—valued at several million dollars in total but considered priceless—many of them holding significance around the rise and growth of Miami.
Among the ephemera that tell the profound story: tintypes and historical photos of local families; mortgages and bills of sale for parcels on which homesteads were built; 1920s plat books that divide land in advance of developing the first planned neighborhoods; deeds and wills belonging to early settlers of means; diaries and letters that reveal early life in a place that once claimed more palm trees than people.
Taken together, the assemblage provides a portrait of how a city and the surrounding area came to be. Often honing in on a specific community or particular individual, each collection ultimately contributes to a greater whole.
"I want the collections that speak to each other," Silvera says of her approach to gathering troves that collectively weave a rich history. She has been with the university for 34 of its 49 years and personally brokered many of the donations that fill its shelves. "I want Dana Dorsey [Miami's first Black millionaire], who speaks to Mary Brickell, who speaks to Marvin Dunn's collection [Black Miami history], who speaks to Mattie Belle Davis [the county's first woman judge], who speaks to FIU University Archives [documentation of the founding and growth of the institution]."
All of that and more now lives at FIU. Collections that reflect the Cuban-American community's contributions as well as materials about the Tequesta tribe's burial site in downtown Miami, for example, add to the narrative of a city and region with a past that predates white settlers and a future likely to include multiple new iterations in the years ahead.
Professional researchers and regular folks alike can access the holdings, whether physically, in person—on the fourth floor of the Green Library at MMC, which maintains a climate-controlled storage area for fragile books and papers—or digitally, online. Among the most visited: the Enrique Hurtado de Mendoza Collection of Cuban Genealogy.
Aside from making available thousands of historical documents as well as recordings, audiovisual materials and even some artwork, the library staff's most important function rests in providing context around such things, says Rhia Rae, FIU Libraries' digital archivist and someone responsible for sharing as many available details as possible—or even ferreting them out herself—about the items that come her way. People will look at something in a collection, Rae says, and wonder, "What is the meaningfulness of this in the context of Miami, in the context of South Florida?"
Appreciating such context, Professor Dennis Wiedman for 10 years took graduate students in his advanced research class to see Silvera as part of a workshop on how to fully utilize collections in support of scholarship.
"It's just not going in and looking at some notes that somebody made in the past but try to connect all the possible information pieces around it, including the acquisition and where it came from," Wiedman explains, "and that's why it's important to have a very informative archivist. I would say that the broader value is to have knowledgeable staff who can then support the researcher but also lead them in directions to other things that are in the collection or to other people or other collections elsewhere in the world."
Professor Emeritus Marvin Dunn has written several books about the history of Black Miami as well as led archaeological excavation in the Florida town of Rosewood, site of a horrific race massacre in 1923. Like several other FIU faculty who have conducted high-level research for publication, Dunn presented FIU with his notes and source material and, separately, items such as a railroad spike and recovered pottery from the controversial dig. 
Says the man who has spent a lifetime unearthing history, both figuratively and literally:
"Unless we have those kinds of things in an archive, in the hands of the university, then they can get lost. FIU isn't going anywhere. This or that organization can be gone next year, 10 years, 100 years [from now]. FIU's going to be there. That's why I gave the university virtually everything that I have."