Wine lovers, rejoice: experts gather at FIU to name best American bottles
Close to 1,000 bottles of wine uncorked for the event
---
How many times do you go to the store and just stand there trying to figure out what wine to buy? Well, wonder no more. America has named its top fine wines after a world-class competition held at the Chaplin School of Hospitality & Tourism Management on the Biscayne Bay Campus.
More than 550 wines from 125 wineries competed for top honors at the American Fine Wine Competition (AFWC), an invitation-only event, where a 28-member blue-ribbon panel of judges sipped, spit, and tasted their way through bottle after bottle of wines made only in America.
"At AFWC, we look for the very best wines the country has to offer, and so they must be vetted before being invited," said Shari Gherman, AFWC co-founder and president. "This year was challenging since the country was pretty much shut down. But with some creativity, we persevered, and as one can see by the results, we found stunning wines yet again," she added.
In total, close to 1,000 bottles were unloaded, sorted into "flights" by varietal or grape and later poured by FIU students, who served as "Wine Angels" at the 14th annual, three-day competition.
"Wine Angel" Leeanne Grunow is a senior in the hospitality management program and took part in the event execution, which was also a one-credit course called a POD or programming on demand. The course is held once a year and is open to all FIU students.
"We organize the entire event, from invitations to planning who will be pouring the wine, as well as basic event details including floor plan and marketing which is very useful for students interested in event planning as a career," said Grunow, who is a senior in the Chaplin School's 4+1 program. "Aside from that, we have a strong connection with the winemakers. So, anyone who is interested in the science of brewing and fermentation can connect with all of the wine makers to explore further opportunities."
In fact, wine industry educators, restaurateurs, retailers, journalists and top sommeliers from across the country were among the 28 judges, including WSVN-TV anchor Belkys Nerey, who said drinking the wine is much easier than judging it.
And the winner is?
It was a tie for Best of Show Red Wine and Best of Show Sparkling - the Sparkling wines were from the same winery. There was also a tie for Best of Class Riesling. 
"One of the most fantastic things about the American Fine Wine Competition is that Shari, the founder, works so closely with the different wineries, which gives the student volunteers a direct connection to reach out to the wineries all around the country about internships and job opportunities," said Grunow. 
So, no more trying to decipher which red or white to go with. Here are THE TOP WINES OF 2021.
BEST OF SHOW
Sparkling Wine - TIE
Domaine Carneros N.V. La Reve, Carneros $120
Domaine Carneros, NV Ultra Brut, Carneros $48
White Wine
Thomas George Estates, 2017 Belle's Blend (Grenache Blanc, Viognier), Russian River Valley, Chalk Hill $25
Red Wine - TIE
Papapietro-Perry, 2018 Campbell Ranch, Pinot Noir, Sonoma Coast $63
St. Amant, 2019 "The Curmudgeon", Syrah, Amador County, $21
Sweet/Dessert Wine
Ferrante Winery, 2019 Vidal Blanc, Ice Wine, Grand River Valley, OH, $30
Sake
SakeOne, NV Niigata, Willamette Valley, Oregon, $60
More winners still to be announced
The judging isn't over yet. For the very first time, the American Fine Wine Competition is expanding to include Rosé with The Rosé Competition. That event took place on June 18 and results are still pending. 
Proceeds from this year's event, which included a public wine tasting at Cerveceria La Tropical, benefit End Childhood Hunger and the Chip Cassidy Endowment Fund. Patrick "Chip" Cassidy was a beloved FIU professor and a foremost expert in wine education. The endowment ensures the sustenance and prominence of the Chaplin School's wine program. More than $1.1 million has been raised to date.
For a complete list of winners, please visit the American Fine Wine Competition website.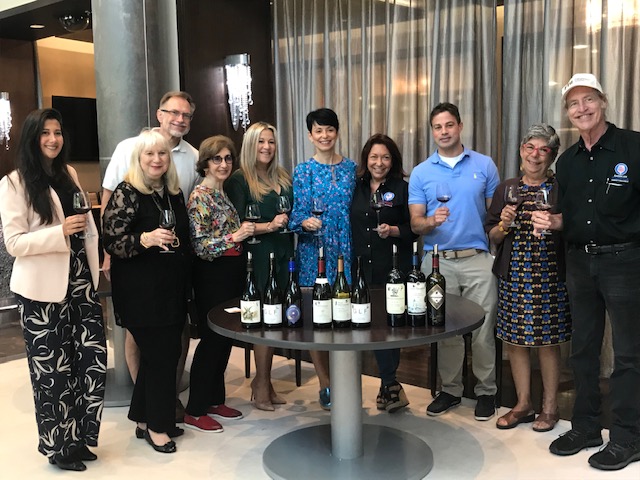 Members of the media with FIU professor William Hebrank (on right), AFWC founder Shari Gherman (fourth from right), and Chief Judge Greg Miseyko (third from left) at the American Fine Wine Competition press judging.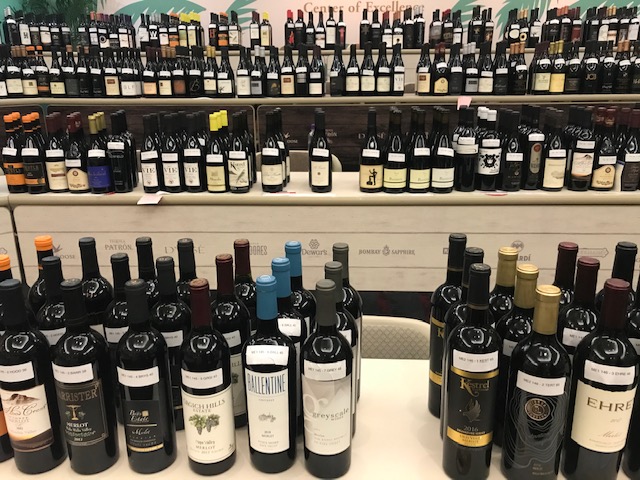 More than 550 wines from 125 wineries are judged during the three-day competition held at the Southern Wine and Spirits Beverage Management Center at FIU's Biscayne Bay campus.