Transformation Contest winner shares her transformative experience
February 10, 2021 at 2:30pm
---
By Kamisha Kumarasri 
I've learned that sometimes opportunities that are meant for you fall into your lap. A trip to D.C., as a result of winning the Office Of Global Learning'sTransformation Contest, was one of these opportunities.
As a biology major, I felt I had no business in D.C., but since political affairs interested me, I decided to apply. Charged with the task to creatively describe a global experience that transformed me, I wrote about a visit to my parent's homeland, Sri Lanka. The trip inspired me to engage in advocacy in my community. With my story compressed into a two-page essay, I won a seat to D.C.!
I was excited to visit D.C., but it quickly changed with the pandemic. Fortunately, it was soon rescheduled for a virtual fly-in. 
On the first day, I met the other winners who hailed from a mix of degrees, including biology, political science, international relations and cultural studies. For three days, we met people from institutions such as Oxfam America, the United States Institute of Peace, the Department of State, and Eric Feldman from FIU in DC.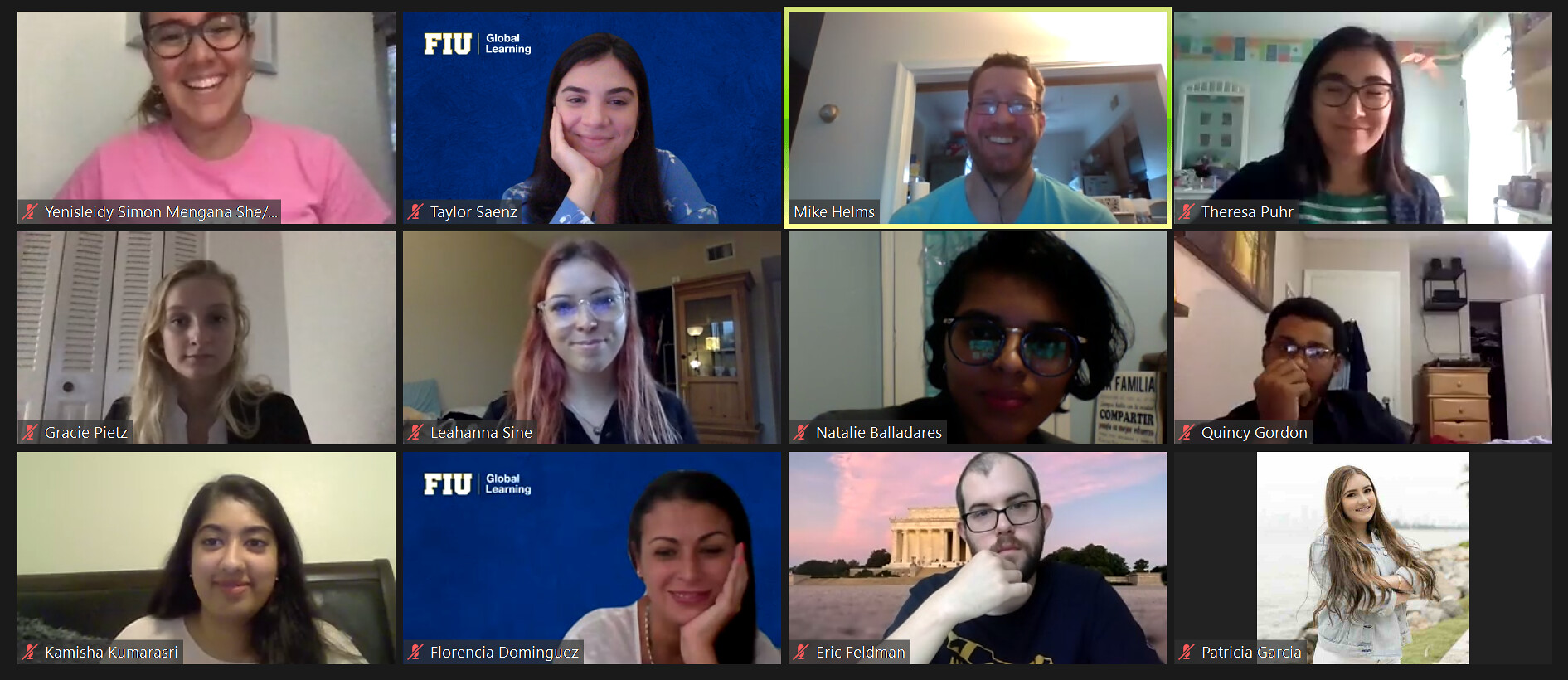 The thought-provoking conversations stirred a change in me. Each speaker left us empowered and inspired to do the things we aspired to. They shared how they got their current positions, and I found that not one person had a smooth journey. There were bumps in the road, but they all got past them. Above all else, I learned that no matter the type of work, they enjoyed what they did.
The most impactful session was a virtual tour of D.C. led by Eric. We "walked" the streets of D.C. with him, visiting different governmental buildings and meeting the people and alumni who work in them. I wanted to be there.
During Eric's walk, we discussed the power of a vote. As a non-citizen, I always felt I had no choice but to watch elections with no way to contribute. But Eric shared that anyone can positively influence others. This inspired me to see my calling as wider than science alone.
Since the fly-in, I've become a DC Hamilton Scholar, interned for Congressman Darren Soto (FL-9), and explored health, immigration and environmental policies.
What started as sharing a transformative experience for a contest has led to a new transformative experience and helped uncover a different side of me. 
---
Applications are now open for the 2021 Transformation Contest.
Kamisha Kumarasri is a Global Learning Medallion & Honors College student majoring in biological sciences with a minor in political science. She was a 2020 Transformation Contest winner & DC Fly-In participant.