Yes, that's skunk taste in your beer. Students are learning why in hospitality science elective
Created in class, six student beers to debut at North Miami BrewFest Nov. 13
November 3, 2021 at 1:54pm
---
Did you know there's a skunk taste in some beers that ale lovers can't live without? Could you tell a malbec from a pinot noir in a blind taste test? Should you use hot water instead of boiling water when you make beer?
These are some of the lessons students taking science as an elective are learning about at the Chaplin School of Hospitality & Tourism Management.
This semester for the first time, Wine Sensory & Perception joins Brewing Science and Introduction to Wine and Food Pairing in the course catalog as a fulfillment of a science elective for students studying liberal arts, interdisciplinary studies or hospitality management.
"It's a modern approach to wine and beer education while allowing for the ability to fulfill the science graduation requirements in a new and different way," said Brian Connors, assistant teaching professor and director of the FIU Bacardi Center of Excellence.
The science elective does not count toward the University Core Curriculum requirements that every student must fulfill to get their undergraduate degree, but the unique food and beverage classes do count as an elective for some students toward graduation.
"I never brewed anything before," said Ricardo Saint Fleur, a biology major in the College of Arts, Sciences & Education (CASE), who is taking brewing science as a science elective this semester. He is scheduled to graduate this December and decided to finish off his education with a twist. "I wanted to know more about beer, and it was something I was interested in," he added.
Saint Fleur and his lab partner, Emilio Santisteban, who is pursuing his graduate degree in hospitality management, created their own German beer, which they plan to serve at this year's 2021 North Miami BrewFest. The one-day festival, serving up craft brews and bites, started at FIU's Biscayne Bay Campus nine years ago. The event is now one of the largest beer festivals in the state — featuring more than 30 South Florida breweries and more than a dozen area restaurants, including FIU's popular and only student-run restaurant, the FIU Bistro.
The German beer will be one of six student beers that will debut at the North Miami BrewFest scheduled for Nov. 13 at the Museum of Contemporary Art Plaza on 125th Street in North Miami.
So why is beer-making and introduction to wine so popular? For Professor and Harvey R. Chaplin Eminent Scholar Chair in Beverage Management Barry Gump, who teaches brewing science, it's all about one word: "beer. It's a very popular beverage."
Earlier in the semester in his class, students taste-tested six different beers to smell and taste for skunk. That's right, skunk smell and taste, the phenomena which Professor Gump explains is the harsh bitter finish and musky aroma that happens when light interacts with the hop compounds in a bottle in a certain way.
"If you smell it and taste it, you say yes, this smells like something coming from a park up north. You don't want to have skunk, but if you take it out, people will complain and say — 'hey, my beer is different,'" he added.
For Santisteban, the class is also a conversation starter and potentially a future career.
"The process of making beer, just learning about the trade, and learning to make beer on my own is something I wanted to do," he said about taking the class. His advice to others, "I'd say do it. It's fun and you develop an appreciation for beer," he ended.
Brewing Science and Wine & Sensory Perception will be offered again in Spring 2022. The classes are open to anyone 18 years of age and older, even those who are looking to just have fun. To learn more, visit hospitality.fiu.edu for more details.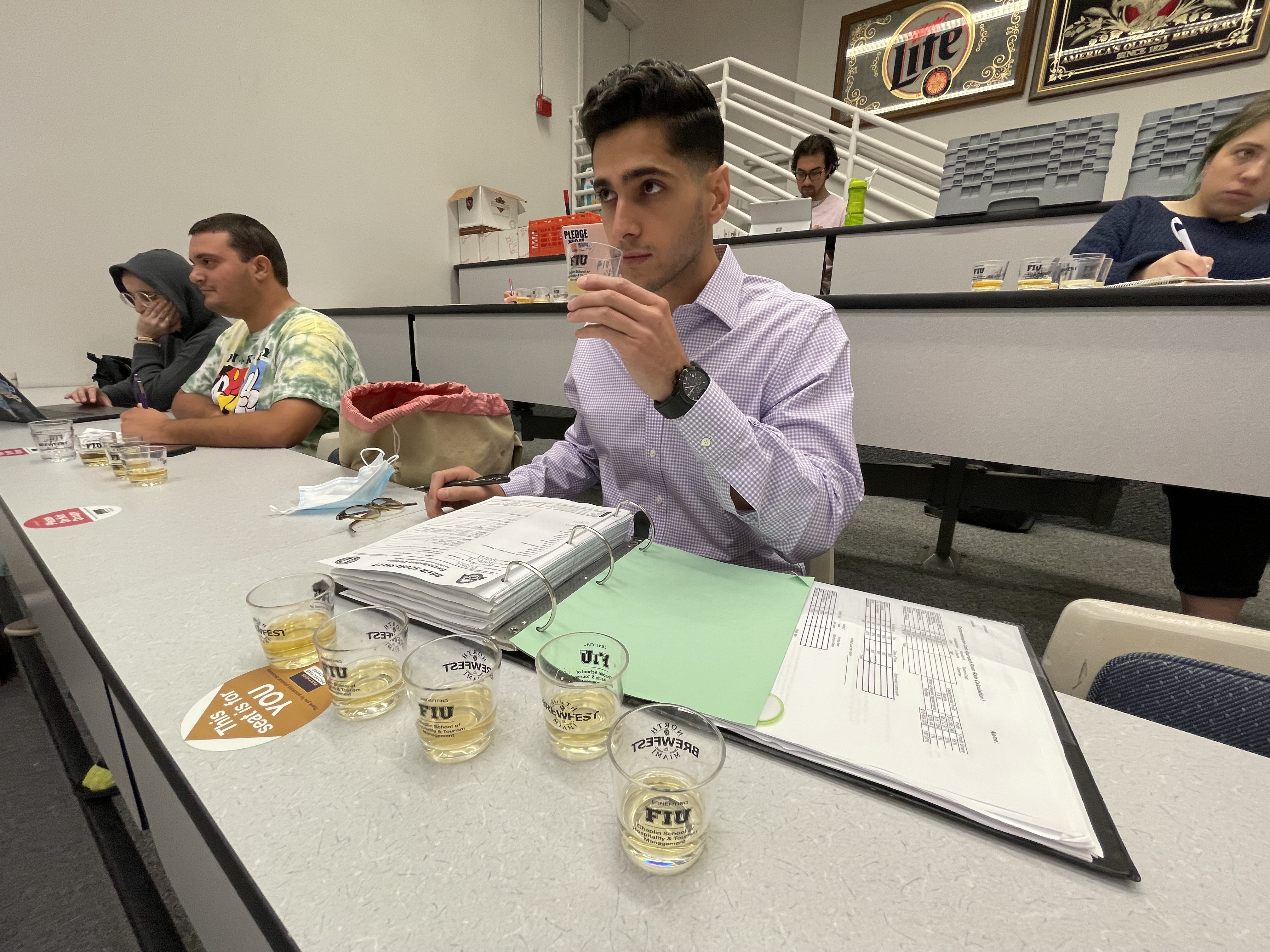 Hospitality management student Emilio Santisteban smelling for "skunk."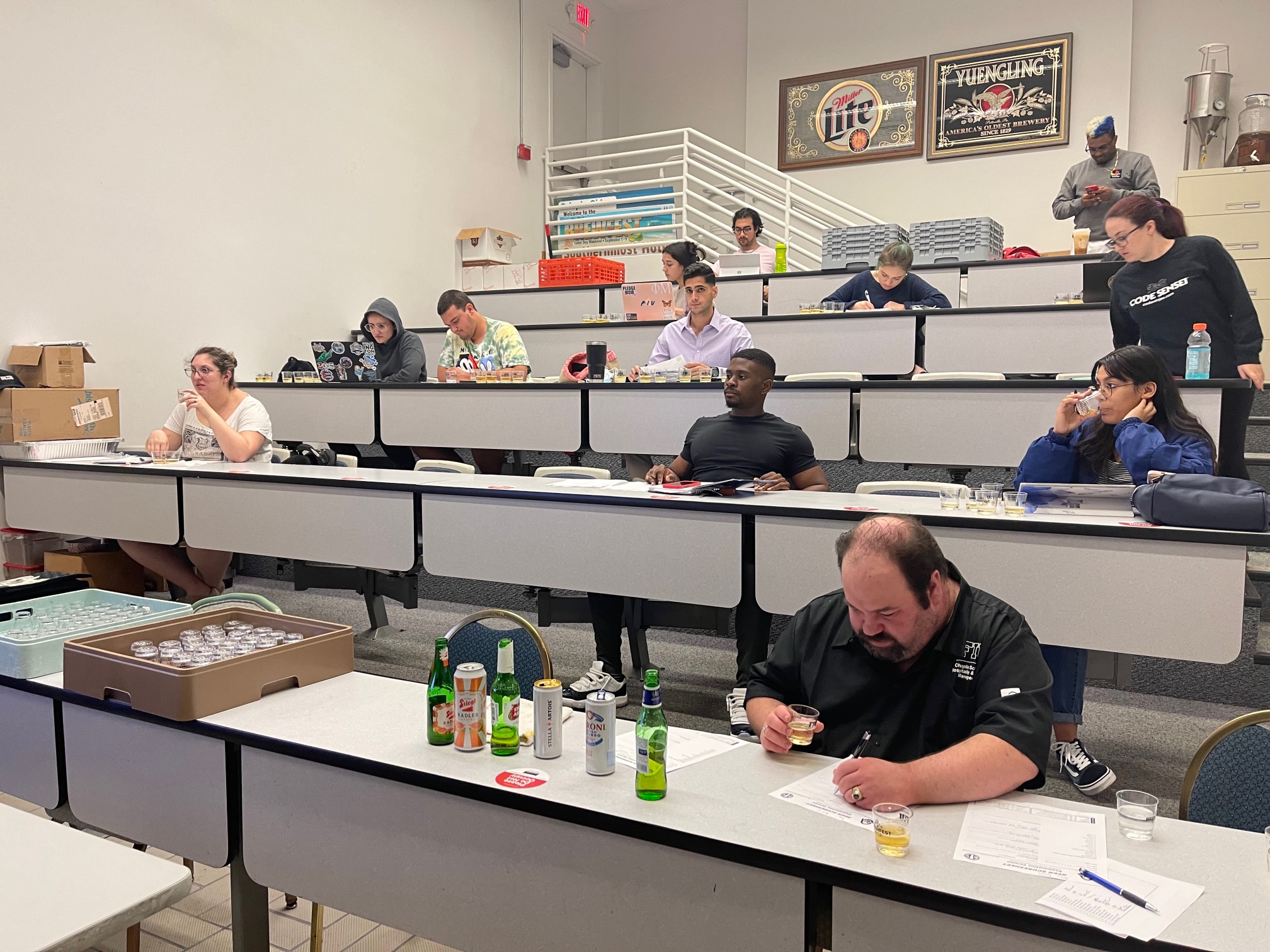 Biology major Ricardo Saint Fleur (second-row center) in Brewing Science class, which he's taking as a science elective.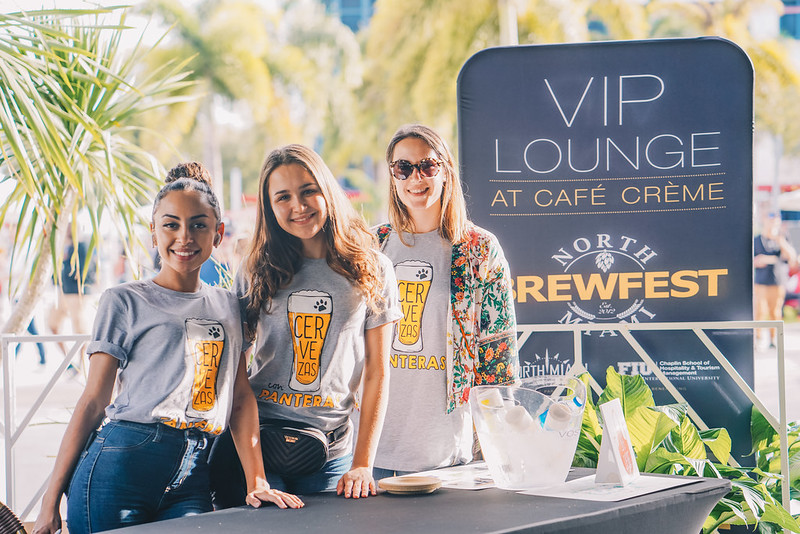 FIU students volunteer and share their beers at the North Miami BrewFest, one of South Florida's largest beer festivals.