Coach of the Year Kyle Russell has FIU men's soccer reaching for new heights
After defeating No. 1-ranked Marshall, the Panthers are Conference USA regular season champions. Next up: A quest for a postseason championship
November 12, 2021 at 10:00am
---
Laying down on an air mattress at his sister-in-law's apartment in Miramar, Kyle Russell realized that his introduction to FIU was not going to go as planned.  
Russell had finished another day of home-shopping with his wife in Miami. He was prepared to start his job at FIU, the first head coaching gig of his life, after moving down from South Carolina in March 2020 when he realized that COVID-19 had moved into Florida at the same time. After a few days it became clear: Russell would have to build a staff and lead his new soccer team over Zoom. 
"It was a very crazy and hectic start, trying to learn about the team we inherited and where we were at," Russell said. "But now, the success that we're having is unheard of. And it's a lot of fun." 
Looking back now, that difficult start looks like a small obstacle in the rearview mirror. Russell's program isn't just on track – they are plowing ahead at full speed. 
The Panthers head into the Conference USA postseason with an undefeated record in the league. Last Friday, they blew by Marshall, the No. 1-ranked team in the nation, to claim the C-USA regular season title. On Tuesday, the conference unloaded more than a dozen awards for FIU's stellar 2021 season: 10 all-conference selections, four first-team selections and a freshman of the year award. 
On top of it all came an award for Russell: C-USA Coach of the Year. Not bad for the youngest coach in the conference.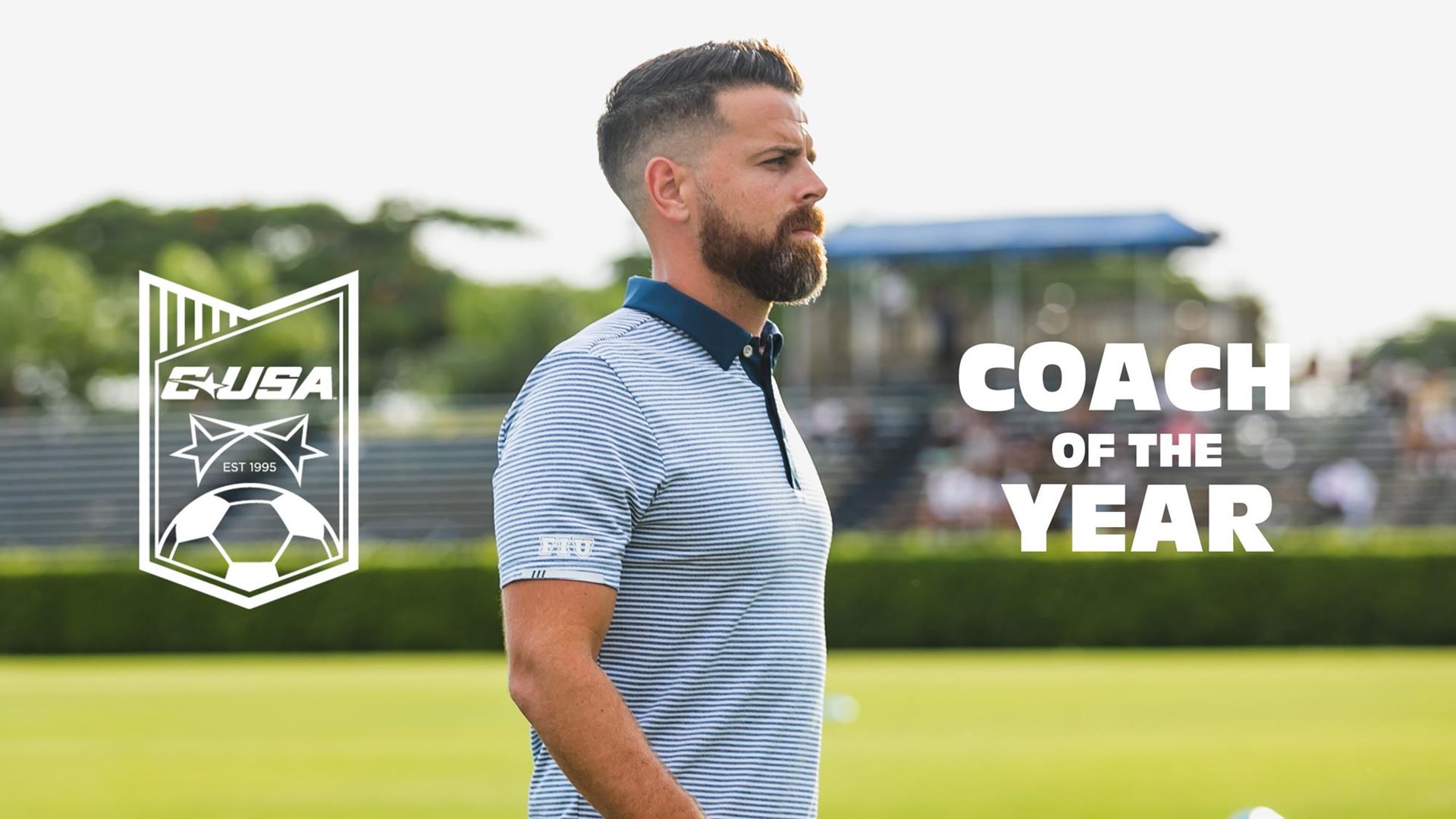 "I am honored by the recognition from our conference, but I see this as a staff of the year award," Russell told FIUsports.com. "I get to work with a great group of coaches." 
The film doesn't lie: Russell has the Panthers playing with swagger, passion and drive. He has taken a team where 15 out of 30 players are new and led them to highlight-reel victories. FIU has outscored opponents 40-15 this season on its way to a 12-2-2 record. The team will face No. 10-ranked Kentucky in the first round of the C-USA Tournament on Friday. 
"This is only the start for us," said Kareem 'Enzo' Riley, a senior defender from Trinidad and Tobago. "In order for us to take it to the next level, we have to keep improving, step by step." 
The 2021 Panthers are hungry and unified, thanks in large part to their new head coach. 
Kyle Russell was born in East Lansing, Michigan, and raised in the suburbs of Chicago. His mom and dad were between jobs when he was growing up. They moved to Illinois for work, bringing deep Christian roots with them.
Russell's father made a living by knocking on doors and selling medical equipment. Today, he is a VP of his company, and his mom is a middle school social studies teacher. 
"Their hard work motivates me to do the same," Russell said. "I want to show them and prove to them that I saw what you were doing as a kid. I have that same drive and work ethic. I'm just going to do it in a different field." 
Growing up, Russell played soccer and eventually made the college soccer team at Coastal Carolina University. He went on to pursue a professional playing career before breaking his foot. Faced with injury, he decided to take a different path and return to his alma mater as an assistant coach. 
"I believe the second-best thing from playing sports is coaching it. From there, my career kind of snowballed," Russell said. 
In Miami, Russell found a promising opportunity to put down his roots.  
"I definitely feel like God prepared me to live here," Russell said. "You have the diversity in people in Chicago and Detroit, and then you have the weather in South Carolina. Also, my wife has a lot of family down in South Florida. She is Puerto Rican."
Under Russell, FIU soccer is unlocking its potential. His coaching style encourages players to work hard in practice but also to remain honest to themselves and have fun. 
"I'm a big believer in that you have to enjoy the fruits of your labor. You work hard and then you celebrate the moment, have fun and laugh," Russell said. 
FIU's new post-win chant is a perfect example of the new culture. It is a copy of a popular soccer chant across the world with an FIU twist. Simply, it is "Sha la la la la la la, FIU," in a whisper and then a roar.
🎶 Sing it LOUDER 🗣 🎶#PawsUp 🐾 | #PantherPridepic.twitter.com/GjLqjMccf7

— FIU Men's Soccer (@FIUMensSoccer) November 6, 2021
Off the soccer field, the soccer team is nearly inseparable. Students can find them breaking bread as a team at an extra-long table in 8th Street Campus Kitchen, squadding up in a University Towers dorm or cheering on FIU at other sporting events.
"My favorite part about this team is that everyone is from different backgrounds and cultures," says junior Stephen Afrifa, a forward from Toronto who leads FIU in goals. "It's fun trying to find out how they grew up, how they live. This is the closest team I have ever been on." 
On the field, FIU is building a product with promising long-term potential. Nine out of 11 frequent starters will be eligible to return to the team next year. And the program is generating a strong following in the local soccer community. At the Marshall game, more than 300 youngsters from Pinecrest Premier Soccer Club came out to watch, Russell said. 
The next challenge for FIU: establishing the Panthers on the national stage. 
"People say that FIU is the best college soccer team in South Florida," Russell said. "But what we've been preaching to our guys is that that is small-minded. We are actually the best team in the state of Florida when you look up our results. But that's not our goal. Our goal is to be the best team in the country."  
"We are scheduling difficult teams and we are not afraid to play anyone. We are preparing to treat every game like a championship game, so that one day we will have an opportunity to play for a championship." 
The quest begins this Friday in Charlotte in the C-USA tournament. Their matchup vs. Kentucky will be broadcasted on ESPN+.