It's Women's History Month, and FIU has plenty of remarkable ladies to credit for its success. The individuals featured here join an impressive list of trailblazers who embraced great challenges, led by example and established legacies that still impact us today.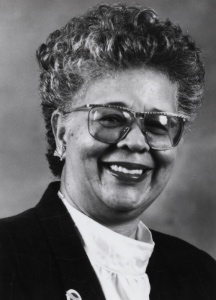 The late Jacquelyn Hartley equipped herself with three degrees – among them a bachelor's in nursing from Florida A&M and a Ph.D. in education administration from Florida State – that set her up perfectly for the odyssey ahead. With an Army colonel husband, and two children, Hartley traveled the world, in each place finding ways to use her talents to the benefit of others. She worked at schools on military bases in Germany and Japan and taught at FAMU, the University of Texas, community colleges in Maryland and a hospital nursing school in Washington, D.C. When she arrived in South Florida in the 1980s, she brought deep experience that would prove invaluable in helping establish the foundations for FIU's own nursing school.
"She had an innate commitment to service, to try and meet a need wherever she was," says Kathleen Blais, a former faculty member who worked alongside Hartley for nearly 20 years, each a department chair in the early days. "She was totally amazing. She could vision a future in terms of what the school could become." And what it has become – a respected institution that has turned out more than 12,500 nursing professionals, and counting – rests, in part, upon all that Hartley had an integral hand in, from mission statements and philosophies that influenced curriculum development to the recruitment of faculty and students.
Nearly 10 years after the lady's death, her legacy as a leader – which includes stints as associate dean and acting dean in addition to serving as the first African American president of the District 5 Florida Nurses Association – is matched by memories of her thoughtful, nurturing ways. "She was one of the professors that really gave meaning to what I wanted to do," says alumna and now FIU professor Rosa Roche '86, '94, '14, whom Hartley spent hours helping choose an area of nursing concentration. Roche remembers getting through the near-crushing pain of her father's death, just months before graduating with a BSN, precisely because of Hartley's support. "She told me, 'You need to go on. You're almost there. You're going to make your dad proud." Hartley even gifted the younger woman a hummingbird figurine, a reminder of her dad from which she could take strength. "That meant so much to me," Roche says in recalling a respected guide who always exhibited understanding and chose to see the best in people. "That's who I try to be today with my students," she says in paying honor to Hartley. "She was one of those individuals who leaves imprints in your heart."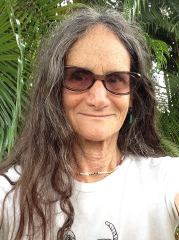 Peggy Levison Nolan was a 40-something single mother of seven when she enrolled in a photography course at FIU. A one-time college dropout, she lived many adult years in low-income housing while relishing every minute spent with her kids. So when her father handed her a used camera, Nolan knew exactly what she wanted to capture: her daughter folded into a ratty armchair while engrossed in a magazine, a teen son lounging on a couch surrounded by crumpled laundry, a younger boy getting his bangs trimmed, sisters dancing together in front of a Christmas tree. Such images of ordinary life would eventually command wide attention – and hundreds of dollars.
"The pictures are unsparing in their description of our sprawling, unkempt life," wrote Nolan's oldest son, as a parent himself, for her 2018 book, "Real Pictures: Tales of a Badass Grandma." A review by Chris Wiley for the New Yorker stated, "There is a tenderness and a sensitivity in these pictures of family that cannot be faked."
Finding her way to running the darkroom at FIU, Nolan taught countless students not only how to develop photos but inspired their creativity. To communicate the elusive nature of what makes one photograph stand out from millions, she amassed a personal library of hundreds of photography books that she kept on campus and would reference "to show a student, without talking, this is what I mean." And her encouragement made all the difference, says freelance photographer Manny Hernandez '96, who remembers her kind words, great eye and free-spirited style from years ago even as the two have connected more recently at local events. "I see 25 years olds now on the art scene, and she blows them away," Hernandez says. "She's hip and cool. She could run circles around these people."
Nolan earned both a BFA (1990) and an MFA (2001) from FIU and eventually served as an instructor of film photography. Retired from teaching, the 77-year-old is represented by a local gallery, last year mounted the solo exhibition "Blueprint for a Good Life" at FIU's Patricia and Phillip Frost Art Museum, and has a second book due out soon. Most notably, she still thrills to the ability of her photos to invite viewers into something special. "Total strangers that I'm never going to meet," she says, "are going to have this intimate experience with my family."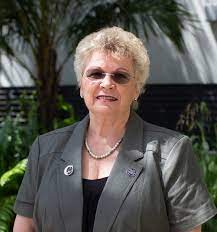 DeEtta Mills followed a meandering path to success as a tenured professor and the current chair of biology and the director of FIU's International Forensic Research Institute. In 1965, as a high school senior among the top 10 students in a class of 300, the Washington state native was denied a university scholarship after disclosing plans to marry her kindergarten sweetheart. So she enrolled at a community college instead and took a job at Sears. Soon after, however, Uncle Sam played the draft card, and her spouse took the advice to enter the armed services as a volunteer, which laid the path to his distinguished military career. Over the coming decades, Mills would dutifully make 27 moves within the Unites States and overseas, two sons in tow, while grabbing every spare moment to pursue education. "I did my part to support him, but I was also doing my own thing," says the indefatigable scholar, who – sometimes by taking courses through correspondence school (the precursor to online learning) – earned two associate degrees, a bachelor's and a master's before, finally, completing a doctoral program. Once rebuffed at 18, she nonetheless persisted and attained a Ph.D. 35 years later.
When Mills arrived at FIU in 2001 as an expert in molecular microbial ecology – the study of microorganisms found in dirt – she was on the forefront of an important, still-emerging area in forensic science that she has since helped advance through investigations funded with more than $1.8 million in grants and contracts. A lover of nature and animals from an early age – she raises her ten horses in the Redland – the researcher was one of a small team at FIU who in 2015 wondered if dogs, with their superior sense of smell, might be used to detect a deadly tree fungus that threatened Florida's avocado industry. That successful and highly acclaimed project led, more recently, to her participating in the pilot test that confirmed canines' ability to sniff out COVID-19.
Having made her way up the ranks at FIU from a nontraditional start – as a part-time researcher and instructor rather than through a formal academic search – Mills remains grateful to those who recognized her value and created a faculty line for her. "I've been extremely fortunate to be at FIU," she says of the support given her during 20+ years at the university. Now at the height of her career, Mills can look upon her professional triumphs as well as 57 years with her (retired) colonel husband and know that she has done it all.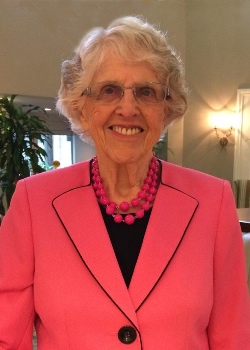 Penelope Easton bucked early-20th-century conventions governing what a young woman could or could not do. The professor emerita of dietetics was born in 1923 (she died in 2020 at the age of 97) and embraced adventure. After graduating with a bachelor's degree, she served as a commissioned officer in the U.S. Army and spent time working at its largest hospital, in San Antonio, Texas, after which she was recruited as a nutritionist to assist with developing dietary plans for native populations in what was then the Alaska Territory. Fascinated by the foods of the indigenous people, such as muktuk, strips of whale skin and blubber, she took every opportunity to learn about their culture and very quickly recognized their wisdom. As she gained knowledge, she identified the need for public health personnel to know and appreciate the dietary traditions and adaptations of the region and became an advocate for preserving native food customs.
Easton eventually earned a Ph.D. and taught for eight years at Indiana State University before joining FIU in 1971 as a founding chairperson. Among the accomplishments for which she is still remembered at the university: the intentional combining of in-class instruction with a concurrent, complementary clinical internship. That coordinated education did not exist years ago, but Easton helped make it happen at FIU before it became common practice. "She could see what was going to be needed," says Dean Emerita Michele Ciccazzo of her former professor and mentor. "And she loved students. She knew when you were not performing up to your abilities, and she let you know that. But she never demanded more of you than she demanded of herself. She was forever striving."
Even after retiring, Easton did not rest. She participated in additional research projects in Alaska, which prompted the then-91-year-old to publish a memoir of her early career, "Learning to Like Muktuk: An Unlikely Explorer in Territorial Alaska," followed in 2017 by the also-autobiographical "Fleeing the Depression: Finding Refuge in World War II." A description of the latter calls the work a chronicle of "the adventures of a small-town girl defying twentieth century rules to become a strong, independent woman." And referencing her time in the service, the publisher writes: "Penelope's curiosity, sense of humor and fearlessness emboldened her as she traveled a man's world and, through her actions and ways, helped pioneer the contours that define modern-day feminism." She was a woman for our time.
Know of another FIU legend who deserves a shout-out? Mention her in a comment below. (But first check out a

 

list of those we've featured

 

in the past.)