Alumna to serve as director of Venture Miami Opportunity Program
This story originally appeared on Refresh Miami.
As the tech boom comes to Miami, local business owners are feeling wary of being left behind ­– especially local female business owners of color.
FIU has partnered with the City of Miami and Mayor Francis Suarez to help. FIU's Venture Miami Opportunity Program aims to close the inclusion gap for female business owners of color by serving as a bridge between venture capitalists and angel investors.
FIU alumna Kenasha Paul '10 was recently hired to serve as the director of the Venture Miami Opportunity Program. She will serve as a critical connector, alongside Saif Ishoof — FIU's vice president of engagement and senior advisor for innovation and technology for the mayor — and the Venture Miami team.
The program was initiated by FIU's Office of Engagement in collaboration with Suarez's Venture Miami team and supported by a $150,000 grant from JPMorgan Chase, 
"The Venture Miami Opportunity Program will provide Miami's female business owners of color the opportunity to leverage the momentum that's happening in our city so that they can get in the #MiamiTech game," said Paul, former president of the FU Alumni Association's Black Alumni Panther Network, and founder of the Black Professionals Network. "I was born and raised in Miami, I graduated from FIU, and I started my business in this region. This movement is #MiamiMade, and that's exactly how I want to be defined – I want to leverage the existing work I already do in this space and be a champion for women of color who often get overlooked."
 A first-generation graduate of Haitian descent, Paul's Miami journey is comparable to so many Miami women and FIU students who work hard to fulfill their dreams as a minority. During her time at FIU, Paul served as president of the Student Government Association in 2008; was the first Black Student Union council president in 2009; and was the first Black Alumni Panther Network president in 2010.
Upon graduating from FIU, Paul made her way north to Nova Southeastern University where she earned her Juris Doctorate degree in 2014. Shortly after realizing her love for community, Paul founded her organization, the Black Professionals Network, to build that space between community professionals and corporate partners to help Black professionals advance their careers, power up businesses, and build up social capital.
"My love for this community is evident, and as a problem-solver and connector by nature, I wanted to channel that energy to uplift my community past the deficit-framing conversations and springboard us into the future of opportunities and abundance," Paul said. "Furthermore, as a Black ecosystem builder and entrepreneur – I have insights into what Black households are looking for, and I also understand what funders are looking for. That's why the Venture Miami Opportunity Program is the perfect program for me to take these women and entrepreneurs to the next level."
With the availability of investments to underrepresented groups consistently ranking low, according to a recent report published by aīre ventures, there is a clear need for Miami to leverage Miami tech investors that focus on minorities to build the "Capital of Capital" as the mayor says with the "human capital" that defines it.
"FIU understands that Miami is undergoing a pivotal movement that has the potential to really bring us to the top," Paul continued. "With student organizations like FIU's Upsilon Pi Epsilon (UPE) training the next generation of our tech workforce, more than 250,000 alumni building their own empires and businesses, new, innovative programs like FIU's Master of Science in the Internet of Things (IoT), and collaborative partnerships between the city, FIU serves as the perfect hub to build talent for #MiamiTech," Paul said.
For the first six weeks of the program, cohorts will have targeted meetings with financial advisors within FIU and the community to build strategic growth plans to prepare for catalytic investment, with a goal of having at least 50% of the participants ready to pitch during Miami Tech Month in April of 2022.  
 "Our goal is to have the cohort comprised of people from Miami, building in Miami, and pushing out products for Miami," Paul added. "We're #MiamiMade, and FIU, the City of Miami, and our partners at JPMorgan Chase want to ensure that our community knows that as we continue to turn #MiamiTech into a city-wide movement."
Applications for the Venture Miami Opportunity Program are still open – if you're #MiamiMade and are ready to scale your venture to the next level, submit your application for the Venture Miami Opportunity Program by Tuesday, Feb. 1. For more information on the Venture Miami Opportunity Program, please click here.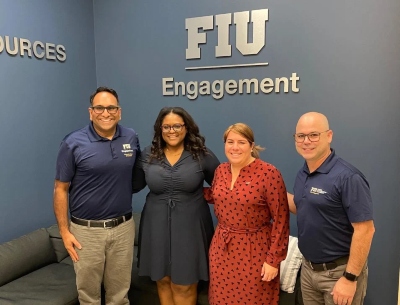 From left, Saif Ishoof, VP of FIU's Office of Engagement & senior advisor for innovation and technology for Mayor Francis Suarez; Kenasha Paul, director of Venture Miami Opportunity Program; Caryn Lavernia, assistant vice president of FIU's Office of Engagement and Miguel Asencio, Engagement project manager.