At Madden, former FIU UPE leader puts computer skills to action
November 15, 2022 at 11:40am
---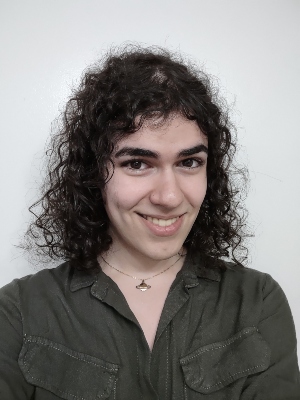 Every Madden player knows the iconic introduction, "EA Sports, it's in the game!" But for May Márquez '20, MS '21, an EA Sports software engineer, it's more important what's not in the game. 
Márquez is a two-time computer science alumna from the College of Engineering and Computing who catches glitches in Madden. On a typical workday, she sifts through code in her Miami apartment while three different games of Madden run in the background, all of them being monitored for bugs.
"We have a system that alerts us to glitches. And every now and then, it's fun to just watch the bots play," Márquez says. 
It's a high-stakes job, at least as far as computer games go. For 23 years in a row, Madden has debuted as the top-selling video game in the United States during its annual August release. The football game is based upon an incredibly popular league, the NFL. Approximately two-thirds of the U.S. population watched the Super Bowl in 2022.  
The mechanics of football are common knowledge for many Americans. But for computer applications, football isn't such an easy concept, Márquez says. 
"Physics and computer games can be kind of weird. It's not like real life, where objects are literally touching. We're just trying to simulate objects that are touching," says the Honors College graduate. 
To a human, it's common sense that you can't catch a touchdown by reaching through a defender's skull. For computers, this logic isn't inherently true. Thus, Madden has an army of employees and resources dedicated to making the game realistic. Márquez works in one of these groups focused on Stability, Hardware, Integrations, Efficiency, Logistics, Development, Continuous, nicknamed S.H.I.E.L.D. for short. They pay special attention to how components of the game interact with each other. 
Sometimes, pieces of the game developed and tested individually have unpredictable interactions when the final game comes together, Márquez says. 
"Generally, these are the biggest glitches that we find," Márquez says. "Our team calls it 'Integration Hell.'" 
In a game as complicated as football, there are a lot of moving parts to monitor. One thing that still blows Márquez away about the detail of the game is the live announcer feed, she says.
"The announcers seamlessly talk about everything that's happening in the game," Márquez says. "There are thousands of voice samples recorded for Madden." 
Márquez, who wasn't a football fan coming into the job, says that working for EA is a good time.
"EA has been probably one of the best employers for working fully remote," Márquez says. "It's also such an accepting environment. In the past, I've been the only transgender person in my entire office. At EA, there's a whole employee resource group of like 20 to 30 different transgender people and way more that aren't even in that group. You encounter each other sometimes and it's such an accepting environment." 
Márquez was a president of Upsilon Pi Epsilon (UPE) at FIU, the largest student organization for technology at the university. She returned to her alma mater in September to help out with ShellHacks, a UPE-run hackathon where more than 1,300 college students coded applications at FIU.  
"The people in UPE are so passionate about technology. It's good to have a social environment where you can be around other people that are really into the things that you're into," Márquez says. 
Márquez grew up coding, beginning with Minecraft modifications from the time she was 13 years old. With multiple FIU degrees to her name, she has made a passion into a career.
"Two of my FIU classes that stand out to me to this day are discrete structures and data structures," Márquez says. "In discrete structures, Professor [Antonio] Bajuelos was like an icon to us, he was super chill and a good teacher. And data structures is such an important class. If you interview for any top company, data structures is almost always going to be the main thing they quiz you on." 
Márquez is one of an increasing number of graduates from FIU's Knight School of Computing and Information Sciences. The school has seen its number of undergraduate degrees awarded increase by 99% since 2017, booming in unison with the Miami technology industry.