Bon voyage: the return of Hospitality at Sea sets sail
Students learn, live and study on a two-week adventure at sea
December 20, 2022 at 9:30am
---
Pictures and lessons in books can be hard to imagine.
The sound of a cracking glacier falling into the waters within the Straits of Magellan. A jar of Diddle Dee jam made from the wild berries of the United Kingdom's Falkland Islands sustaining a local economy. The camaraderie created by sporting events, such as celebrating a World Cup win with Argentinians on the streets of Ushuaia, Argentina, the southernmost city in South America.
These are some of the lessons and learning opportunities that 50 undergraduate and grad students are now experiencing first-hand during the return of FIU's Chaplin School of Hospitality & Tourism Management's Hospitality at Sea study abroad program. The students and eight faculty members set sail on Dec. 5 from Santiago, Chile to Buenos Aires, Argentina, on a 14-day voyage around South America on Holland America Line's Oosterdam.
"This is amazing," said 19-year-old freshman Sebastian Granthon while taking pictures in front of a glacial waterfall from the bow of the 2,000-passenger ship. He never thought he would have a chance to visit the ends of the earth – Patagonia Chile and Argentina, Uruguay and the Falkland Islands  - while still in school.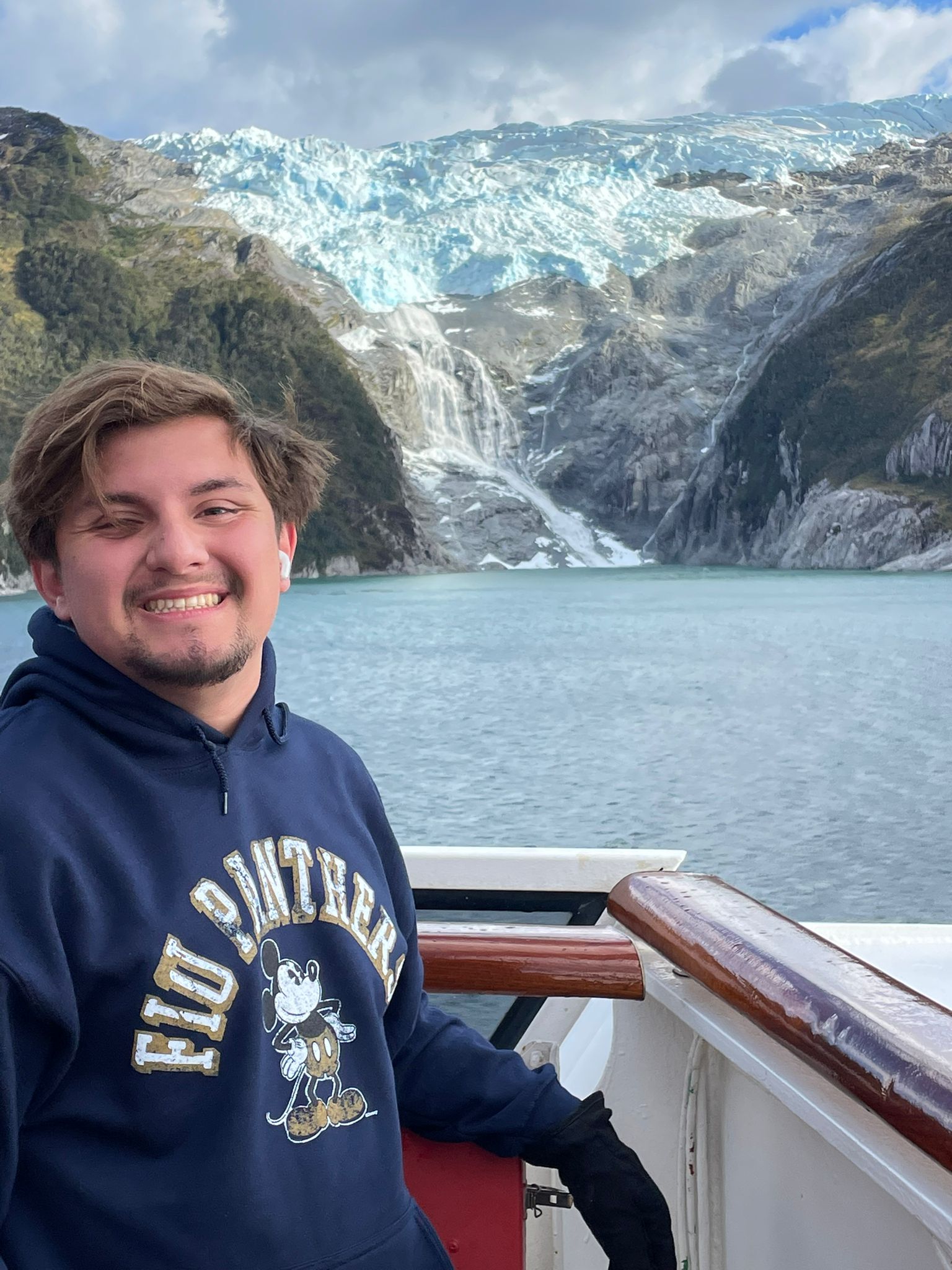 This year marks the program's 10th cruise. The theme is global sustainable tourism and humanity's role in protecting the environment, which mirrors the school's new fully online Bachelor of Arts in Global Sustainable Tourism. While at sea, students enroll in one to four classes, such as hospitality law, destination tourism marketing, cruise line operations management, international cuisine, spirits and beverage management, global issues, personal development and global sustainable tourism.
"This is one of FIU's most unique programs because students are studying on the ship, getting real insight through behind-the-scenes talks with the ship's crew such as the food and beverage director and environmental officer, then experiencing those lessons while at port and during shore excursions," said Professor John Buschman, the program's new director.
While on board, students learned that menus are created six months ahead of departure, that the ship's environmental officer and crew try to use as little plastic as possible, that the go-to late-night snack is pizza, and that — post-COVID and due to supply chain issues — the ship didn't receive its delivery of 30,000 eggs, so crew members were sent out to buy as many as possible.
Before boarding the ship, hospitality students visited DUOC University in Santiago, Chile, where students from both hospitality programs continued their COIL or Collaborative Online International Learning with in-person activities and a reception. The result: new friendships and future global learning exchange opportunities.
"I still can't believe this. This is like a dream. I'm in awe. I'm in a dream right now," said Tiffany Welches, who is in the first Global Sustainable Tourism class cohort and is expected to graduate next year. "I feel very lucky to be part of FIU. Thanks to this program, I've been around a lot of amazing people who care about making people happy and about the planet," she added.
Some of the other Hospitality at Sea study abroad highlights include trekking in Patagonia, visiting penguins on the Falkland Islands, traveling with locals to a glacial waterfall, experiencing a traditional English afternoon tea with crumpets, eating at a Gaucho ranch in Argentina, sailing the same waters of 16th-century explorers along the Straits of Magellan, and rounding South America's Cape Horn, where the Pacific and Atlantic Oceans meet.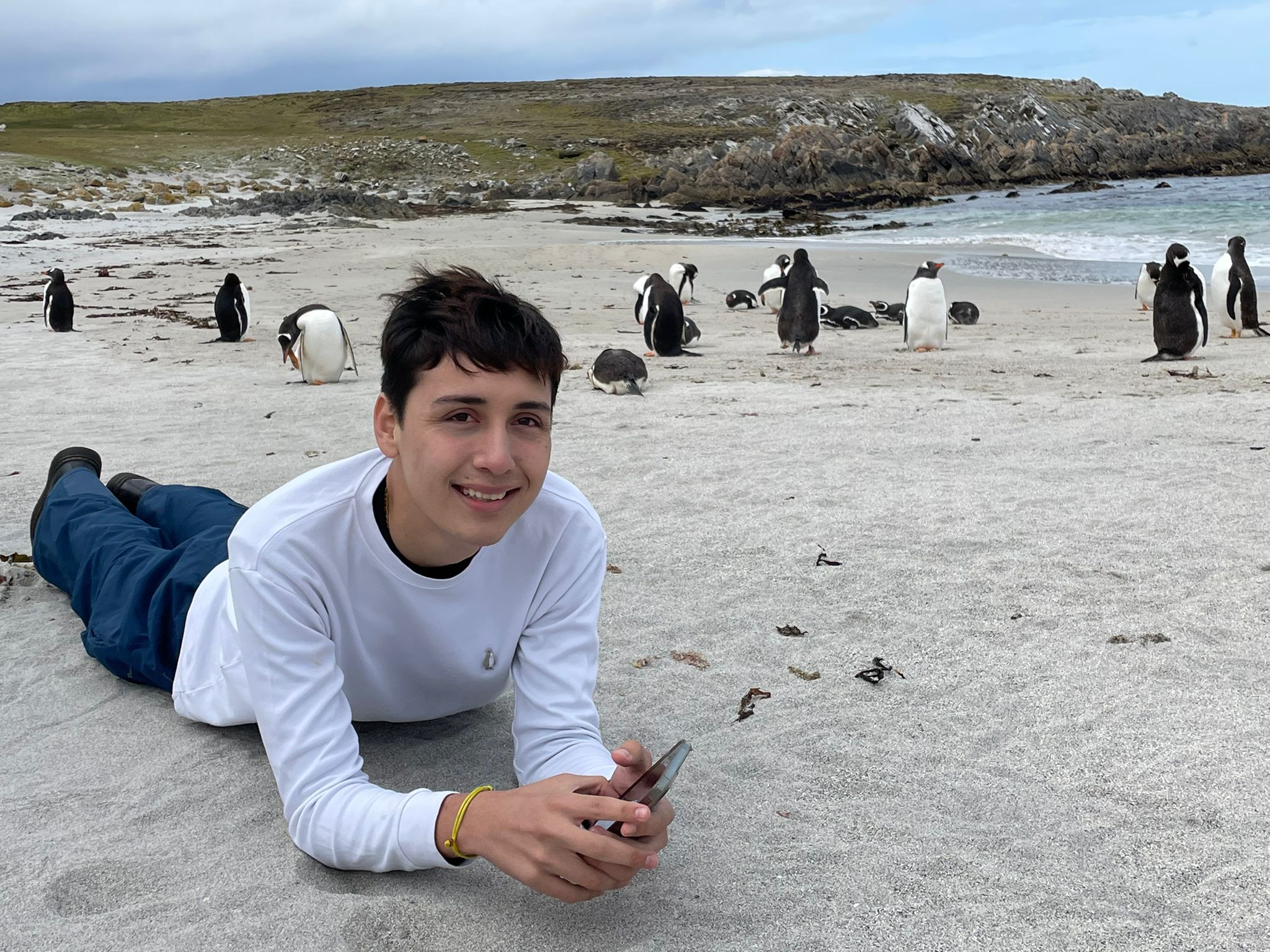 The trip has opened the eyes and possibilities for many students about the wonders of the world. Some call it life-changing. Granthon sums it all up in one expression, a big smile, and one word, "Unbelievable!"