In the 30 years since Hurricane Andrew left unprecedented destruction across Miami, FIU has been at the forefront of protecting our community through innovations in building codes, sea level solutions, resilient infrastructure and environmentally conscious finance and insurance research.
Last month, a group of 20 students ranging from sophomores to Ph.D. candidates in engineering, biological sciences, architecture and communications with a shared passion for the resilience of people, buildings and the economy descended on FIU's brand-new facility in Washington, D.C., for the Fall 2022 Fly-In Seminar, The Future of Resilient Communities.

"I really enjoyed meeting more STEM students, because as a policy person I know change heavily relies on our ability to connect across disciplines and transfer all that we bring to create effective policy, especially on issues like natural disasters and resiliency," said Noemy-Diaz Burgos, a master's student in English.

Immediately upon landing, the group visited three federal agencies back-to-back: the Environmental Protection Agency, the U.S. Agency for International Development, and the Department of the Interior. To gain the full perspective of how resilience policy is set and carried out, the voice of the private sector was represented during a visit to the U.S. Chamber of Commerce, and the group received lessons in organizing from the advocacy group Our Climate.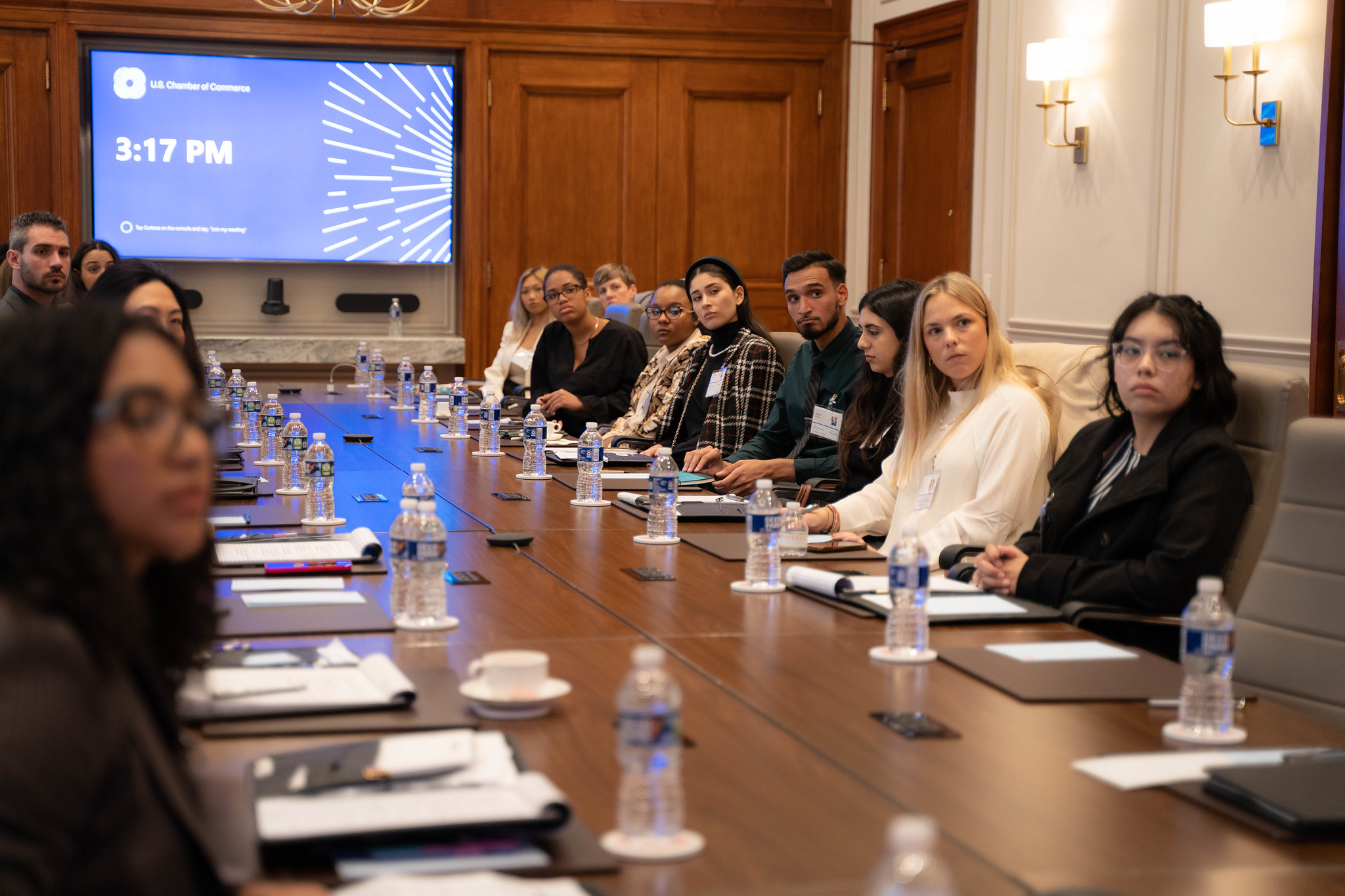 "We discovered that not all jobs in D.C. are with the government as we met with lobbying groups, think tanks, and advocacy organizations," said Francisco "Frank" Gamez, a political science major. "Along the way it was showcased that brief and simple communication is necessary for such a busy environment."

Fly-In Seminars provide the opportunity not only to partake in content sessions planned by FIU but to engage in D.C.'s dynamic professional development scene, as was the case when the group stopped into the American Association for the Advancement of Science's networking reception honoring fellow Frances Colon, senior director for international climate policy for the Center for American Progress.

Participants met for three weeks prior to the trip to D.C. to learn about issues and trends related to the program theme by visiting FIU's Wall of Wind and meeting with faculty at the Sea Level Solutions Center and concluded the program by crafting policy proposals presented to expert panelists from the BuildStrong Coalition and Third Way, and Congressional staff from the offices of Reps. Debbie Wasserman Schultz and Jenniffer Gonzalez Colon.

The impact that the alumni of this Fly-In will make will be compounded for years to come; participants were chosen for their existing contributions to campus and community efforts including the Green Campus Initiative, Maurice A. Ferré Institute for Civic Leadership, and various research labs. With the community that has been created, students' efforts will be maximized while they also apply for Washington, D.C.,-based internships and complete two digital badges offered by FIU in DC's Talent Lab.

"Being in D.C. felt energizing and enriching. There is a large community of people who are working to accomplish the same objectives as I am. I feel much less alone," said Zion Michael, a mechanical engineering major.
— By Eric Feldman