College of Medicine's annual art show helps fight breast cancer
The money raised will fund mammograms for women in Miami-Dade County
October 11, 2022 at 10:15am
---
It started as a capstone project for a student club at the Herbert Wertheim College of Medicine. Students procured donated artworks, auctioned them and used the money to provide free mammograms for uninsured women.
A decade later, the Mobile Mammography Initiative Art Show & Auction is still going strong and will hold its annual fundraiser this Friday in celebration of Breast Cancer Awareness Month.
The event supports the College of Medicine's Linda Fenner Mobile Mammography Center. Affectionately known as the "mammovan," the mobile unit works with community agencies, churches, shelters and clinics by traveling to under-resourced neighborhoods and providing free screening mammograms, diagnostic services and breast health education to underserved women of Miami-Dade County.
Last year the art show raised $19,000. That's enough to pay for more than 125 mammograms for women who other could not afford breast screening services, women like Gabriela Sierra.
A single mother of five, Sierra was 40 and had no symptoms when she had her first mammogram aboard the mobile mammography center. To her shock, the results pointed to a possible tumor. A biopsy confirmed it: cancer. "I started crying uncontrollably," she says. "What do you mean I have cancer? I couldn't believe it!"
Fortunately, the cancer was in its early stage, but it was an aggressive type of cancer. Within three months, she had surgery and radiation treatments. Throughout her ordeal, Sierra received guidance and support from the mobile center's breast health navigator, Maria Martinez, who helps women through their cancer journey. "Maria was like an angel to me. She's been there in my worst moments."
After three years, Sierra remains cancer-free and urges other women to get screened. "I had no idea I could have cancer. If I had not had that mammography, I would have died," she says. To find out if you're eligible for a free mammogram, visit mammography.fiu.edu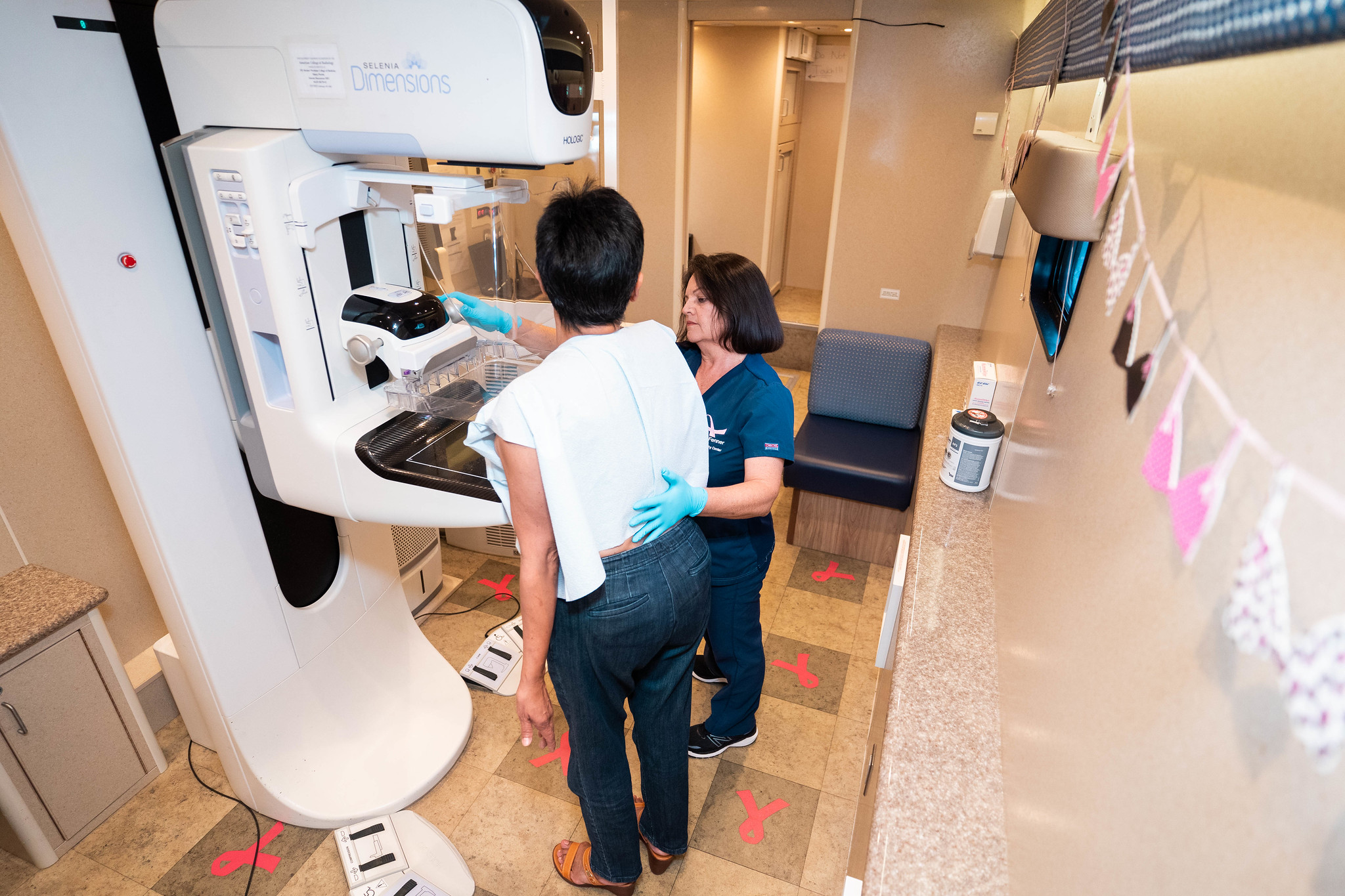 Breast cancer is the second most common cancer in women in the United States. According to the Centers for Disease Control and Prevention, about one in eight women will get breast cancer during her life. And many people will be affected indirectly by a relative or friend who is diagnosed.
For the past two years, Miami artist Mystix Mercury has donated artwork for the auction because fighting breast cancer is personal for her. "My mother is currently in remission. She had a double mastectomy, and the experience was very scary for us," she says. "I'm happy that I can help in my own way."
Second-year medical student Erica Merlino says her family history of breast cancer inspired her involvement in the Mobile Mammography Initiative. Her great-grandmothers both died from breast cancer. And her maternal aunt is a two-time breast cancer survivor. "Their battles cemented my passion for women's health and early screenings."
The 11th Annual Mobile Mammography Initiative Art Show & Auction is at 7 p.m. on Friday, October 14, at the Museum of Graffiti in Wynwood. And if you can't attend in person, you can do so virtually.
Purchase your tickets HERE.