Nearly 1,200 veterans, active-duty service members and military-affiliated students are pursuing their educational goals at FIU this year. The Panther community includes students representing the Army, Navy, Marine Corps, Air Force, Coast Guard and Space Force.
In its 50 years of educating students, FIU has graduated more than 4,700 veterans and military-affiliated Panthers. Throughout its history, the university has proved it is committed to veterans' success through educational support services; partnerships that increase career readiness and employment opportunities; and financial assistance.
In recognition of this commitment, FIU has earned five national distinctions in the 2022-23 academic year:
Military Friendly ranked FIU among its Top 10 colleges and universities.
U.S. Veterans Magazine ranked FIU among its "Best of the Best" list.
U.S. News & World Report ranked FIU No. 35 among its "Best Online Bachelor's Programs for Veterans."
Colleges of Distinction recognized FIU among its top institutions for Military Support – one of only five universities in Florida on its list.
Military Times ranked FIU No. 36 among its "Best for Vets" public and private universities.
FIU was the first university in the state of Florida to offer in-state tuition to veterans regardless of their state of origin. Additionally, more than 20 scholarships are available to assist veteran and military-affiliated Panthers financially.
Through the Office of Veteran and Military Affairs (VMA), FIU strives to ensure each of these students successfully transitions to college life and fulfills their professional goals. Among its programming, FIU hosts the U.S. Department of Veterans Affairs Vet Success on Campus program, which provides an on-campus counselor who assists students in understanding their V.A. benefits.
In 2021, FIU launched the Center of Excellence for Veteran Student Success, which connects students to staff and support services across the university, including Admissions, OneStop Enrollment, Career and Talent Development, Student Health and Wellness, the Disability Resource Center, and more. This initiative, which is funded by a grant from the U.S. Department of Education, focuses on increasing persistence, retention, and graduation rates; tracking employment rates following graduation; and coordinating services to address academic, financial, physical, and social needs.
"We are here to ensure each veteran and military-affiliated Panther has access to the services they need to create a fulfilling university experience and successful transition into the next stage of their professional lives," said Assistant Vice President for Student Equity and Support Phillip Lloyd Hamilton, who is the interim director of VMA.
The university also has longstanding partnerships with military organizations such as the U.S. Southern Command in Doral, Fla., which have created meaningful internship and job opportunities for students. The Miami Military Museum provides internships and work-study employment to students as well as opportunities to learn about local military history – a relationship spearheaded by FIU's resident military historian Anthony Atwood. Mission United of the United Way Miami collaborates with FIU to provide veterans food, care packages and other assistance when they fall on hard times. Global City Development has sponsored scholarships for veterans as well as stoles and cords for graduating students.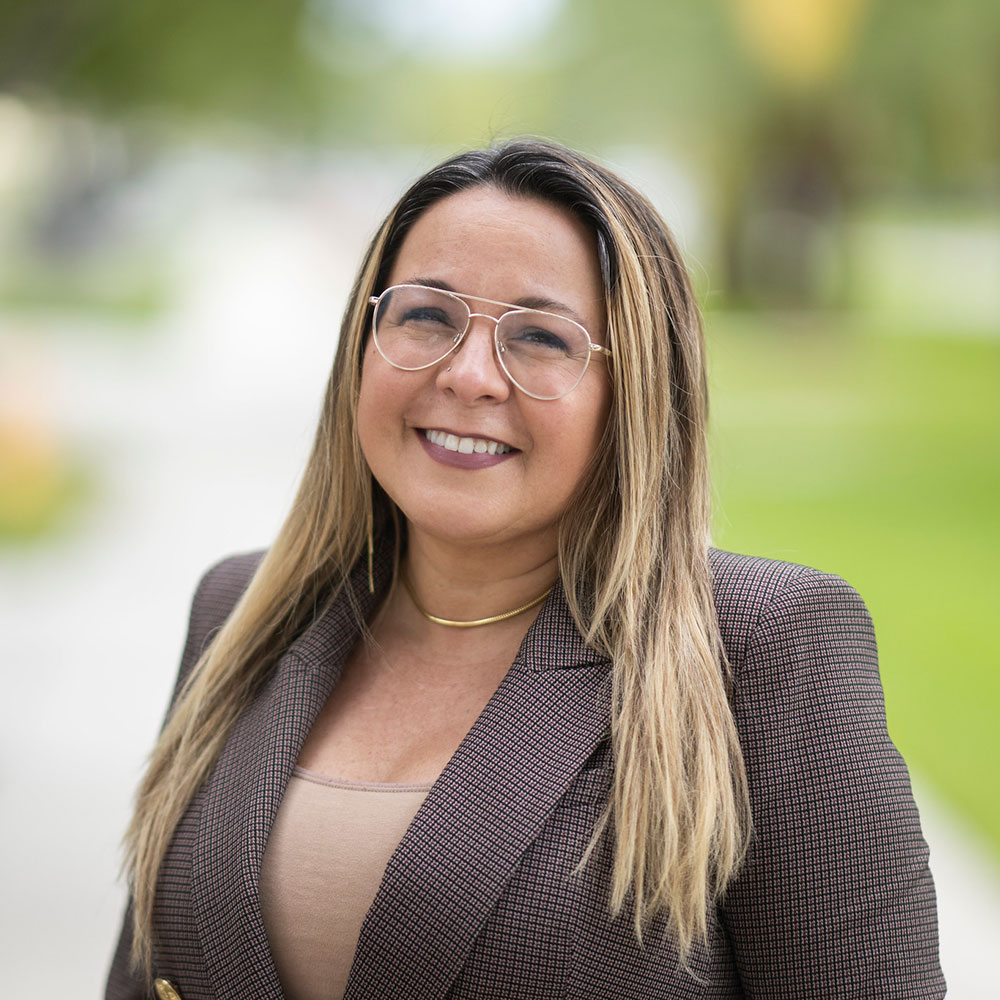 Maj. Danay Montes de Oca '98, MA '04, JM '22 is a three-time FIU alumna and 30-year Army Reservist. She says the personal support is not only what kept her coming back to FIU, but also partly what inspired her to join the veteran and military affairs team at Miami Dade College, which she now directs. Montes de Oca, pictured left, graduated with her Juris master's and recognition as a Real Triumphs Graduate this past summer.
But without the assistance of FIU's VMA office over her three stints as a student, as well as the encouragement of mentors such as College of Law Assistant Dean Christopher Carbot and FIU Registrar Dulce Beltran, she said she would not be where she is today. Among her many fond memories of FIU is a conversation with Carbot, who called her personally when she began but didn't finish her application to the juris master program.
"That's the kind of service I have always received from FIU… That right there is what's helped me to be the director I am today at MDC and to serve my students who are veterans, in turn," she said.
Throughout the year, VMA offers a variety of programming and services, from educational and professional development to networking and social events. In November, VMA celebrates Veterans Appreciation Month with a commemorative breakfast, virtual race, a football tailgate, workshops and more. Visit the VMA website for a schedule and registration information.