FIU Model UN team named No. 3 in North America
Latest ranking continues team's winning streak of being in the Top 5 for nearly a decade
---
FIU's award-winning Model UN team continued its track record of excellence this year, earning a No. 3 ranking in the collegiate Model UN circuit, behind only the University of Chicago and American University.
It's the second year in a row the team has held the No. 3 spot – solidifying the team's long-standing position in the Top 5 of the North American circuit for the past nine years. 
FIU has been the top team in Florida and the top of any public university in the United States for more than a decade. FIU MUN nabbed the No. 1 ranking for the first time in the program's 31-year history in 2018-19.
"I could not be more proud of our talented and hard-working Model UN delegates,'' said John F. Stack Jr., dean of the Steven J. Green School of International & Public Affairs, which houses the Model UN program. "They have consistently outperformed top Ivy League teams at some of the most prestigious competitions on the circuit, including Harvard MUN and many others."
This year, the team competed in 14 conferences, the most since its 2018-2019 run for first place and more than any other team on the circuit. Delegates received more than 100 individual awards and more than 20 team members received "gavels" or first place awards.
"FIU received the third most individual awards across a circuit-high 14 conferences," wrote the editors at BestDelegate, the organization that rates collegiate Model UN teams based on performance at competition.
"The team's ranking is buoyed by solid performances at Harvard National Model UN, University of Chicago's Collegiate Model UN, McGill University Model United Nations Assembly, as well as delegation awards at UC Berkeley Model UN, University of Virginia's annual collegiate Model United Nations conference, and five smaller conferences,'' they added.
Competition this year was especially challenging as the traveling delegates were predominantly freshman and sophomores and fewer than five had ever traveled to in-person collegiate competition due to the pandemic. For the past two years, most competitions were held virtually.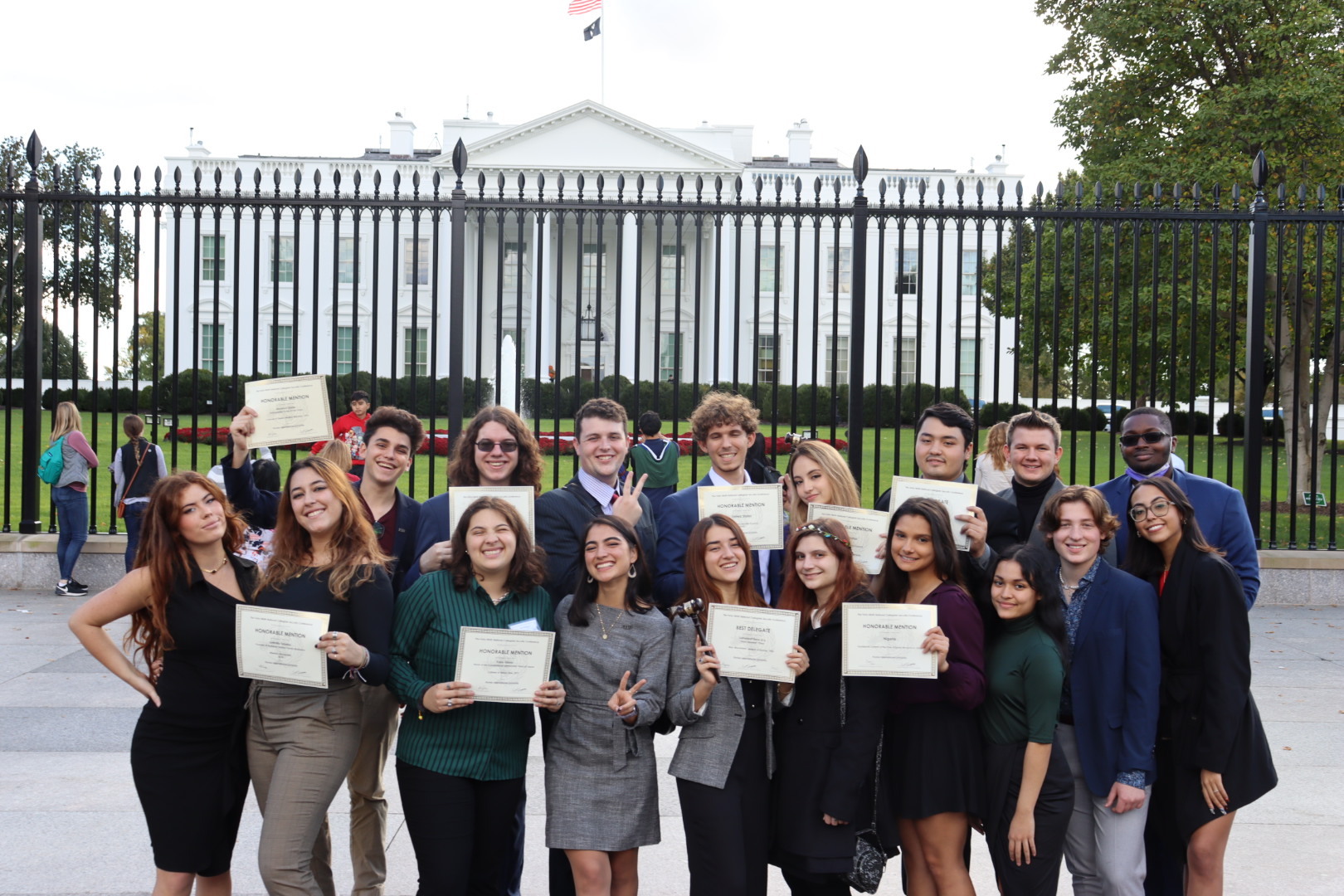 FIU's Model UN team competed in 14 conferences this year, including the National Collegiate Security Conference in Washington, D.C. and UC Berkeley Model UN in San Francisco.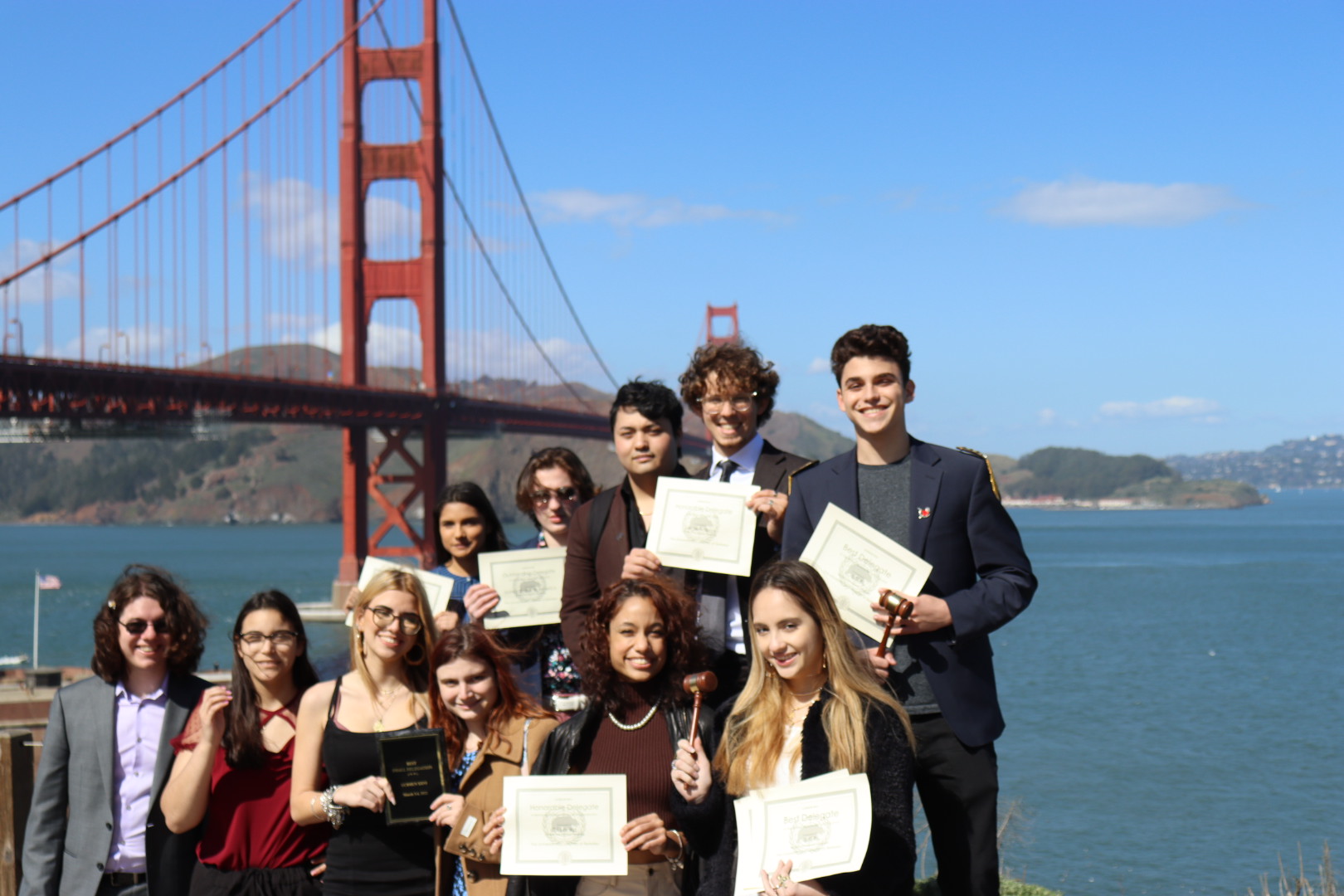 Their youth did not stop them from excelling at the highest level, said Ashley Weathers, a former FIU Model UN head delegate who now serves as the program director.
"Our students have continued to demonstrate adaptability, diplomacy, and their iconic branding to make this year a memorable one, all while balancing both in-person and online conferences throughout the season,'' she said. "We are thankful for all the memories we have made, the happy tears we have cried, the impactful lessons we have learned and the great successes we have experienced."
"We would like to give a special thank you to our remarkable head delegates: Sadie Testa-Secca, Alexander Sutton and Jake Williams for their contributions in leading the team to its success this past year,'' Weathers added. "Thank you also to Dean Stack and the Student Government Association for their continued support."
At FIU, Model United Nations is centered around an international relations course supervised by Stack, the team's faculty advisor. FIU MUN is funded by the FIU Student Government Association (SGA). This past year, the team was able to fund 160 travel spots for students with SGA funds. 
When FIU nabbed the No. 1 ranking, BestDelegate described the team as "widely respected across the circuit for the training and hard work that the team puts in every year."
"Seeing the hard work and dedication of the team pay off with our No. 3 ranking is a dream come true,'' said head delegate and international relations major Sadie Testa-Secca of this year's No. 3 ranking. "The future is bright for FIU Model UN and I'm honored to be part of the continuum of our tradition of excellence."
At its core, Model United Nations is an educational simulation activity designed to teach students about diplomacy, international relations, history and current world issues. Participants – known as delegates – are placed in committees and assigned to represent countries or sometimes organizations or political leaders. They debate real-world issues, staying true to the positions of the entities they represent. They hone their skills in public speaking, analytical writing, negotiations, critical analysis and research.
Head delegate Alexander Sutton, a sophomore majoring in political science, said the latest rankings are "further proof that FIU is the best university in the world."
"It's been the honor of a lifetime to have led this team to greatness and helped maintain its decade-long streak in the Top 5 Model UN teams in the world rankings,'' he said.
Added senior history major Jake Williams, another head delegate on the team: "Model UN has taught me what it means to be a leader, and I am thankful to have been able to help the team rise to such heights."
"This team thrives because we bring out the best in each other, and the countless hours we all put towards supporting one another have truly paid off," he added. "I have no doubt that FIU will continue to dominate the circuit."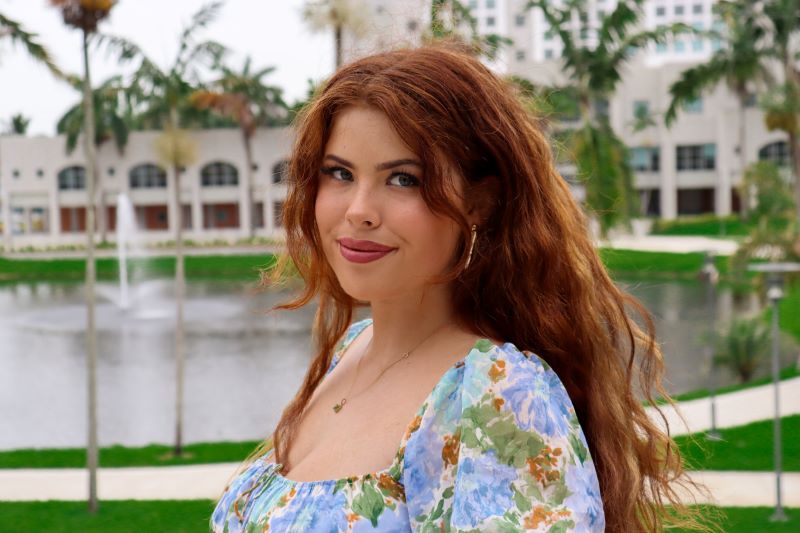 Ashley Weathers, a former FIU Model UN head delegate who now serves as the program director