Professor gives back to support first-generation scholarships, Fostering Panther Pride
FIU Gives is a new series that features members of the university community who are giving back to FIU. In this post, we feature Professor Rosa Chang ' 99, '21 , who was motivated to give because of her experience as a student at FIU.
As a Panther, professor of criminology and a life-long learner, Rosa Chang '99, '21 believes in the transformational power of education so much that she's making it a part of her legacy.
By giving a part of her estate—a significant gift for FIU—Chang ensures that first-generation scholarships and Fostering Panther Pride, a vital college access program for former foster youth and students experiencing homelessness, will keep going strong.
"Programs like Fostering Panther Pride, which FIU started and now other universities are adopting, make me proud of our university," Chang says, "because they lift up the whole community." 
Chang's motivation to give back stems from her time as an undergraduate student at FIU when she was admitted to the university as a Golden Scholar. Her path to Miami had already been a complicated one. Before she was born, her parents fled conflict in China only to face another deteriorating situation in Venezuela years later. Recognizing the signs of unrest, they sent Chang and her older sisters to the United States ahead of them. 
With very little time to understand the implications of what was happening, Chang was suddenly a 10th grader in Miami, without her parents, speaking and learning in a language she didn't know well. The firsts didn't stop there. At FIU, she became a first-generation student, a path that eventually led her to work as a juvenile justice specialist and then to the University of Miami, where she became the first in her family to earn a doctorate. From there, finally, she returned to FIU as a professor.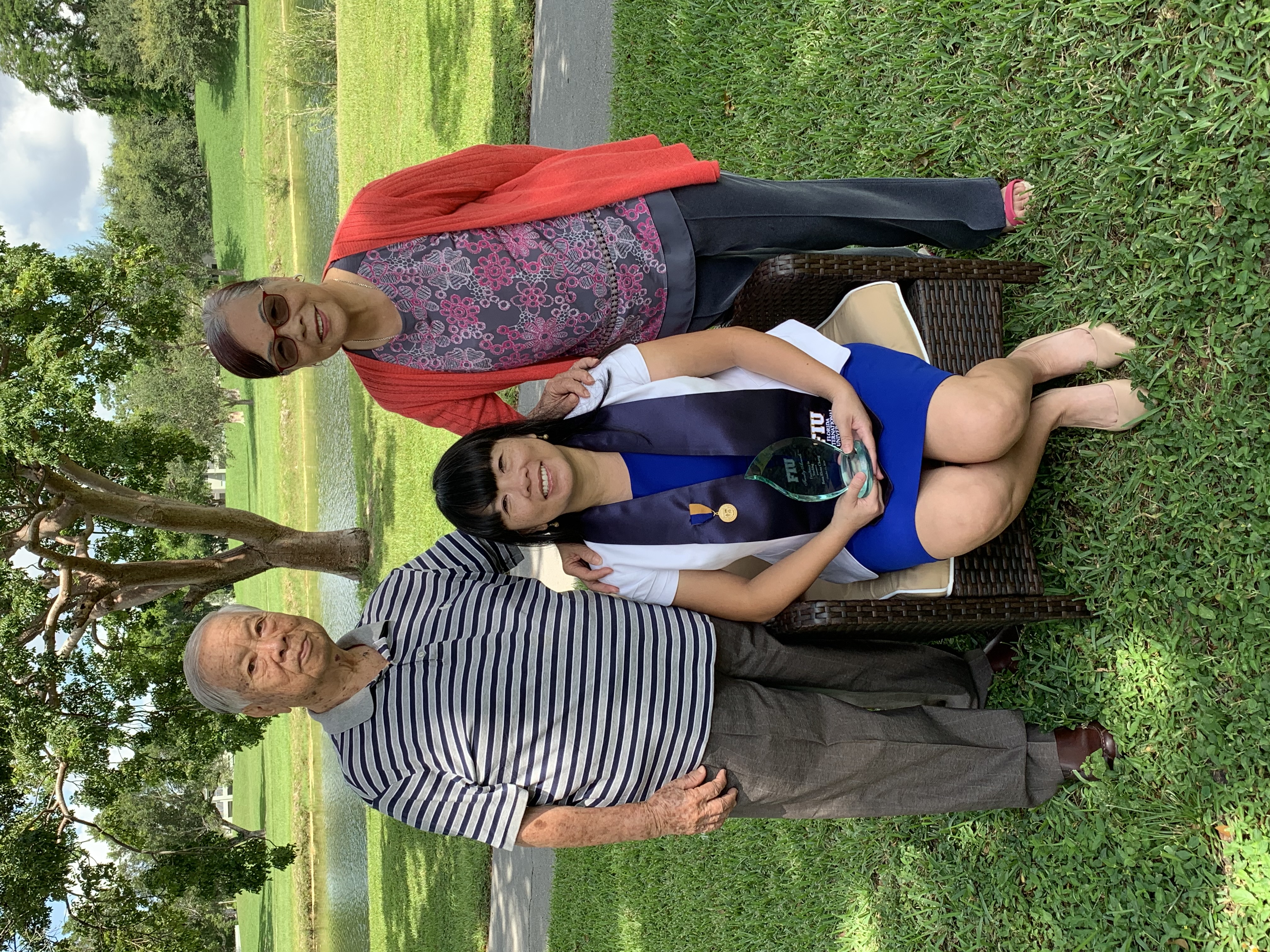 But none of the alumna's success would have been possible if not for the help she received at FIU as a Golden Scholar. An access program designed to prepare first-generation students, especially those from under-represented backgrounds, Golden Scholars provided Chang not just with help improving her English skills but also connected her with faculty and university services. 
As a student, Chang was so focused on the day-to-day concerns of both her studies and an active social life that the finer details of these access programs hadn't occurred to her. What was important was that the aid allowed her to explore and learn. But, one-on-one with first-generation students like herself, the true impact of the help she received came into focus. 
"FIU recognized the potential in me," she recalls. "I met people just like me, and we grew together." 
Chang's journey to becoming a professor started when her curiosity about the origins of crime drove her to seek further education. Her mentors challenged her to apply her real-world experience to the classroom. Since then, Chang has never stopped learning. She's also enrolled in creative writing seminars and seeks out every opportunity to expand her understanding. In December of 2021, she earned another bachelor's degree; this time in French and Francophone Studies. 
"I see my work as a continuing learning journey," she says. "It's what I love the most about being a professor." 
As a professor, Chang wants her students to keep building on their own learning journeys. That's why, as her family and her sisters became stable, Chang decided that now is the time for her to pay the support she received forward to the next generations of Panthers who may need financial or educational support. 
"This is the time for them to explore—change their major, get exposed to different careers, change their major again—that's how they really get that depth of knowledge," she says. "Being a student is such a life experience." 
Chang hopes that her gift will allow first-generation students like herself to build both knowledge and resiliency so they're prepared to face challenges both inside and outside of the academy. 
"By helping these students directly," Chang says, "FIU motivates me to give back because I want to see these programs continue and become self-sustaining so they can help even more students." 
— By Jessica Borsi