FIU researcher Heidi M. Mansour elected to the 2022 Class of the AIMBE College of Fellows
April 26, 2022 at 11:00am
---
Heidi M. Mansour, professor at FIU's Center for Translational Science and the Robert Stempel College of Public Health & Social Work, was elected to the American Institute for Medical and Biological Engineering's (AIMBE) 2022 Class of the College of Fellows.  
"This award recognizes Dr. Mansour's transformational impact on the field of drug delivery. It is thoroughly deserved, and we are delighted that such a world-renowned investigator is at FIU and pioneering new approaches for the treatment of devastating human conditions such as Alzheimer's and Parkinson's disease," said Stephen Black, director of the Center for Translational Science.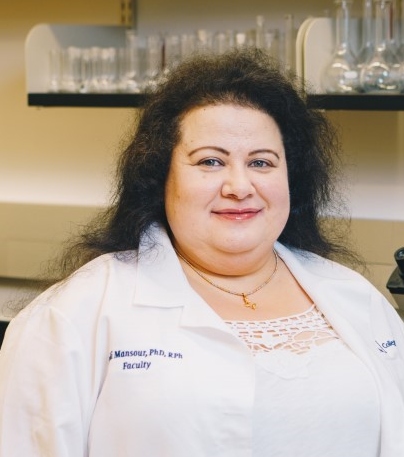 "This award recognizes her outstanding progress and creative approaches to drug discovery and delivery that have shaped the field of targeted pulmonary inhalation aerosol therapy," said Jeremy Chambers, interim chair of the Department of Environmental Health Sciences at Stempel College. "This exceptional honor is reserved for only the most accomplished professionals (top two percent) in the fields of medical and biological engineering in the United States."
In a press release issued by AIMBE, the College of Fellows comprises accomplished and distinguished engineering and medical school chairs, research directors, professors, innovators and successful entrepreneurs. AIMBE Fellows are regularly recognized for their contributions to teaching, research and innovation. They have gone on to win the Nobel Prize, the Presidential Medal of Science and the Presidential Medal of Technology and Innovation.
Mansour, a Wisconsin native, works at FIU's Center for Translational Science, a state-of-the-art research facility located in Port St. Lucie, Florida, which this month commemorated its official grand opening with a ribbon-cutting ceremony attended by FIU faculty, staff and students.

Mansour has an extensive track record of success that includes 108 peer-reviewed journal articles, 15 book chapters and two edited books. She also has a robust extramural support portfolio that provides ongoing support from the National Institutes of Health (NIH) including the National Heart, Lung, and Blood Institute (NHLBI), the National Institute on Aging (NIA), and the National Cancer Institute (NCI).

"This award means the world to me and is very humbling. It represents many years of research, dedication and persistence, as well outstanding teamwork by my lab personnel comprised of post-docs, graduate students, and health professional students," said Mansour. "It's pivotal in one's career to get such an honor by peer nomination, peer review and peer selection. It opens up more opportunities in career development, research expansion and networking among the top leaders in the area."
Mansour has several grants from the NIH that involve her overseeing research on neuroscience, pulmonary diseases, non-melanoma skin cancer and innovative drug delivery.
Together with Tomás R. Guilarte, dean of Stempel College and expert in brain science and neurotoxicology, Mansour investigates neurogenerative diseases, such as Alzheimer's disease, and is currently working on designing innovative drug delivery systems that can be aerosolized through the nose and reach the brain directly, non-invasively, and painlessly. Nasal inhalation aerosol products like these currently exist and help treat conditions like migraines, osteoporosis, heroin overdoses, and more.
"We have products on the market that help people and save lives, but now we want to expand it to neurodegenerative diseases because we know the route works," said Mansour. "But we have to have the right drugs, the right formulation, and the right testing. So that's the strategy and the goal."