FIU students get a crash course in disaster response
Three-day disaster field operations exercise tests students' abilities to respond to a large-scale international disaster
---
Editor's note: This story was updated to reflect the latest rankings. 
With an increase in back-to-back hurricanes, historic wildfires and unprecedented flooding, preparing the next generation of disaster management professionals to respond in times of crisis is vital for the security of communities near and far. At Florida International University, the Academy for International Disaster Preparedness (AIDP) — which ranked No. 4 in the nation for its graduate program in 2021 and was recently ranked No. 2 by OnlineMastersDegrees.org for its online graduate degree — is doing just that. 

Fifty AIDP students got first-hand experience responding to a large-scale simulated international disaster. The three-day field operation exercise was the culmination of a 11-month intensive course that trained students on how to respond to extreme disasters across the globe. The course covered critical topics like deployments, civil-military coordination, reporting lines and authority, damage assessments, and more.   
The field operation exercise allowed students to implement what they learned in the classroom.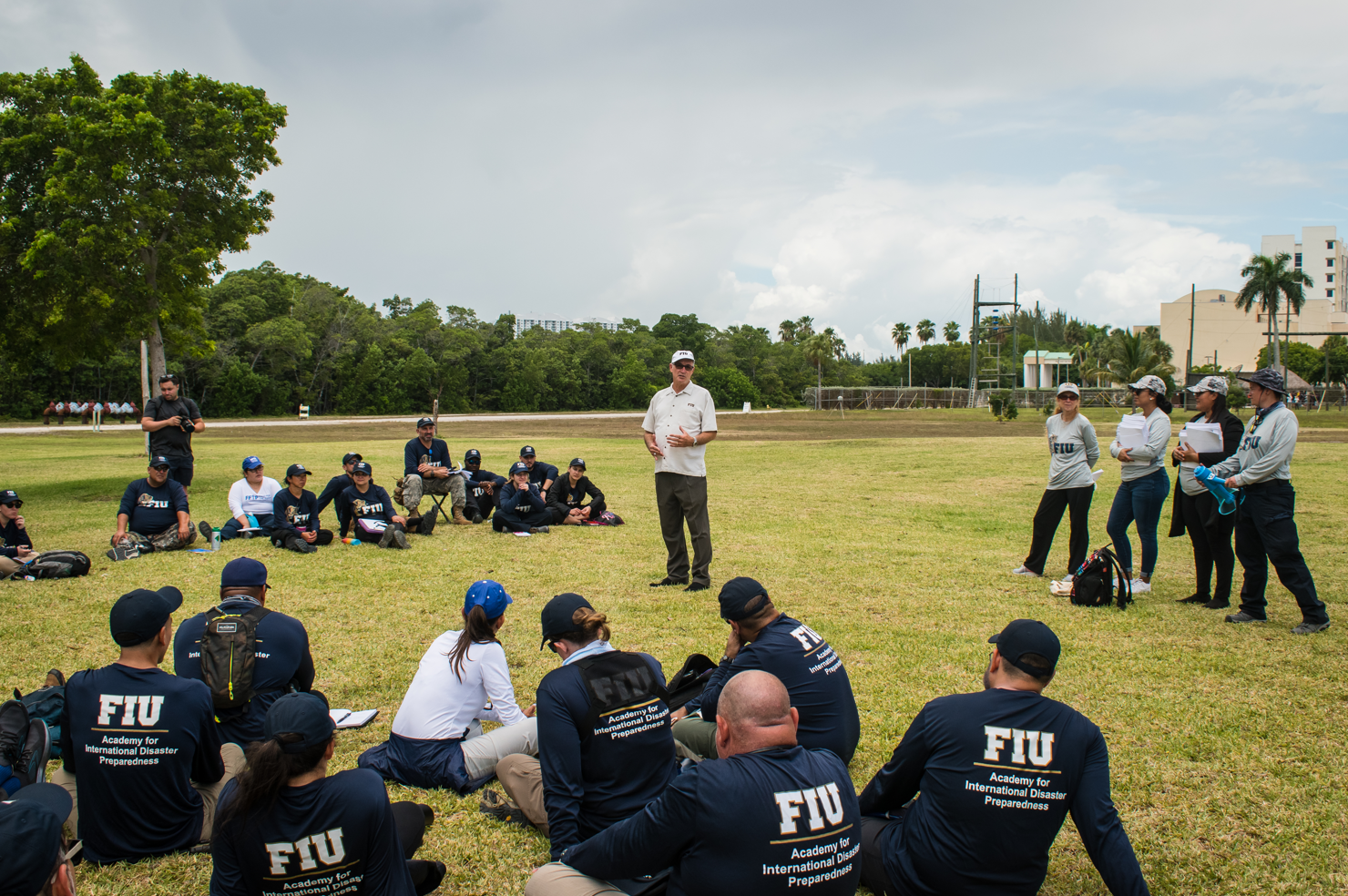 "A special thank you goes out to our partners, faculty and staff who helped make this an unforgettable experience for our students," said Javier I. Marques, Vice President for Operations and Safety & Chief of Staff and Executive Director for AIDP. "In addition to what is learned in the classroom, real-life experiences like these are essential for building skills in leadership, teamwork and communication—critical skills first responders must have in times of disaster." 
Boots on the ground

On day one, students were dropped into a fictional country that had been devastated by an earthquake. Divided into teams and led by a student team leader, the students were tasked with assessing damages, coordinating with partners and ultimately putting a plan of action together to respond to the needs of impacted communities.
"You can read all about disaster management and how to respond to a disaster, but there is nothing more educational than responding to a disaster and being boots on the ground and just doing the response," said Wesley Urrutia, a student graduating this fall with a master's degree in disaster management. 
Students were exposed to various assets typically used during a disaster response, including helicopters, marine vessels, and others. 
"The disaster exercise provides an opportunity for disaster management responders to test new equipment, technologies, including tactics and strategies to evaluate their effectiveness prior to the actual disaster," said Ruben Almaguer, founder of AIDP. 
The austere environment also combined other realistic elements typically encountered in the field such as sleeping in cots, no Wi-Fi access and eating MREs (meals ready-to-eat) for breakfast, lunch and dinner.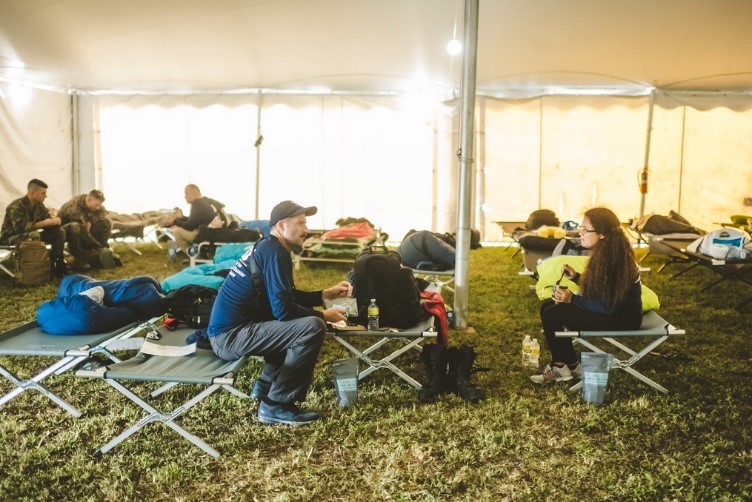 "It's definitely a lot of quick thinking on your feet," said Margaux Mas, an AIDP alumna who now works as an emergency preparedness manager in Tampa. "You don't have your books, and you don't have internet. You will not always have those resources available in real life. It is all about instincts and whatever experience and knowledge you have." 
Partners are vital to a disaster response

In times of disaster, partnerships between governments, nongovernmental organizations and the private sector are critical in helping a response move into recovery. 
During the exercise, AIDP students experienced partnerships in action. Embedded into their teams were marines from U.S. Southern Command and staff from Food for the Poor, a nonprofit that provides food, medicine and shelter to communities in need. The Disaster Response Team from the mail service DHL also participated, offering their expertise in logistics support. It was the first time the field course embedded participants outside of FIU, allowing students to strengthen their communications skills and learn from different perspectives. 
In the field, first responders from the Miami-Dade Fire Rescue Department and the U.S. Coast Guard helped students reach hard-to-access places using a helicopter and boats.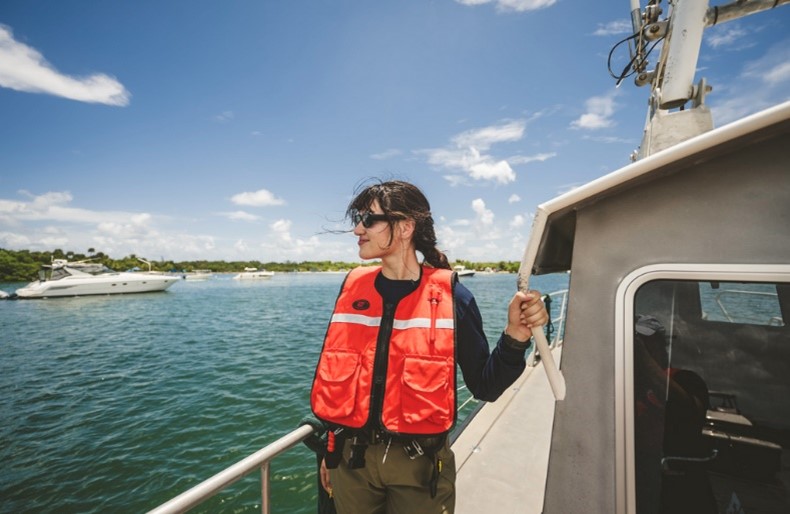 Upon arrival, students met with fictitious country governors, mayors, victims and role players of different backgrounds to learn about their food, water and shelter needs. 
"Our goal is for students to walk away from this event, saying that they effectively responded to a disaster event," said Dulce Suarez, assistant director at AIDP and one of the lead organizers of the field course. "If a disaster occurs, I want them to be ready to hop on a plane and respond because they have the knowledge and skill to do so." 
Bringing diverse experiences  
AIDP students were both from the online and in-person disaster management graduate programs. Suarez shares that this was the first time the field course, which has been offered since 2015, had more online students than in-person students.
"This is what makes our program unique – that even online students who are fully taking classes at home at their own time can come to campus and participate in this exercise," she adds. 
Students had the opportunity to mingle with one another and learn from each other's work experiences – many of whom are employed as first responders, educators and government and nonprofit staff members.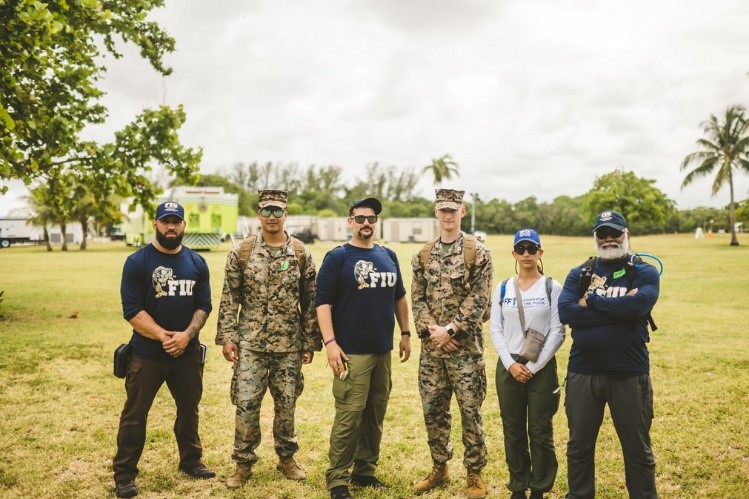 Student team leader Adam Schachner, who works as a high school teacher outside of school hours, encourages those interested in disaster management to take the plunge and enroll in the graduate program.
"It is literally for anyone, whatever your background or interest areas are," he said. "There is something you could be doing to help the global and local community in ways that are truly meaningful. You can be a master of disaster, too."