FIU's Fulbright portfolio continues to grow
Since the 1970s, FIU has hosted more than 100 Fulbright scholars and student visitors from every continent. Since 2016, the university has been recognized multiple times as a top producer of Fulbright U.S. scholars — sending more than six faculty members abroad in a given year. Most recently, FIU earned recognition as one of the inaugural cohorts of Hispanic Serving Institutions (HSI) honored as a Fulbright HSI Leader.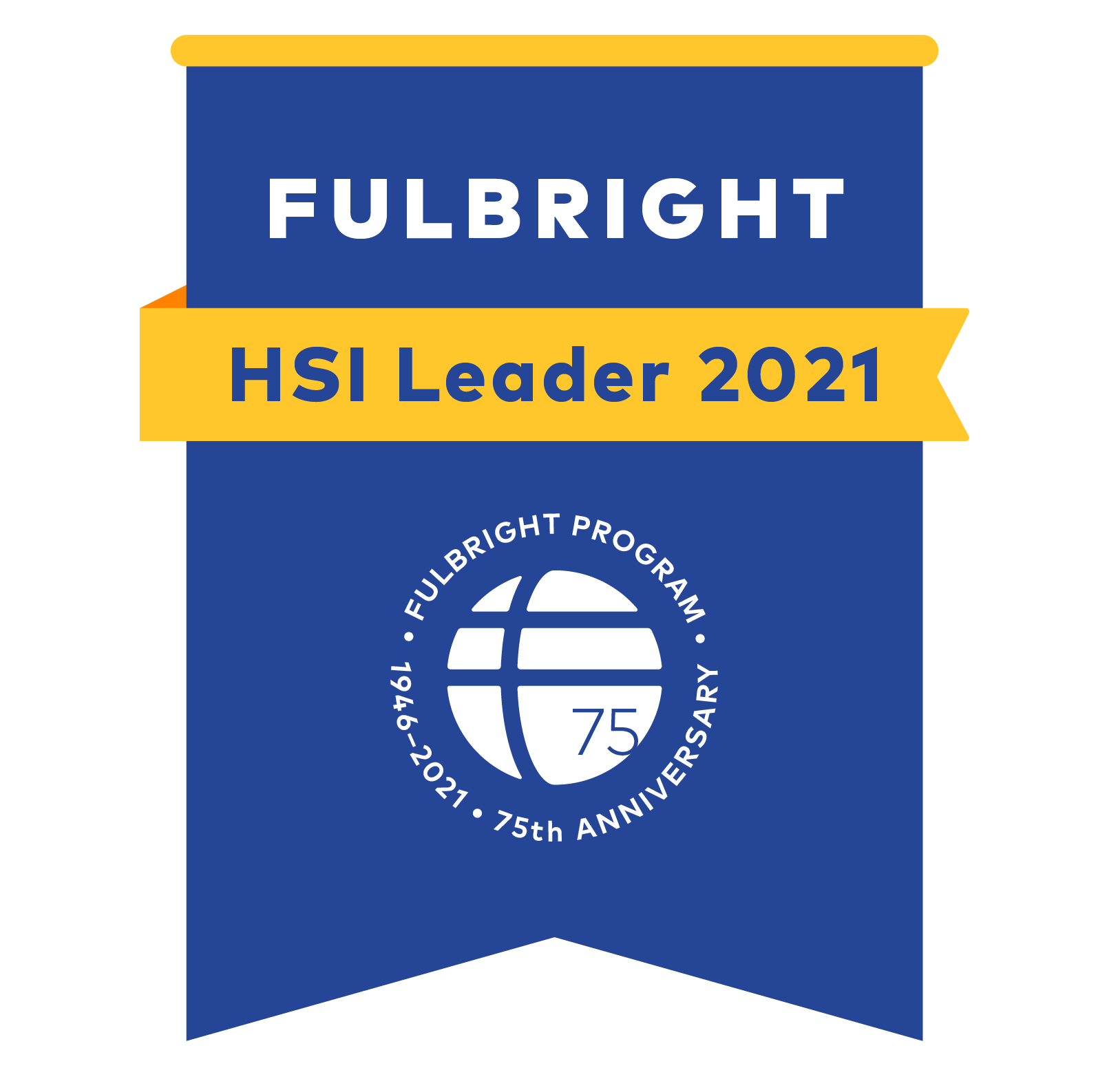 In Fall 2021, the U.S. Department of State's Bureau of Educational & Cultural Affairs (ECA) named FIU as one of the inaugural cohorts of Hispanic Serving Institutions (HSI) honored as Fulbright HSI Leaders. This recognition is intended to highlight universities' contributions made through the less commonly known programs such as the Fulbright Foreign Language Teaching Assistants, Fulbright Scholars-in-Residence, Fulbright Specialists, and International Education Administrators Seminar.
Meet the 2021-2022 cohort of FIU Fulbrighters in these programs.
Fulbright Foreign Language Teaching Assistants
The Fulbright Foreign Language Teaching Assistants (FLTA) program offers language educators from abroad an opportunity to share their culture and language at U.S. institutions of higher education. At the same time, these visitors develop their professional skills and gain first-hand knowledge of the United States, its culture and its people. Between 2003-2021, FIU has welcomed 24 FLTAs.
For the 2021-2022 academic year, FIU is hosting four FLTAs: Ana Ramsha from Pakistan; Chintan Sonawane Kishor from India; Elif Cirak from Turkey; and Svetlana Kurbanova from Uzbekistan. The dynamic quartet, undeterred by the COVID-19 pandemic, came to FIU with numerous ideas on how to share with students, faculty and staff their cultural identity, traditions and ethnic specialties. Their suitcases were filled with beautifully handcrafted artifacts, embroidered national garb, customary drawings, sacks of spices or teas and so much more. While eager to teach their languages — Urdu, Hindi, Turkish and Uzbek, respectively — they also arrived with the keen desire to immerse themselves in campus life, the South Florida community and travel throughout the United States as much as possible.
The FLTA scholars are working to improve knowledge of their native languages by our unique student body from Latin American and Caribbean backgrounds, who might know little of Central and South Asia.
The FLTAs are working with faculty to translate documents and do digital humanities research on a medieval Islamic poem, known as the Nur Nama. They are helping to catalog an endangered archive of a Khoja library in East Africa. They are engaging in public outreach to communities, such as Turkish-Americans, and presenting at congregational gatherings, such as at Masjid al-Ansar in Miami. They are also working with FIU to secure the future of South and Central Asian Studies through developing the Mohsin and Fauzia Jaffer Center endowment to promote research and teaching in these important geopolitical regions.
Their presence helps to expand American understanding of the complex diversity of Eurasian history and their connection to our lives in the Americas.
Fulbright Scholars-in-Residence
FIU is also hosting its first two Fulbright Scholars-in-Residence (SIR). These foreign scholars are hand-picked by FIU for their scholarly background to support faculty in developing new or enhancing existing academic programs. SIRs come for a semester or full academic year to teach courses, assist in curriculum development, give guest lectures, develop study abroad/exchange partnerships and engage with the campus and the local community. The host institution benefits from the expertise provided while the scholar attains experience in the U.S. higher education arena and works shoulder to shoulder with collaborators. The S-I-R program promotes cultural and intellectual diversity among the institution and the wider community. It offers the opportunity to learn from seasoned scholars and to broaden our understanding of the wealth of human knowledge to a global perspective.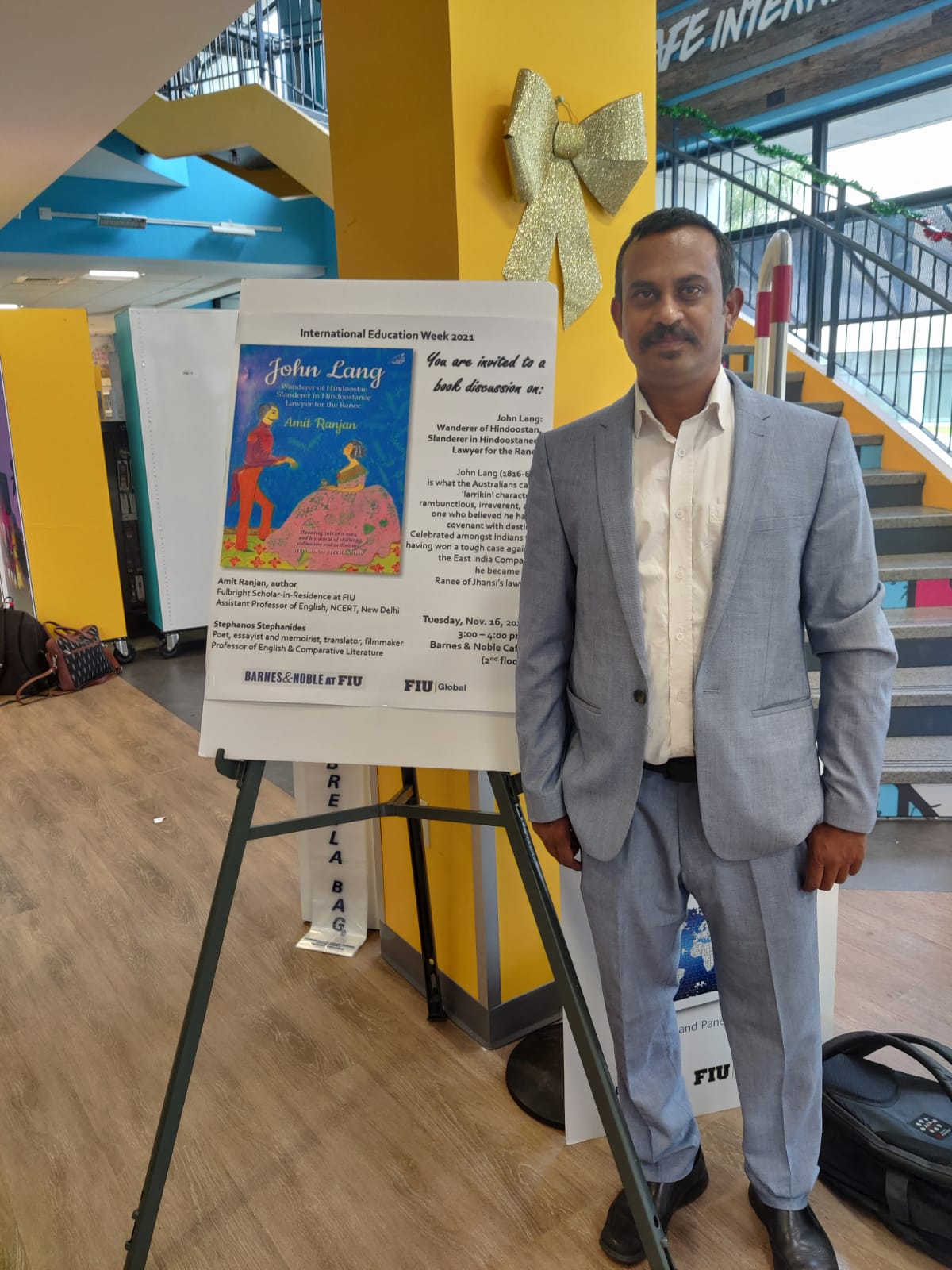 Amit Ranjan, Ph.D., was hosted by the Department of Modern Languages as a Fulbright Foreign Language Teaching Assistant (FLTA) for Hindi in 2015-2016. FIU invited him to come back in 2019 as the university's first Fulbright Scholar-in-Residence. Cut short by the COVID-19 pandemic, Ranjan returned to India in early 2020 but is currently completing his second term of the S-I-R assignment at FIU.
He is providing support with the development of the South Asian studies initiative, teaching and guest-lecturing and researching his next book, a biography of 17th-century Sufi prince Dara Shikoh.
Ranjan is a polymath and has published a book of poems; a work of nonfiction; several academic articles; essays; and four plays, two of which he has directed and acted in. He is also currently researching innovative enhancements to school education. He's currently writing poems about Miami.
He provides an artistic, scholarly and decolonial approach to understanding the world. Ranjan's ability to create a community and connect scholars from Cyprus to Guyana to the USA speaks to his agile versatility as a renaissance thinker and activist. A prolific author and poet, he has offered readings of his latest book John Lang, Wanderer of Hindoostan, Slanderer in Hindoostanee, Lawyer for the Ranee, poetry exchanges and more.
When asked to reflect on his Fulbright assignments here at FIU, Ranjan said:
"It's a great honor for Fulbright and FIU to recognize my work. I have had very thought-provoking intellectual discussions here, as well as floated in a funk on Miami waters. The flatland upon water that Miami offers is a unique opportunity to ponder about both the ephemeral and the eternal; one sees both history and ahistory with a unique lens here.
"I've enjoyed the amazing opportunity to learn from very learned and kind friends like professors Iqbal Akhtar and Carlos Grenier and others. We are building strong connections with South Asian intellectuals, and have an institute and a series of conferences and research networks in place. I'll take back with me to India a lot in terms of understanding Miami's unique location between America and Latin America, in terms of poetry, and in terms of regular expansion of intellectual horizons."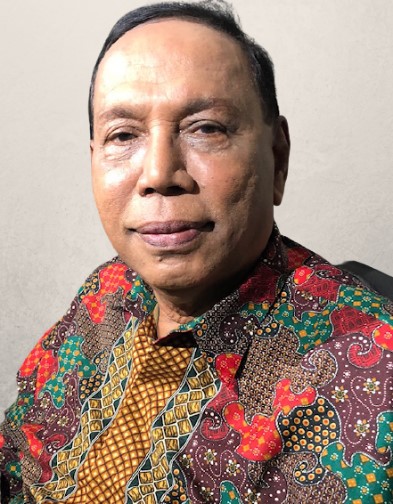 B.A. Hussainmiya, Ph.D., professor of the Department of Social Studies at Southeastern University of Sri Lanka, joins FIU as the second SIR from Spring to Fall 2022. Hussainmiya provides support developing the Muslim World and Jain Studies centers as well as the Tamil endowment. He is expected to give public lectures, translate Tamil Islamic manuscripts and help with federal and local grant applications.
Hussainmiya's work in Brunei and among the ethnic Malay of Sri Lanka provides a window into the ancient networks of knowledge within the Indian Ocean. He will be translating a colonial Muslim Malay manuscript from Sri Lanka to highlight the contribution of the community to the ethnic mosaic of contemporary Sri Lanka.
"I am especially excited to work with young energetic scholars like Dr. Iqbal Akhtar who are engaged in groundbreaking research on various comparative religious topics," Hussainmiya says. "When I return to Sri Lanka, I will bring with me the latest knowledge and innovations in social studies and humanities research. I fully endorse the Fulbright program's motto to inspire my younger colleagues while enriching levels of originality and depth and increase academic output."
These scholars fill gaps in understanding of the world and inspire FIU students to think beyond the Euro-American hemisphere as the world embarks on the Asian Century.
Fulbright Specialists
The Fulbright Specialist program matches U.S. academics and professionals for two- to six-week projects requested by the host institution abroad. Since 2003, a total of 23 FIU faculty and professional staff have completed Fulbright Specialist assignments through which they provided curriculum and program development expertise to their host institutions.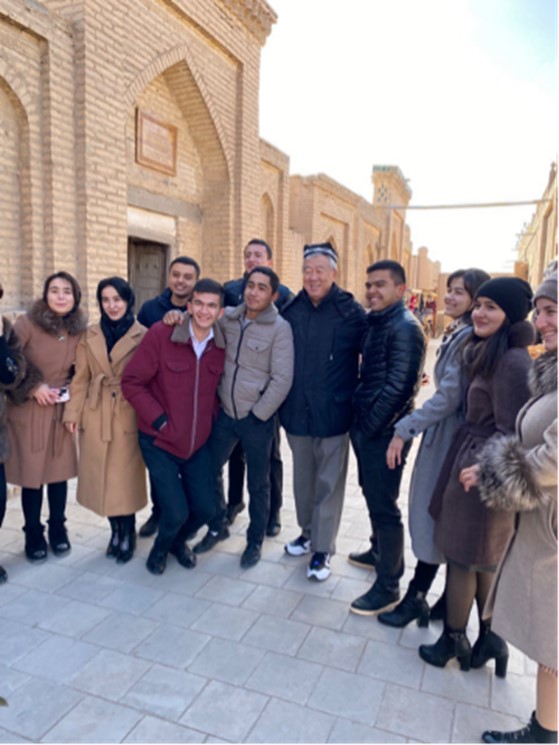 In Fall 2021, Jinlin Zhao, professor at the Chaplin School of Hospitality & Tourism Management, spent five weeks teaching at Urgench State University, which has an overall student body of 25,000 students and 600 tourism major students.
He also offered guest lectures on sustainable tourism development and management at the Tourism Development Institute of Ministry of Sports and Tourism in Tashkent. In addition, he was invited to visit with officials at the U.S. Embassy in Tashkent to discuss in detail his Fulbright Specialist experience.
Students majoring in tourism management at Urgench State University enthusiastically welcomed Zhao who co-taught ecotourism, sustainable tourism management, innovations in hotel management, tourism marketing management and tour operating courses. He also worked with the nine teachers in the USU Department of Tourism and Hospitality Management of the College of Economics.
"It was an honor to represent FIU and the United States and share our knowledge on best practices while also exploring the culture and tourism markets of Uzbekistan," says Zhao, who was previously invited as a Fulbright Specialist by the College of Northern Denmark and University College Nordjylland in 2016.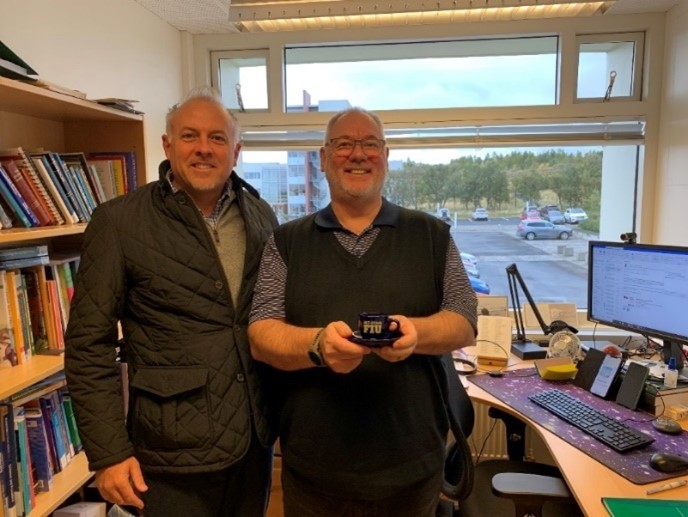 Also in Fall 2021, Rob Guerette, professor of criminology and criminal justice, was invited by the University of Akureyri and the National Police Commissioner of Iceland's Center for Police Training and Professional Development, a government entity that works with the university, to help facilitate the university's continuing education curriculum and training on cybercrime recognition and prevention. Guerette offered multiple guest lectures and gave a presentation during the Annual Police and Society Conference titled "The Centralization and Rapid Deployment of Police Agency Cyber Technologies: An Appraisal of Real-Time Crime Centers in the United States."
Throughout his visit, he gained deep insight into Iceland's policing practices. He met with local and national officials, toured facilities and observed the data management system, shadowed patrol officers to observe the policing process in action, and discussed learning pedagogies as well as policing curriculum models with faculty and professional trainers.
"Having the opportunity to learn how the Icelandic police are organized and deal with their own crime problems was immeasurable," Guerette says. "I went there expecting to catalog all the differences but then realized we deal with many of the same issues. This was evident within their police culture, organizational structure and the challenges of improving their own policing approaches in response to cyber-based offending all while accommodating political and community-based demands."
In January 2022, he will offer a virtual lecture at the University of Akureyri Social Sciences Forum, a commitment he made during his five-week visit as a Fulbright Specialist.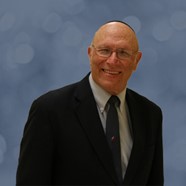 In Spring 2022, Cesar Levy, professor emeritus in the Department of Mechanical and Materials Engineering, will be a Fulbright Specialist to Guyana. He is scheduled to arrive in Georgetown, Guyana, during the second week of January. He is tasked with discussing the benefits and the process of accreditation with U.S. embassy representatives, university senior administration and program leaders at the University of Guyana. He will then sketch out more details with the respective undergraduate program heads and continue to work remotely, due to COVID restrictions, with them for the remainder of January.
His work is to some degree a continuation of what his faculty colleague, professor Norman Munroe, began during his semester-long Fulbright Scholar fellowship in 2019 also at the University of Guyana.
Levy has been a program evaluator with the Accreditation Board for Engineering and Technology (ABET) since 2006. ABET accredits university engineering programs and sets worldwide standards. As part of the Fulbright Specialist assignment, Levy will review program curricula (mechanical, electrical and civil engineering) and make suggestions as to what the programs can do to ensure they meet ABET's general and specific criteria.
Fulbright International Education Administrators Seminar
The International Education Administrators (IEA) awards are seminars designed to help U.S. international education professionals and senior higher education officials further their knowledge about higher education and research of other countries and create empowering connections with their counterparts. Selected applicants have the opportunity to learn about the host country's education system as well as establish networks of U.S. and international colleagues over the course of an intensive two-week grant duration. 
In Fall 2021, Hilary Landorf, executive director of the Office of Global Learning Initiatives and associate professor of international education, was among the IEA France awardees. She and her North American peers visited a cross-section of universities and colleges, attended briefings with faculty and administration, government officials and leading educational experts at public and private institutions. They also enjoyed tours of historical and cultural sites.
Professor Landorf returned with countless new insights into how best to prepare students and faculty for the complexities of today's globalized world and co-authored with fellow IEA Fulbrighter Jennifer Donaghue, the executive director of international education at the George Washington University, an article on the essence of international education published by the Association of International Educators (NAFSA).
---
FIU has been an active partner to the Fulbright program in many ways. Since the 1970s, FIU has hosted on our campuses more than 100 Fulbright scholars and student visitors from every continent. Since 2016, FIU has been recognized multiple times as a top producer of Fulbright U. S. Scholars for sending more than 6 of our faculty abroad in a given year. Over the years more than 85 of our faculty have conducted research and taught in their host community abroad.
The Fulbright Program is the U.S. government's flagship program for international educational exchange between the people of the United States and the people of other countries. Designed to increase mutual understanding between the people of the United States and the people of other countries, it has facilitated the mobility of 400,000 faculty, professionals and students since 1946. The Fulbright Program currently celebrates its 75 anniversary.
Interested in learning more about Fulbright opportunities? Either to go abroad or to host a Fulbright visitor? Your Fulbright program liaisons at FIU look forward to assisting you: 
 Assefa Melesse
 Fulbright Scholar/Specialist Program Liaison (faculty and professional staff)
 Fulbright U.S. Scholar to Ethiopia (2011-12)


 Professor, Department of Earth & Environment


 melessea@fiu.edu

 Birgitta "Gitta" Rausch-Montoto
 Fulbright Scholar/Specialist Program Liaison (faculty and professional staff)
 Director of Global Strategy & Faculty Success, FIU Global
 gmontoto@fiu.edu

Ashley Kuntz
Fulbright Student Program Advisor (students)
Director, Prestigious Scholar Development
akuntz@fiu.edu

Susy Gomez
Fulbright Student Program Advisor (students)
Associate Director, Office of Educationa Abroad 
sugomez@fiu.edu