From Colombia to FIU to NASA: Sara Rengifo's journey to becoming an aerospace engineer
By Adrienne Sylver 
With an undergraduate degree in mechanical engineering, Sara Rengifo came to the United States from Medellin, Colombia, hoping to start her career. Although she spoke no English and was told time and again that her degree was inconsequential here, she never gave up. Her determination led her to Florida International University in 2013 to pursue a master's degree in materials science. That move catapulted her to NASA, where today she is an aerospace engineer working in tribology and metrology.

The journey from Medellin to Miami to Marshall Space Flight Center in Hunstville, Alabama, was often rocky. It began when Rengifo, the youngest of three girls, told her accountant parents that she wanted to design machines. "My sisters were very girly, but I was always the one next to my dad fixing things in the house," she said. "It woke up something inside me. I wanted to understand how things worked."

At Universidad EAFIT in Medellin, Rengifo excelled as the only female in her engineering school's graduating class. Degree in hand, it was a trip to Atlanta with her U.S.-born, Colombian-raised boyfriend that really set the wheels in motion. The two decided to marry and her husband, Mauricio Parra, also an engineer, began looking for jobs in Atlanta. But when job offers came, they were from companies in Miami.

"We came here with nothing but our clothes. We had no money. I am very disciplined, and I really thought I could learn English in six months," Rengifo said with a laugh. "I wanted to be a professional here, but it is complicated when you are an immigrant."

In Miami, Rengifo began working a warehouse job and taking English at night school. But as work began to interfere with classes, she knew that in order to achieve her dreams, she had to make a change. Although it meant losing a paycheck, Rengifo, with her husband's full support, decided to leave her job and volunteer at an animal shelter. That gave her the opportunity to learn more English and, with a little speaking ability and a better understanding of the language, she set her sights on a master's degree.

"When I first saw FIU, I knew right away that this was going to be my university. Agarwal gave me the opportunity of my life," she recalled. Arvind Agarwal, chair and distinguished university professor of mechanical and materials engineering, and director of the Advanced Materials Engineering Research Institute, was honest with her from the start. "My English was still very bad," Rengifo said. "But he said, 'Sara, I'm not worried about your lack of knowledge of material science or your English. I'm worried because I'm tough with my students.' "

Her reply: "I'm eager to take on any challenge." As she helped in the lab, her drive, dedication and work abilities were noted. "I could only afford to take one class," she said. But when she went to Agarwal at the end of the first semester to ask if she could officially be part of his research team, he not only agreed, he told her she qualified for tuition reimbursement.

"Sara was a very motivated student," he said. "She worked very hard to not only learn the experimental techniques but English as well, which is not her first language. Sara's positive attitude resulted in multiple journal article publications. She has been instrumental in establishing new research collaborations with NASA and FIU and continues to be a role model for female engineers."

Still, Rengifo faced obstacles. Preparing for graduation in 2016, she attended a job fair. NASA wasn't present, but the U.S. Navy was, and she began serious talks with them about a future. When she told them that she was pregnant with her first child, however, they told her she would have to wait another year to apply. Down, but not out, she applied for a NASA position. She was rejected.
Months later, NASA called back and asked if she'd like to interview for another position. "This time, I immediately went to FIU's Career & Talent Development center where they ran me through mock interviews and helped me with my resume. Between that and my lab experience at FIU, I was more than ready when I had my NASA interview," she said.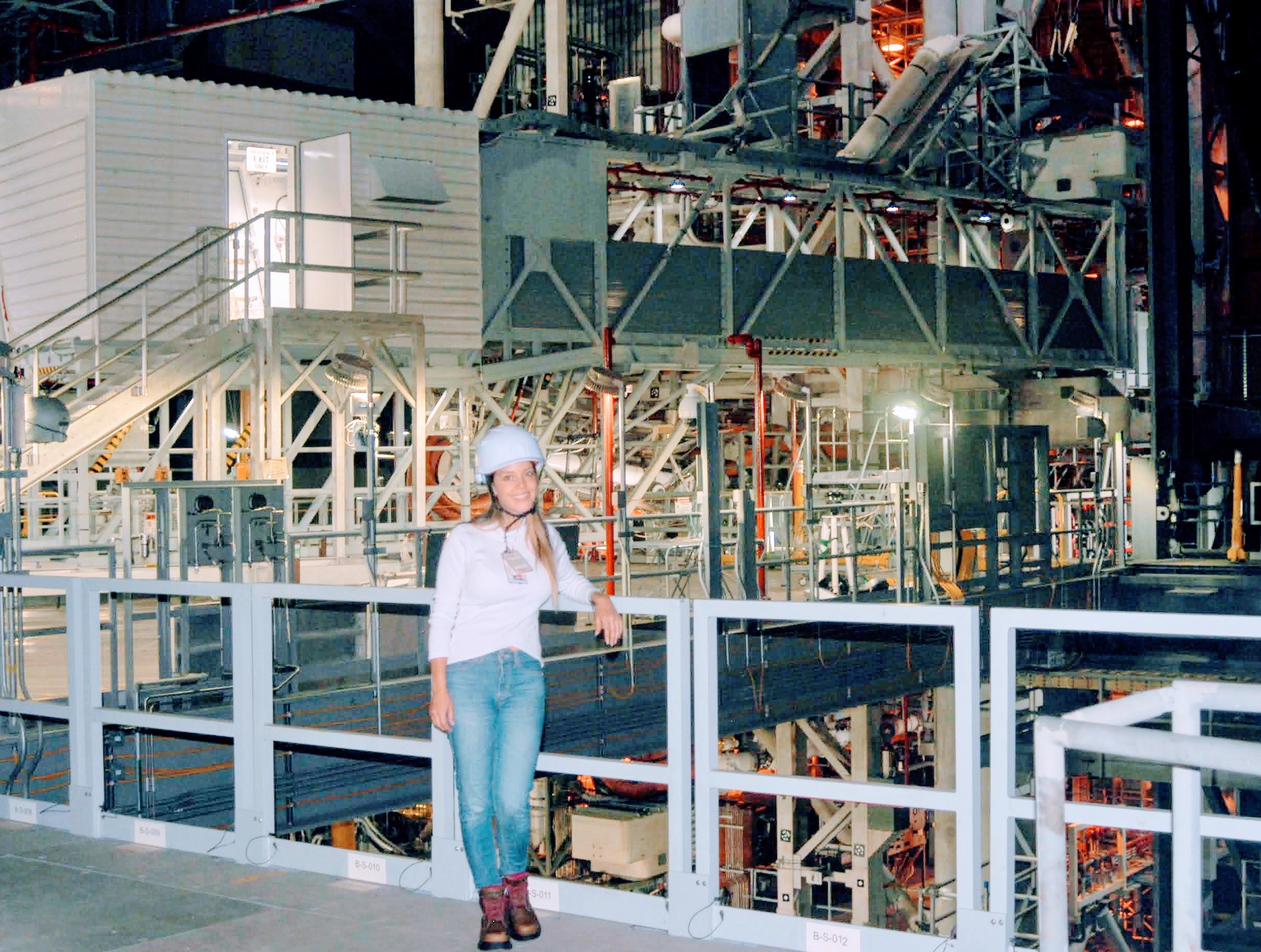 She was right. Her first day of work at NASA's Marshall Space Flight Center was on Oct. 16, 2016. In tribology and metrology, she studies how friction, lubrication and wear affect materials in space. For example, after tests are run on engines, the engines may be taken apart piece by piece and any unexpected wear comes to her for further analysis. She is also principal investigator and project manager for developing new technologies with external partners, one being FIU.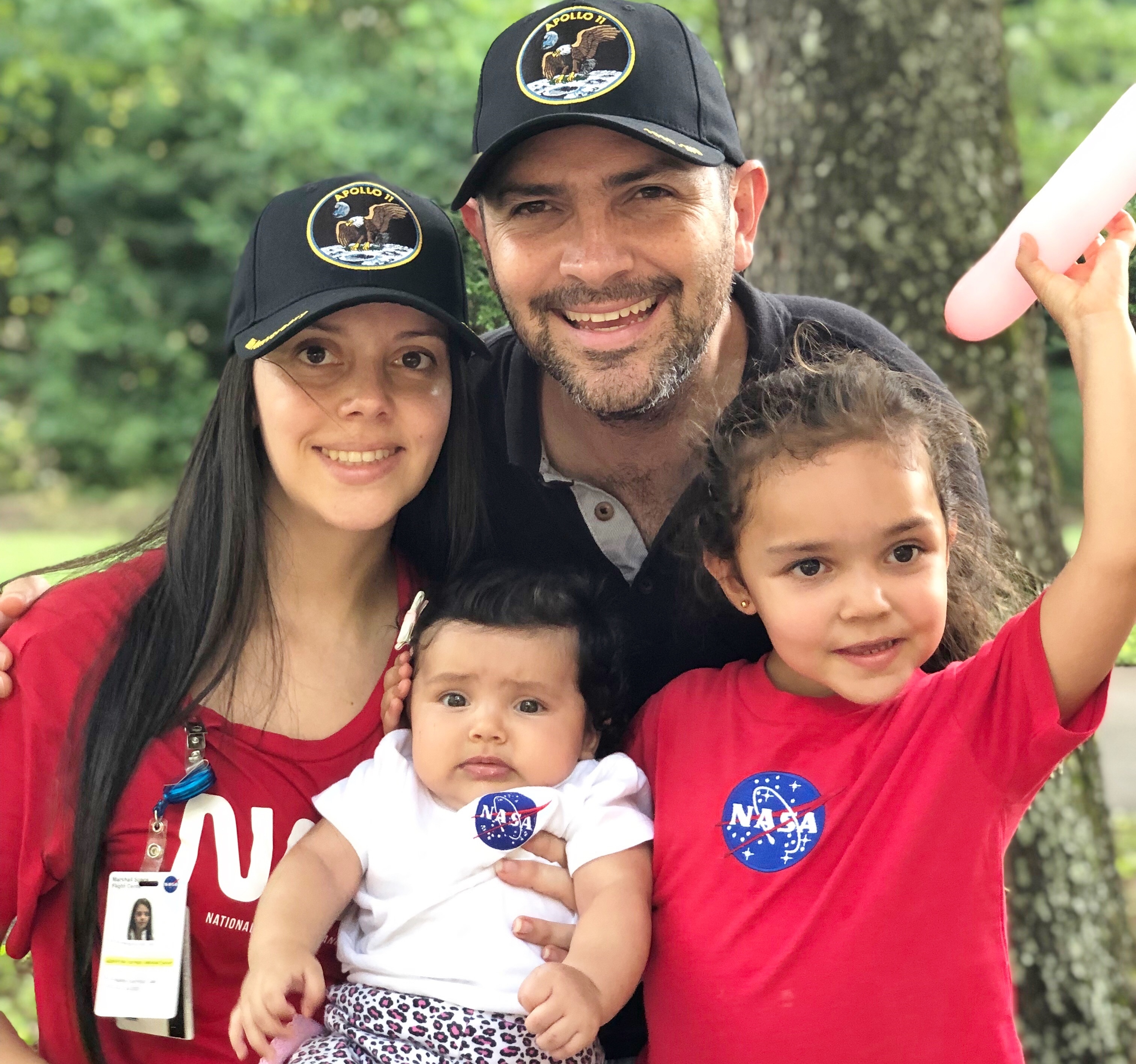 In 2019, Rengifo received NASA's prestigious Trailblazer Award, given to an employee within the first seven years of their career. She received the honor for her contributions in identifying new, creative solutions to space flight and for her support of NASA's mission.

Her message to younger students today? "Take part in workgroups because you learn to work in a team, be uncomfortable and push yourself outside of what you are familiar with. Follow your dreams. Never give up."

Rengifo loves her NASA work and her other job ― mom to Samantha Parra, 6, and Amelia Parra, 2. "I am busy, but my husband and kids are important. I don't mix my work time with my family time."