Coffee, cocktails and creativity: Panther hospitality student's perseverance results in ticket to U.S. Open
September 12, 2022 at 8:09am
---
Michael Eboka spent two months mixing and measuring the perfect flavor profile for an original coffee cocktail and mocktail. His hard work paid off as he served up his award-winning drinks last week in the Lavazza Premium Coffee Corporation's Suite at the 2022 U.S. Open in New York City.
Eboka, a hospitality graduate student, was invited to the world-famous tennis tournament after winning an FIU cocktail and mocktail competition — sponsored by Lavazza, the fifth largest coffee company in the world and the world's largest coffee school. The competition was tight, and, ultimately, there was a tie. Eboka's "Tropical Kiss" cocktail and "Butler's Breeze" mocktail won, along with undergrad Alexa Rodriguez's "Mexican Honey Cold Brew" cocktail and the "Middle Eastern Cold Brew" mocktail. Rodriguez was unable to attend the tournament.
 "I'm so excited. If there's a scale from 0 to 10, I think I'm at 200," said Eboka as he flashed his signature smile.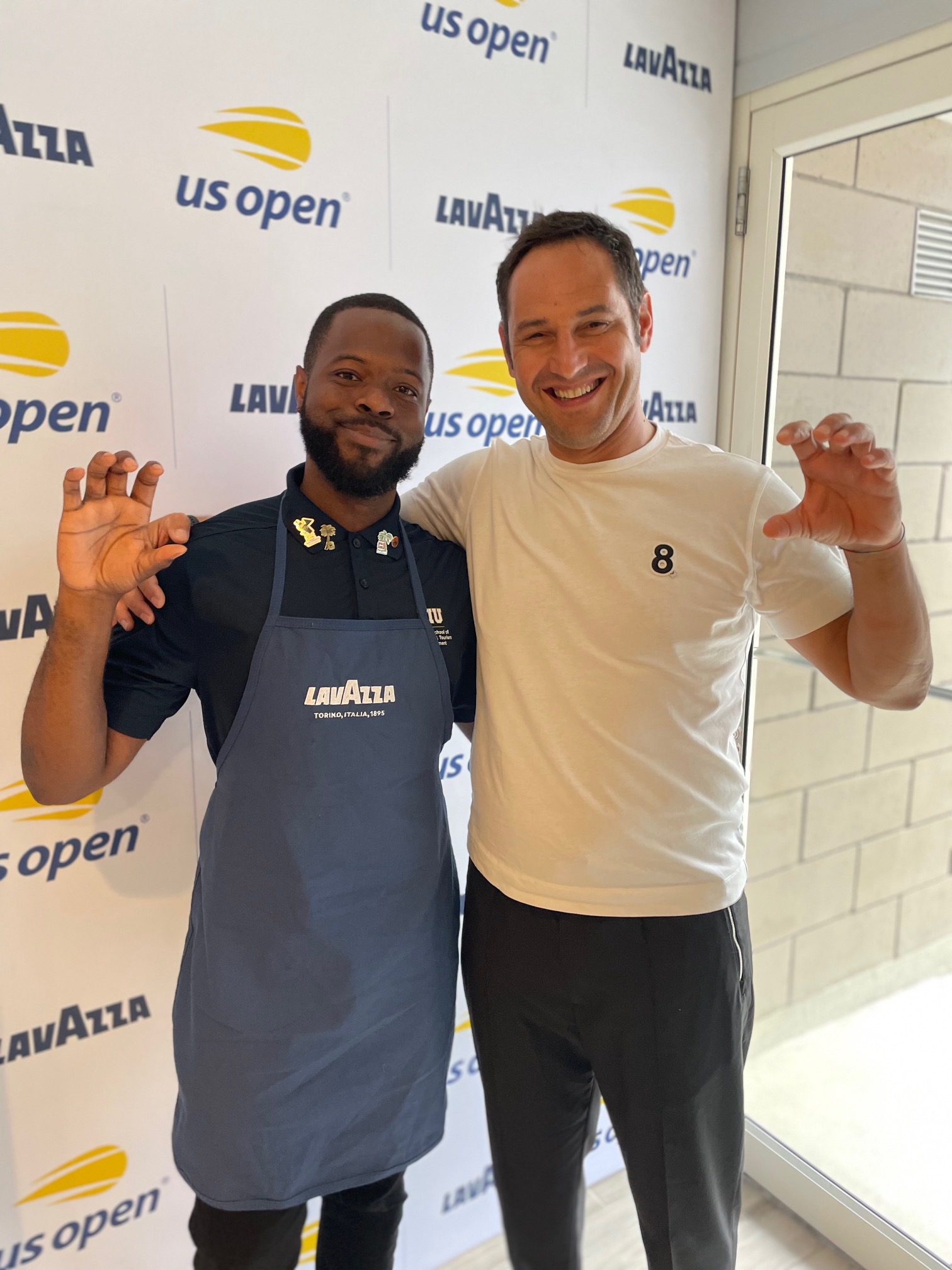 The name of Eboka's mocktail has a particularly special meaning.  
"Barry Butler was a Canadian wheelchair tennis player who, even with his disability, was one of the world's top tennis players. He passed away in 2020 but overcame the odds. I'm dedicating this drink to him, and I want to let everyone know that no matter what your limitations are...keep going," Eboka said.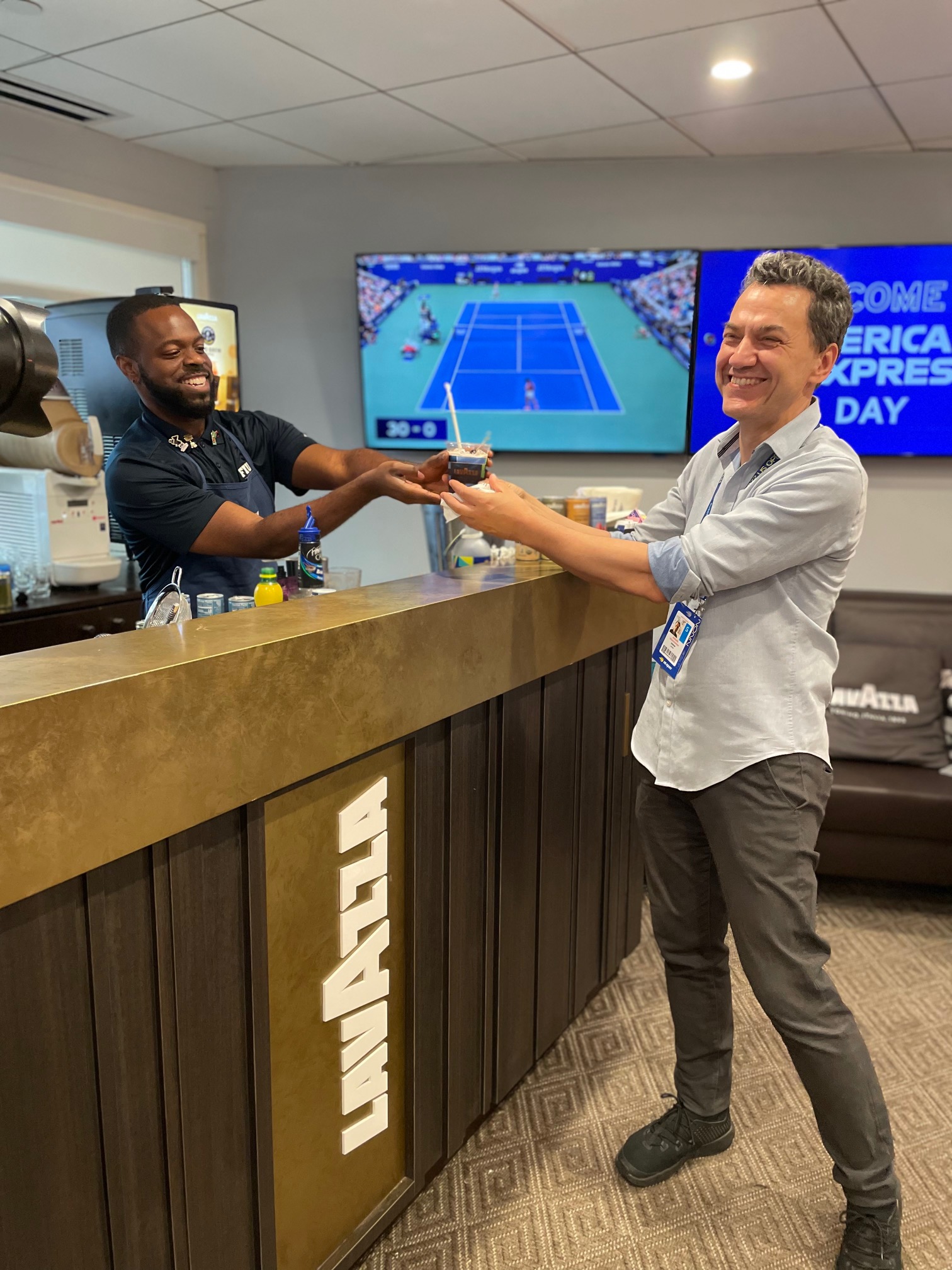 Eboka has overcome adversity himself.  
Born with lack of oxygen to his brain, doctors said he didn't have a chance. He survived but developed developmental delays and learning disabilities. Later, his teachers and counselors in middle and high school said, "he wasn't college material" and suggested he flip burgers or become a mechanic. 
Eboka tried those things, but he wanted more. He went to junior college, where his advisor said he was a nice guy, but would never go any further.
Last semester, Eboka graduated with his bachelor's degree from the Chaplin School of Hospitality & Tourism Management. He's on track to graduate with his master's in Fall 2023. After graduation, he plans to work in the hospitality field and eventually own his own event industry business. 
"My motto is die trying, no matter what. Even if you have a disability, you can still achieve your dreams. The only person that can stop you is yourself," Eboka said.
Eboka researched his drinks extensively. "I wanted to think out of the box. I was thinking a flavor no one has done," he said. His creation mixes Lavazza cold brew, black cherry syrup, lemon juice and tonic water or ginger ale.  
"What impressed me about Michael's drink was that he researched the types of complimentary flavors to our Ready to Drink coffees," said Frank LaRusso, one of three Lavazza Authorized Specialty Coffee Trainers in the United States. LaRusso helped bring the program to FIU. He's an FIU dad; his daughter Gianna LaRusso attends the Chaplin School.  
Eboka shared his drinks with guests in the Lavazza suite at the Billie Jean King National Tennis Center, as American underdog 24-year-old Frances Tiafoe upset number two seed, Rafael Nadal, in a stunning win during the Round of 16 (19-year-old Carlos Alcaraz of Spain went on to win the US Open). Fellow grad student and FIU Coffee Guild president Rowan Jacobs attended, too, in place of Rodriguez. Eboka worked with Lavazza's executive chef to perfect the drink and share it with visitors. The duo networked with guests and Lavazza team members, who learned about the students' plans. 
"This is a great experience," Eboka said. "It is like a dream come true. Lavazza and FIU gave me a great opportunity." 
In 2021, the global non-alcoholic beverage market totaled more than $967 billion, according to Market Data Forecast. In the last two decades, American coffee consumption has soared, with 68% of Americans saying they drink coffee each day, according to the National Coffee Association.
The FIU cocktail and mocktail competition is part of the Business of Coffee, Tea, and Non-Alcoholic Beverages class, which started in Fall 2021; it required creating an original recipe using Lavazza's Ready to Drink coffees. Students who take the class analyze the business and profitability of coffee and other non-alcoholic beverages; in addition, if they pass, they receive a Specialty Coffee Association Barista Skills certificate. 
LAVAZZA FIU COFFEE COMPETITION RECIPES:
BY MICHAEL EBOKA:
Tropical Kiss Cocktail
3 oz. Lavazza Nitro Cold Brew
1.5 oz. Grey Goose Vodka
.5 oz. Black Cherry Syrup
.25 oz. Lemon Juice
Top off with ginger beer
Butler's Breeze Mocktail
4 oz. Lavazza Cold Brew
1 oz. Black Cherry Syrup
.25 oz. Lemon Juice
Top off with tonic water