Med school grad (and stand-up comic) establishes student scholarship to honor teacher
Sara Sherman doesn't just think laughter is the best medicine. She practices what she preaches. Dr. Sherman—who just graduated from the FIU Herbert Wertheim College of Medicine—is also a stand-up comedian.
Just four days before graduation, Sherman headlined a show at the Miami Improv Comedy Theater in Doral. Much of her routine involved making fun of herself and her life as a medical student.
"After four years of medical school, I still have no idea what causes the cough," she told the audience of fellow classmates, current and former teachers, family, and friends. "And the more I think about it, the more I realize I don't care… 'cause I'm going to be a forensic pathologist. There's no way I can make that situation any worse." (For those not familiar with forensic pathology, it's a specialty that focuses on examining deceased people to determine the cause of death.)
The comedy show was a fundraiser for a scholarship Sherman established to help students enrolled in the College of Medicine's Graduate Certificate in Molecular and Biomedical Sciences Program (GCP). The rigorous 9-month program is designed for graduate students looking to enhance their biomedical knowledge and increase their chances of being accepted to medical school. It also provides a pipeline to students like Sherman who applied to the med school at FIU and were waitlisted.
Students on the waitlist are guaranteed acceptance to the FIU Herbert Wertheim College of Medicine if they complete the program and meet specific academic and professional metrics. Other students not waitlisted may be eligible for a guaranteed interview for the MD degree program. Since its launch in 2016, 73% of GCP grads have gone on to medical school, 87 of them at FIU. Others advanced to physician assistant, nursing, dentistry and public health schools.
"That program was one of the most life-changing years of my life. My cohort became a second family. I made lifelong friends," Sherman said. The program opened the door to medical school and opened her eyes to the financial hardship many classmates faced. Some had to take out private loans or work while going to school to pay for the course. The idea of starting a GCP scholarship was born.
The Tracey A. Weiler, Ph.D., Educational Scholarship will help future GCP students and honor a special and inspiring professor. "Dr.Weiler is literally the most perfect example of leadership and the ideals we aim for in medicine—professionalism, kindness, caring. And that sets the tone for the loving and supportive environment in the program," Sherman said. Weiler teaches medical molecular biology and genetics and serves as the GCP's academic director.
"What an honor from a wonderful, kind, generous, altruistic student and human being! Thank you so much from all of the students you will impact," Weiler wrote on Twitter while promoting the comedy fundraiser. After the show, she and Sherman took a photo on stage surrounded by other former and current GCP students.
Between seed money from Sherman and her family, the comedy fundraiser, and matching gifts, she has raised more than $7,000 for the scholarship.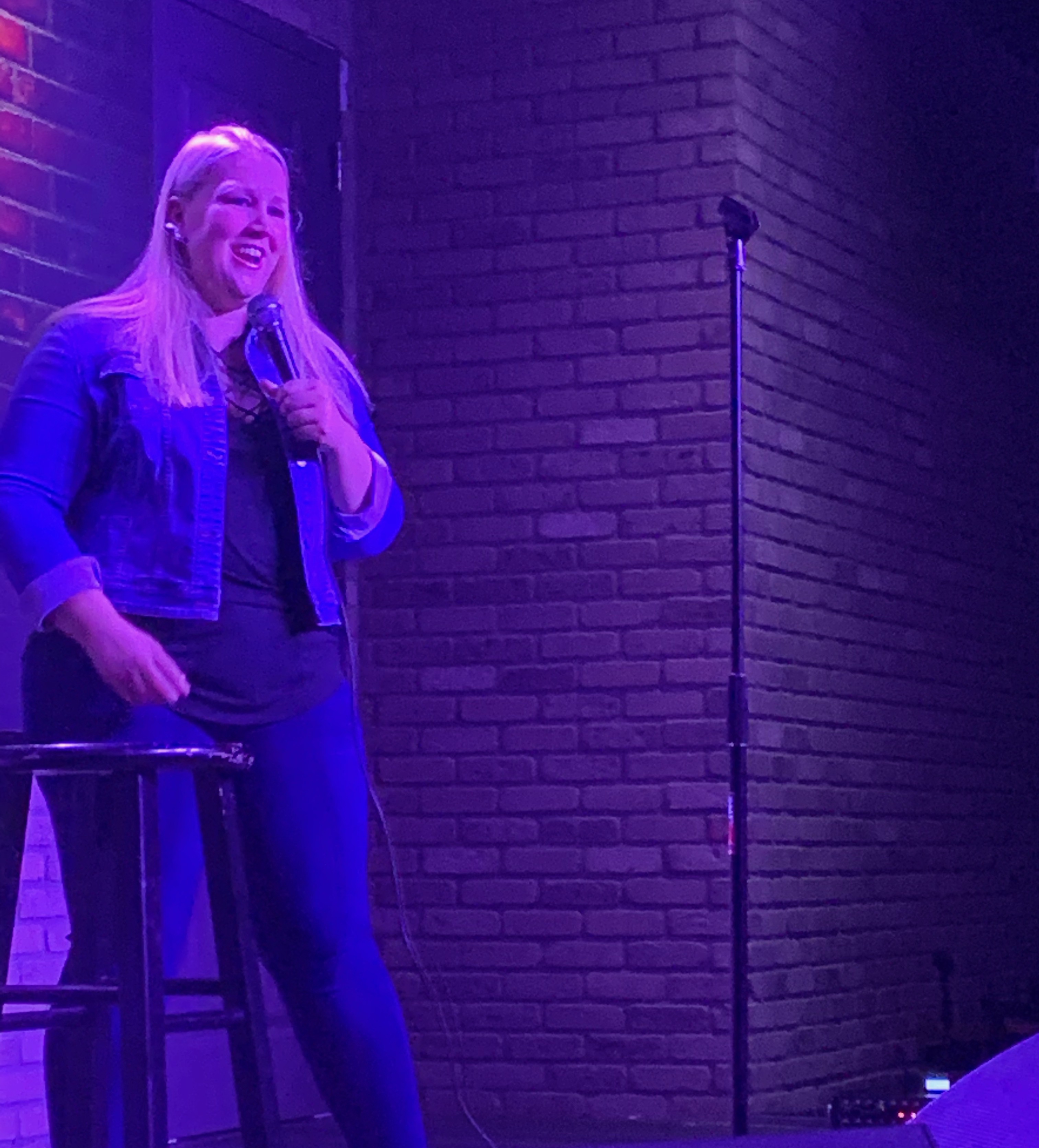 Sherman, who describes herself as "goofy," believes comedy has made her the person and doctor she is. And it all started her first year in medical school when her mom signed her up for an improv class as a Christmas present. "I fell in love with it. I was the only person there without an AARP card," she quipped.
Despite the challenging medical school schedule, at one point, Sherman was doing comedy shows six nights a week while attending classes during the day. "I probably wouldn't recommend it. The tests are crazy," she laughed. "I had to slow down in the third year when we started clinical rotations." Even then, her comedic skills helped her connect with patients. "It's not finding comedy in everything, but it allows you to look at things differently. Even on a really rough day, if you hear something funny, it takes your mind off the negative."
Sherman has decided she wants to be a pathologist, like her mom, Dr. Sherry Woodhouse, who practiced for 40 years, the last 15 as chief of pathology at Memorial Hospital Miramar. In July, Sherman begins her specialized training in pathology at Baylor University College of Medicine in Houston. And mother and daughter, who are very close, will be moving together to Texas. "I'm 28. I'm a doctor. But I still need my mommy."
If you want to help grow what Sara Sherman has started, please visit https://go.fiu.edu/weilerfund to contribute.