'Ready. Confident. Fearless': First recruiting class of new era has Panther faithful ready to roar
February 3, 2022 at 3:48pm
---
To chants of "Olé, olé, olé, olé, FIU, FIU," football head coach Mike MacIntyre officially kicked off a new era of FIU football and FIU Athletics Wednesday night at an event celebrating the 2022 signing class.
The New Day Tour National Signing Day Festival at FIU Football Stadium gave fans a chance to meet MacIntyre, his coaching staff, new Athletic Director Scott Carr, and future and former Panther players as well as an opportunity to learn more about the coaching staff and recruits.
"It took an army to do all we've done," said MacIntyre. "It's not just me and my football staff." The new coach was hired on Dec. 9 and in less than 60 days assembled a coaching staff that signed 27 players.
The 2022 signing class includes talent from around the country and world (punter Jordan Doelling is from Australia) but also reflects one of college football's universal truths: South Florida is a hotbed of football talent. Several 3-star South Florida recruits (Palmetto's Mike Jackson, Booker T. Washington's Semaj Flagg, Cardinal Gibbons' John Bock, Miami Central's Trent Henry) will suit up in blue and gold this fall. Click here to check out the entire class, including video clips.
One of MacIntyre's biggest "gets" thus far has been convincing Tyrese Chambers to remain a Panther. The standout wide receiver broke T.Y. Hilton's records for receiving yards and touchdowns in a single season but entered the transfer portal at the conclusion of the 2021 season. Chambers had multiple offers from higher ranked football programs but opted to remain at FIU after meeting with MacIntyre.
"In today's college football landscape, players transfer left and right," said Eric Henry, FIU football beat reporter and Conference USA podcast host for SBNation.com. Henry has followed the Panthers' ups and downs for years. "Bringing Tyrese back is a big deal. He's a leader, and I think he takes great pride in playing for FIU. Having an exciting player like Tyrese who can get fans to the games is huge."
Henry likens the new era to filling a bare cabinet but said that MacIntyre and the veteran coaching staff he assembled are up to the task.
"I think FIU fans can be excited," he said, pointing out that the last two years FIU only filled about half of its 85 scholarships. MacIntyre has already indicated he believes the team will get close or meet the limit this year. "The team is a young group, but with that comes optimism. The fans are going to be able to watch these players grow up. Every season there are one or two teams in Conference-USA that exceed expectations. If the fans get on board now, they should be able to enjoy the ride as the program ascends."
Panther fans like what they see so far.
"Tonight was refreshing," Bernnon Artola '00 said. A Section 112 uber-fan, the FIU alumnus said his initial reaction at learning of MacIntyre's hiring "was not good," but he's had a change of heart.
"He's hired a really good staff," Artola said. "He has a wide range of contacts nationally. You can see it in the staff he's hired and the class they've signed."
Artola attended the event with several friends, including fellow alumnus Erik C. Alexander '96, MBA '07. Another Section 112 fan, Alexander is so excited for the upcoming season he upgraded his tickets to club seats for the first time. "I'm looking forward to FIU turning it around and doing some great things."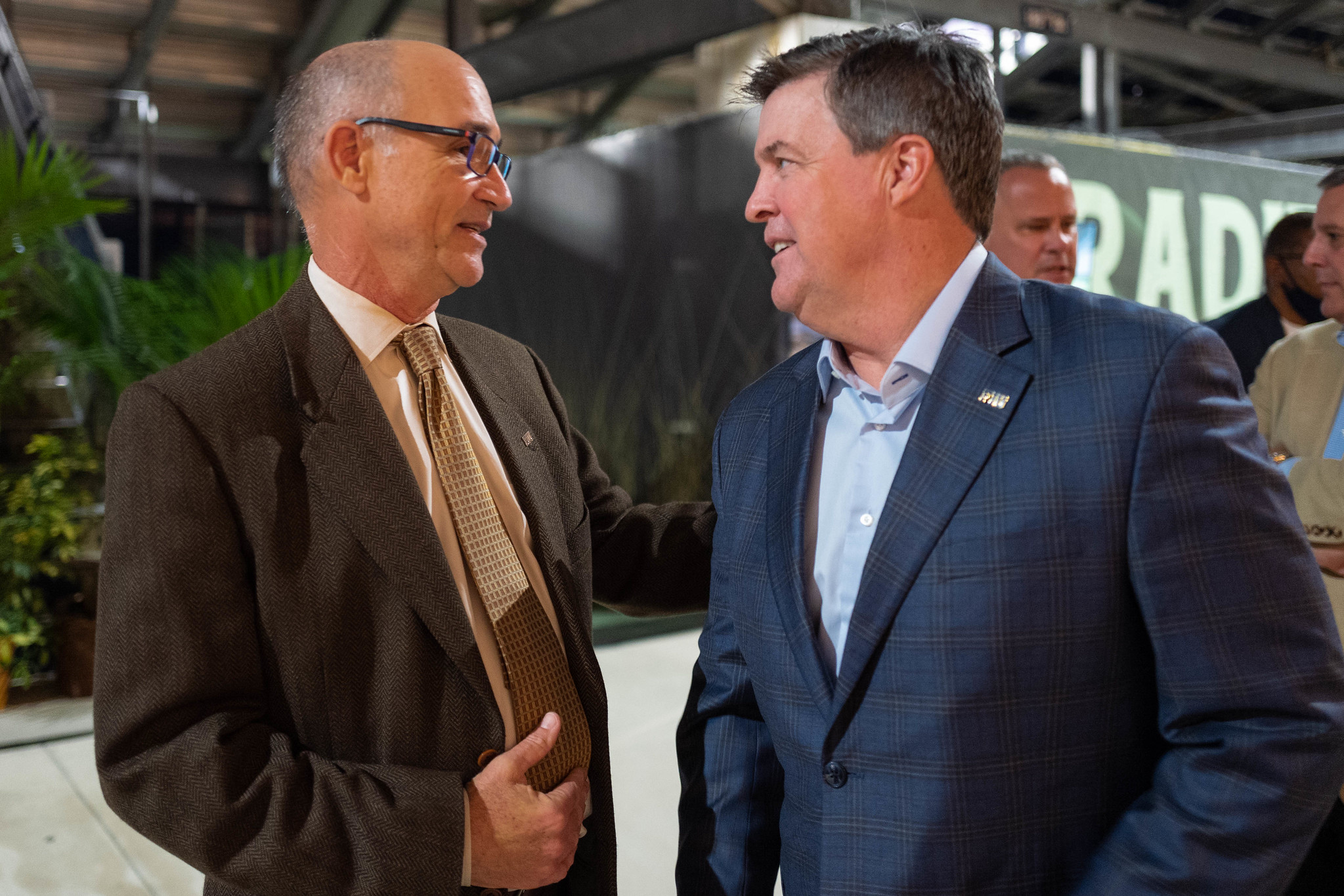 Interim President Kenneth A. Jessell (left) and Head Football Coach Mike MacIntyre (right)
Jalen Bracey, one of the Panthers' new recruits, attended Wednesday night's event. The wide receiver comes to FIU with two years of eligibility left after playing three seasons for Mississippi Gulf Coast Community College, where he racked up 1,678 receiving yards and 15 touchdowns. When asked to sum up his thoughts surrounding the upcoming season, he didn't hesitate: "Ready. Confident. Fearless about the season."
Former Panther great Johnathan Cyprien, who played strong safety for FIU from 2009-2012 before being selected in the second round of the 2013 NFL draft by the Jacksonville Jaguars, was also in attendance. Cyprien, who is active in the local community, posted a note on social media in early December, writing, in part, "The current state of our football team is disappointing." Last night, he was sharing a different message.
"I'm so excited for the future of FIU football," he said. "I've met Coach MacIntyre, he's great. He's got a lot of love for our local players. This community is going to help him get the program back on the right path, starting now."
To check out the newest class as well as returning Panthers, make plans now to attend the Spring Game on Saturday, April 9, at 6 p.m., at FIU Stadium.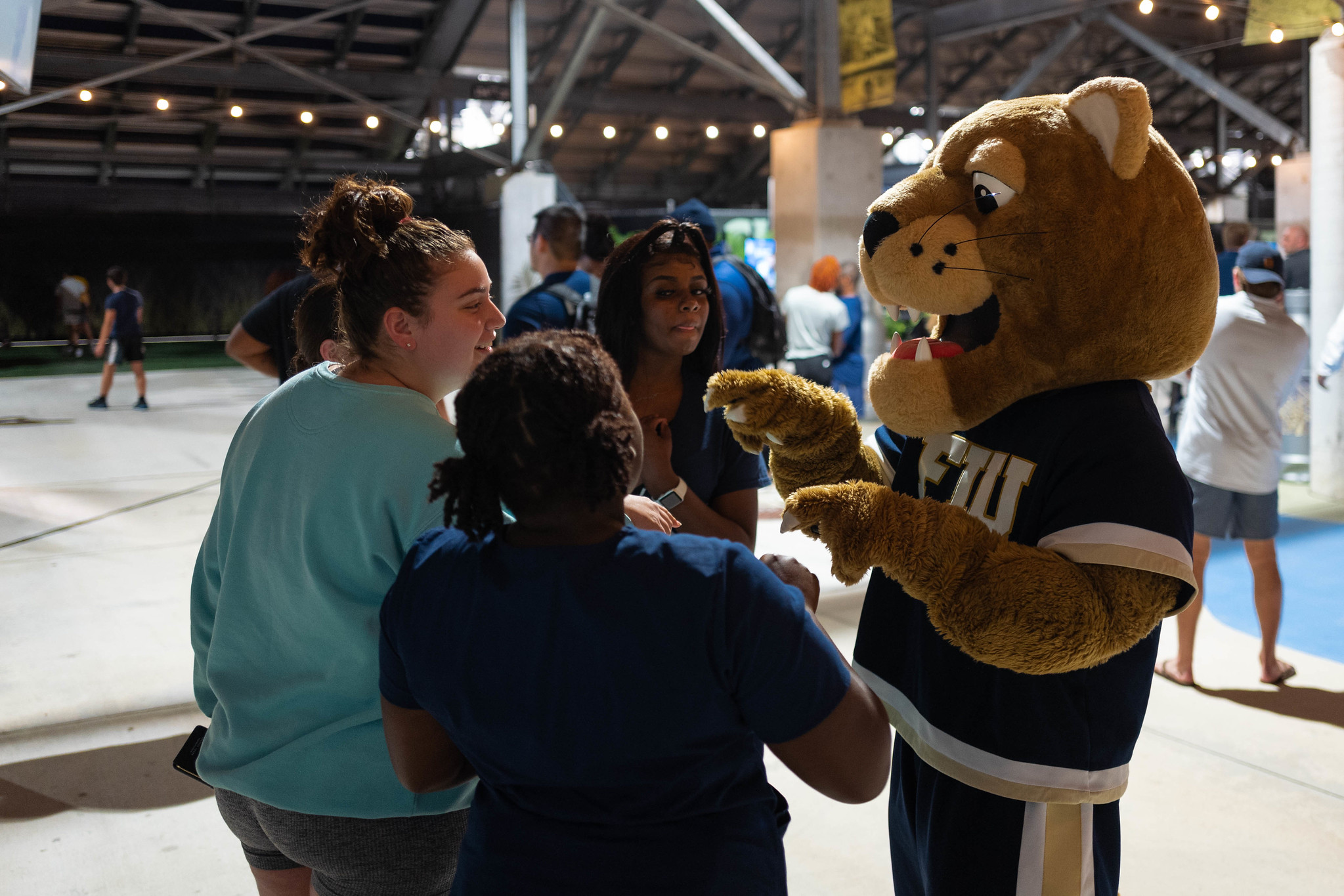 Panthers celebrated with Roary