Dear Chair Colson,  
It is with a sense of accomplishment and sadness that I share with you that I will be resigning as President of FIU effective this Friday, January 21, 2022. I am stepping back so that I may give full attention to recurring personal health issues and to the deteriorating health of my wife, Rosalie.  
But first, I want to thank our university community. I have always appreciated the can­ do attitude of faculty colleagues, professional staff and our hard-working students, and am grateful for the widespread community support that our university now enjoys. I am indebted to our Board of Trustees, our Board of Governors, and our Board of Directors and donors, without whom we could not be on our way to being a Top 50 public university.  
I am proud of where we are today as a university and what we have achieved together in the last thirteen years since I was named as president. I intend to return to my first professional love as a member of the faculty and to resume my research and teaching on inter-American affairs and higher education.  
 It has truly been the honor of a lifetime to represent our community and help build our FIU.  
Sincerely,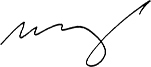 Mark B. Rosenberg