Palette Knife Artists of Miami's largest exhibition to date is on display at FIU's Glenn Hubert Library at the Biscayne Bay Campus.
Since 2013, Palette Knife Artists of Miami, led by MaiYap, has been trying to bring awareness to a planet in need through art. Their work advances ongoing conservation efforts to save South Florida endangered species including mangrove trees, coral reefs, migratory birds and turtles for future generations.
Guests visiting the library's second floor can view more than 90 pieces of artwork by 12 different artists with different artistic backgrounds.
"Our art is to share our ecological influence in how to care more about our planet," artist Magdalena Martínez said. "Many people do not realize how little by little, people throw all kinds of pollutants in our seas, rivers and mountains. If only one person enjoying our work will come out of the exhibition more conscious of how everyone should help, I will be very happy."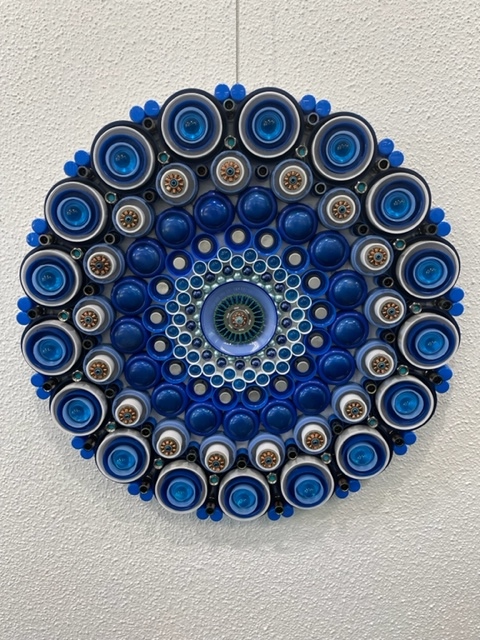 Down on the first floor is artist Rick Cohen's Diatomaceous Dreams II exhibit. A Miami native, Cohen's sculptures are an outgrowth of his fascination with circles and the use of repurposed and recycled found objects as modules to create and construct assemblage art.
"In the exhibit, the basic inspiration was from the skeletal structures of microscopic aquatic algae known as diatoms," Cohen said.
Most of the repurposed objects used are water bottles and caps and medicine bottle caps. The signature art piece displayed comprises items that FIU students collected as part of the MLK Day of Service beach cleanup.
In honor of Earth Day, the College of Arts, Sciences & Education recently hosted an evening of art and discussion for a more resilient future. Executive Dean Mike Heithaus moderated the event and Professor Evelyn Gaiser provided insights into the microscopic clues that tell a story of the health of Biscayne Bay.
The Palette Knife Artists of Miami exhibit will run through Aug. 3 and the Diatomaceous Dreams II exhibit will run through Aug. 29.