Scott Carr brings passion and his own brand of servant leadership to FIU Athletics
The university's new athletic director is on a mission to make FIU Athletics a force to be reckoned with.
Sane minds could be forgiven for wondering why Scott Carr accepted the job in December 2021 as FIU's next athletic director. He was inheriting a football program with no head coach just two weeks before the signing period. Conference USA (CUSA), in which FIU competes, was in the midst of major change as nine institutions announced they would be leaving the conference in 2022 or 2023. The university's alumni base is strong, but its sustained support of FIU's athletics programs is not. And ramifications of the transfer portal – created to empower student-athletes to notify schools of their desire to transfer – and NIL – which allows student-athletes to get paid for their name, image and likeness – have altered the college athletics landscape in ways that are still being understood.

But Carr sees opportunities where others see challenges, so he stepped into the role with eyes wide open, rolled up his sleeves and got to work.

No football coach? No problem. Seven days after accepting the job, Carr hired football Head Coach Mike MacIntyre, a veteran, award-winning coach who has taken on the job of rebuilding a program from the ground up.

CUSA turmoil? Carr worked with representatives of CUSA and the American Athletic Conference (AAC) so that beginning in Fall 2022, FIU men's soccer and women's swimming and diving teams will compete in the AAC as affiliate members.

The transfer portal and NIL? As Carr points out, it's something every university that competes in the NCAA is grappling with, not just FIU.

Reengaging alumni? The man is On. It.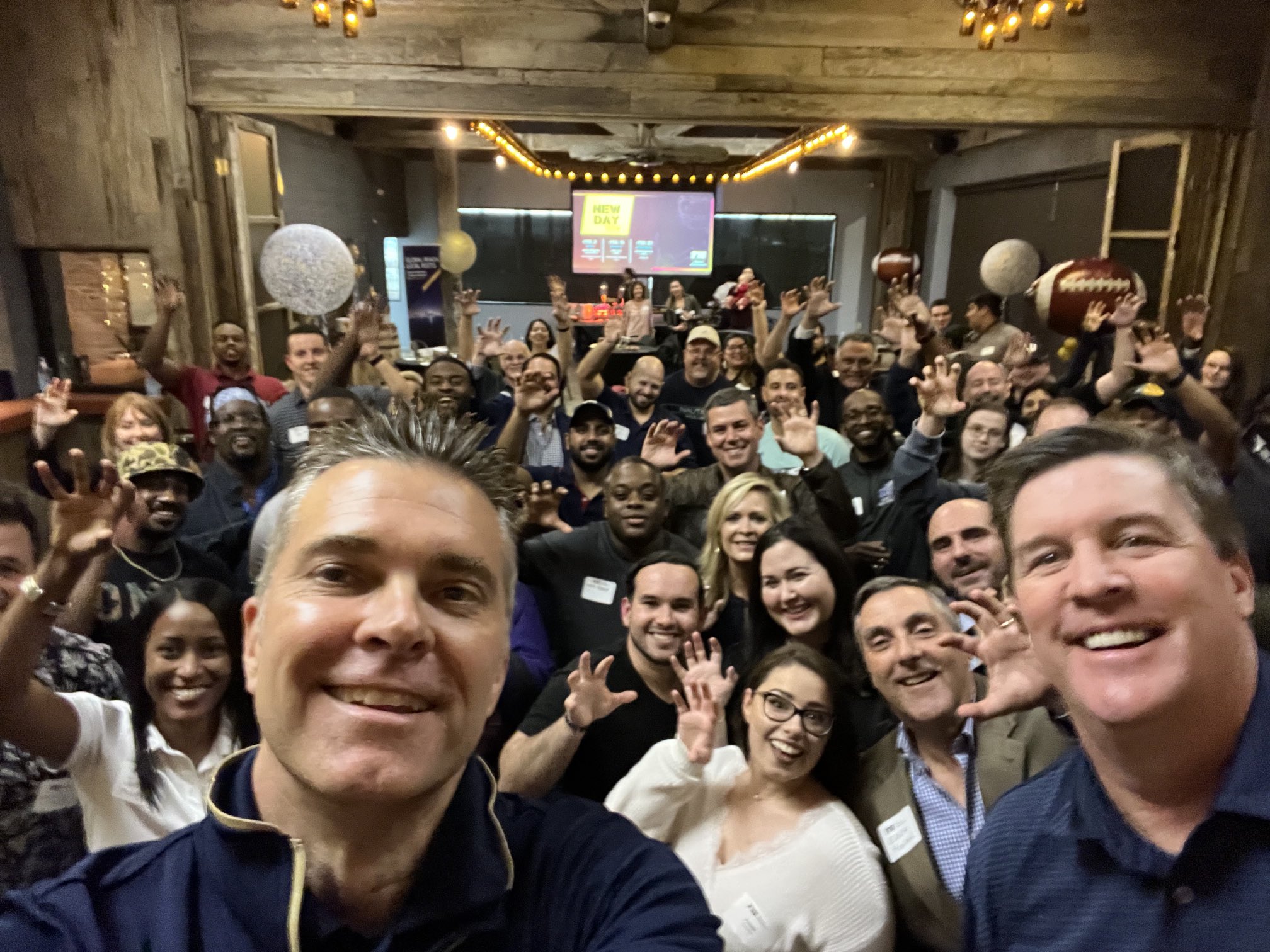 'You just know a superstar when you meet one'
A lifetime in and around college athletics has prepared the 49-year-old for his current role. As he approaches six months on the job, it's not overreaching to say Carr has been working toward this moment his entire professional career, which numbers 25 years and counting.

Carr grew up in Gainesville. He held multiple student manager positions for various sports teams while a student at the University of Florida, where his father once served as athletic director. After earning a master's in sports management, Carr worked several years for the Orange Bowl Committee. After that, stops at the University of Southern Mississippi, Auburn and, most recently, the University of Central Florida came with increasing responsibilities.

"You just know a superstar when you meet one, and that's how it was with Scott," says Eric Poms. The Orange Bowl Committee CEO has known Carr and his father for decades. He was there when the younger Carr got his first job post-graduation at the Orange Bowl Committee. "Everyone knows the Orange Bowl Committee for the game, but we actually have a pretty deep roster of events. You could put Scott anywhere, working any event, and he always exceeded expectations. He was just spectacular.

"He can see the forest, and he can see the trees. Not everyone can," says Poms.
Respect the hustle
When MacIntyre was interviewing for the football head coaching position, he says he was immediately struck by Carr's "genuineness" and passion for his new AD role. The honesty Carr exhibited left him thinking, "This is a man with integrity.

"By the end of the entire process," says MacIntyre, "I knew in my heart and soul that he would work hand in hand with me to build something special."

After six months working with Carr, the football coach hasn't changed his opinion. "He's a servant leader. There's no ego in his way."

Soon after hiring MacIntyre, Carr conducted a situational analysis of FIU Athletics. While he says, "I certainly want to thank Pete Garcia for everything that he did for FIU and having us where we are today because we're not starting from scratch," he identified seven critical issues:


Develop a vision for Athletics that everyone can get behind
Grow revenue and ensure financial sustainability
Plan and execute facilities upgrades
Institute a culture of excellence
Position FIU competitively by defining expectations and engaging in strategic planning
Create an Athletics brand that resonates with fans and supports the university's strategic plan
Elevate the gameday experience
Carr knows that, like all ecosystems, each component is dependent upon the others to thrive.

He has met many of the student-athletes and teams, attending their practices, competitions and end-of-year awards ceremonies. His message to them, he says, is simple: "First and foremost, it's my job and everyone else's job in Athletics to serve our student-athletes. The goal is for them to have a great student-athlete experience for the four or five years that they're here, and for them to leave FIU with a diploma in one hand and championship rings on the other.

"Culture is really big to me," he says. "I've let our staff know that my life purpose is to positively impact the lives of others. I've chosen to do that through college athletics because that's a passion of mine, helping young people change their lives for generations because that's what a college degree does. That's what drives me every day."
'We're gonna be bold'
He's brought in consultants to help the department refine its brand and vision. While Carr defines "next level" in general terms only, he says that's where FIU Athletics is headed.

"We want to continue to grow and continue to climb and to have FIU Athletics be a dominant collegiate athletics program, right?" he says. "We've talked about it a lot here. We want to be relevant. We want to help FIU with the affinity that we all seek, and we feel that athletics is a strong conduit for that.

"We're gonna be bold, and we're gonna be aggressive."

Says Carr, "Let's build our brand and build our revenues so that we can build our budget and use those dollars to help enhance the student-athlete experience. That's the general direction and vision."
'We' not 'me'
Carr is fond of referring to this new era in FIU Athletics as a "'we' not 'me' initiative."

"We can't get this done without the alumni," he says. "We have to have our alumni reengage. I got so energized recently watching a video from 2002 of FIU's very first home football game. The fans were so excited, 17,000 of them. We need to bring them back."

The tantalizing potential of harnessing the energy of 280,000 alumni – most of whom are local – is one of the things that most attracted Carr to the job. He says the welcome he's received and reception to his message are proof that alumni want to reconnect.

"The positivity, the energy of the Panther family," he says, "has been overwhelming."

Carr has also met with multiple student groups, assuring them that he is committed to enhancing their game-day experience, regardless of the sport. FIU Athletics conducted a game-day experience survey, the results of which are being used to guide changes to football game day. A not-so-secret dream of Carr's is to create an RV tailgating experience that mirrors that of college football programs around the country.

A big believer in communication, Carr has been connecting with Panthers everywhere. He is active on Twitter and encourages his coaches and the department to follow suit. (The amount of tweets from the FIU Athletics Twitter account is up 37 percent since Carr's arrival.) He has made videos with the coaches and participated in alumni events. This year's football Spring Showcase saw record attendance ("I was so thrilled, but I won't be satisfied until the stadium is sold out") and many football alumni returning for the first time in years.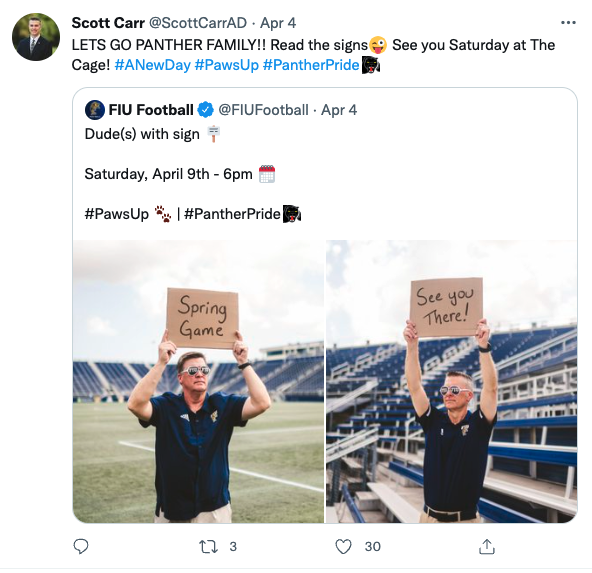 He's delivered the message, now he needs FIU alumni to do their part. "When someone talks to me about the pride they have in FIU, we need them to then go buy a license plate and show that pride on their car, or put a sticker on their car that says FIU, or wear an FIU shirt or hat, or be on social media. We need them to purchase football season tickets. We have more than 280,000 alumni, most of whom live and work in South Florida. If just 10 percent got super active, we'd have to build a new football stadium and you would see FIU all over South Florida."

Says Poms, "Scott has the leadership qualities and experience to take FIU to its next step, which will be something great, I'm sure."
Two-Minute Drill
Favorite sport to watch: college football

Best game you've ever attended (any sport): I would have to say the 2013 Iron Bowl Auburn-Alabama football game. The Kick Six. (Carr was Auburn's senior associate AD when the No. 4-ranked Tigers upset the No. 1-ranked and two-time defending national champion Alabama on a wild final play of the game. The Tigers won 34-28.)

Favorite team of all-time (any sport): The '96 Florida Gators football team. I was a graduate assistant equipment manager with that team, so I had a close relationship with all the coaches and staff. (The Gators went 12-1 that year under head coach Steve Spurrier and finished the season ranked No. 1 in the coaches and AP polls.)
Favorite athlete of all time (any sport): Tim Tebow because of the way he used his platform for Christ, which is a personal belief and passion of mine. I like that he used his platform to share his faith but never forced anybody to think like him.

Pet peeve: Gosh, there are so many (laughs). I'm gonna go with laziness and not accepting responsibility for your actions.

What you hope they're saying about FIU Athletics in five years: That we're a Top 25 athletics department, that we care about our student-athletes, and that we have high graduation rates.

One quality good leaders have: One quality? There are so many. But I'll say serving. It's putting others ahead of themselves. That's No. 1 for me.
Best piece of advice you've ever received: One that I use a lot is to always treat everybody the right way, with respect. Carry yourself the right way. Even if you get burned, that's a battle, not the war. The long play of doing the right thing will ultimately put you in a much better place.

What you would be doing if you didn't go into athletics administration: I've never thought about an alternate career. Something related to my faith or something that would help change people's lives for the better. Maybe something like the Fellowship of Christian Athletes or Red Cross.

Best thing about Miami so far: 1) The people. 2) The food. 3) The weather. For sure not the housing market