By Adrienne Sylver
For the more than three million Americans who suffer from epilepsy, seizures can be life or death events. FIU researchers from the Knight Foundation School of Computing and Information Services (KFSCIS) are working to make life safer for these patients by developing algorithms and wearable devices that help predict a seizure.
The results of their work would allow epileptics to get to a safe place if a seizure is imminent ― or even take medication that could halt the attack before it occurs, said principal investigator Fahad Saeed, associate professor at KFSCIS.
"Most of the care for seizures is reactive," Saeed said. "If we can be proactive, we can reduce harm and injury, keeping more patients out of the emergency room and improving quality of life for patients and caregivers."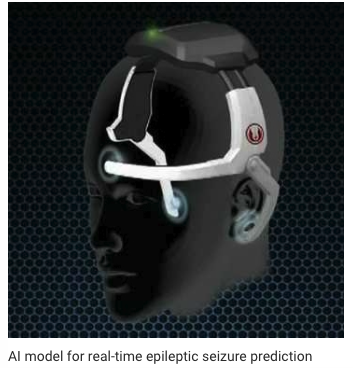 Seizures are caused when a strong surge of electrical activity occurs in the brain. While there is no cure for epilepsy, some patients respond well to medication. About one-third of epileptics, however, continue to have seizures and are considered to have drug-resistant epilepsy. For this group, in particular, predictive devices would be of huge benefit.
To continue his research, Saeed has been awarded a National Science Foundation PFI grant for "Artificial Intelligence-enabled Real-time System for Early Epileptic Seizure Detection and Prediction."
The technology builds upon machine-learning capabilities and their use in personalized medicine, an area of interest to Saeed since his days at the National Institutes of Health more than a decade ago. The work involves using distributed machine-learning models that collect and analyze data from a patient's brain waves ― and make predictions ― all in real-time.
"More often than not, it is very difficult to predict seizures, and they can be very random," Saeed said. "If a patient is driving or operating heavy machinery or even walking down the street when one occurs, they can be in harm's way. Having this technology, which is non-invasive and low-cost, would be a major breakthrough."
Among the project's goals are developing more accurate algorithms for prediction and lowering the number of false alarms, of particular benefit for children because low false alarm rates ensure adequate support for any imminent seizure while improving the quality of life for both patients and caregivers. In addition, the integration of the technology into smart devices and mobile phones in a way that won't drain battery power is very important. At the end of the two-year grant, Saeed hopes to have a prototype.
The project also involves collaboration with organizations such as the Epilepsy Alliance Florida (Miami) and companies that produce electroencephalogram (EEG) caps and hardware that detect electrical activity in the brain.