Solutions to keep your Thanksgiving meal from gobbling up your money
FIU professor and chef suggests cost cutting tips and ways to save on your Thanksgiving meal
November 18, 2022 at 2:29pm
---
It's the most anticipated meal of the year. From that juicy golden turkey, to sweet potato casserole, fresh cranberry sauce, to pumpkin and apple pie, the Thanksgiving meal is an American tradition. This year with inflation at a 40-year high, shoppers are concerned the meal may gobble up their savings. But experts say it doesn't have to.
"Flexibility and adaptability are two of the cornerstones of successful hospitality operations," said Chef John Noble Masi, who is a culinary faculty member at FIU's Chaplin School of Hospitality & Tourism Management at Florida International University. 
According to a newly-released survey from the American Farm Bureau Federation (AFBF) of "volunteer shoppers", a Thanksgiving feast for 10 people will cost $64.05, that's an increase of $10.74 or 20% more than last year. The survey cites general inflation or a 12% increase in food prices over last year for the additional punch to the pocketbook. Smaller turkey flocks due to the avian flu, increased feed costs and supply chain disruptions due to the war in Ukraine are also cited in the survey for increased costs to the holiday meal.
This year, a 16-pound turkey will cost you $28.96 or 21% more than last year. If you're planning to serve dinner rolls, expect to pay 22% more. And the most surprising increase is the cost of a 14-ounce bag of cubed stuffing mix, which will add an additional $3.88 to your meal, an increase of 69% over last year.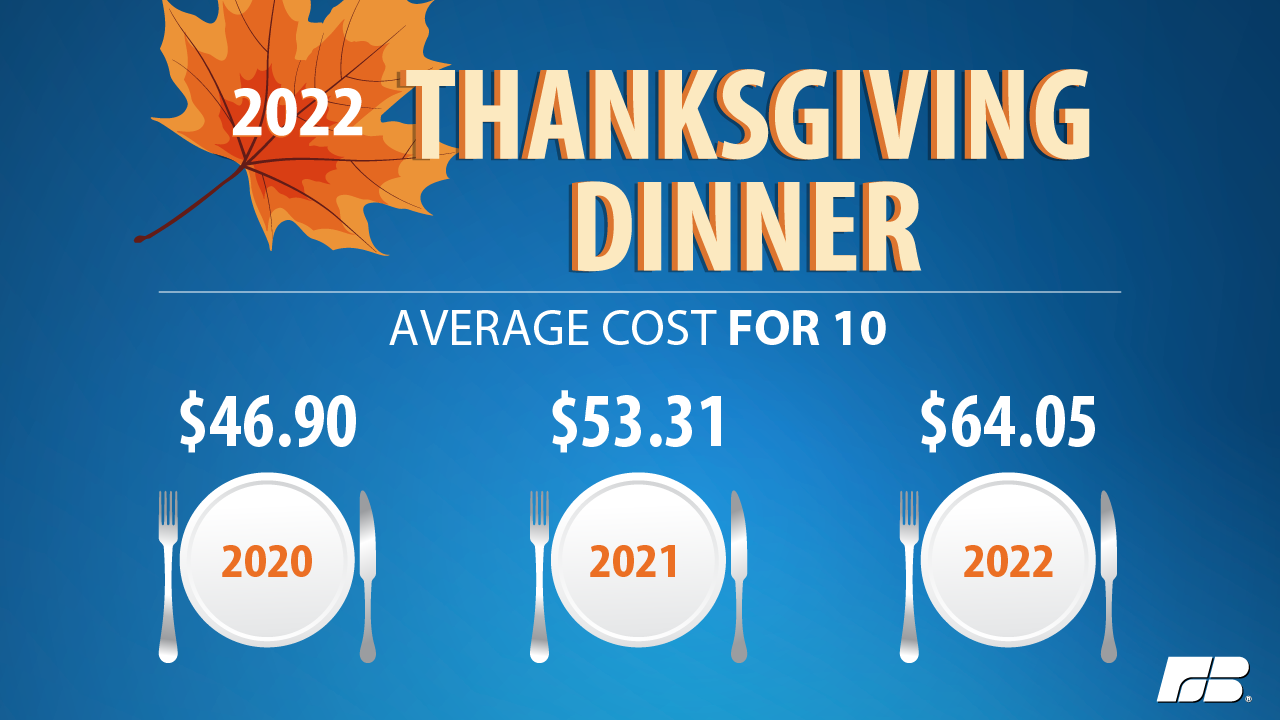 While overall prices are up, there is good news if you plan to spend the holiday in South Florida; the survey shows that food prices are most affordable in the South. If you haven't bought your frozen turkey yet, many retailers are running specials right now for as low as $.48 a pound. Big box stores like Aldi and Walmart announced a rollback of prices on Thanksgiving staples to last year or pre-pandemic prices. 
While a big turkey looks impressive on the table, Chef Masi suggests buying a smaller bird to avoid over-eating, upfront costs and waste. "The typical guide for a fully cooked turkey is about one pound per guest. The "yield" on a cooked turkey is about 40% of cooked meat, which still gives almost 7 ounces of meat per person. That is plenty of meat, especially if you increase the number of your side dishes," said Chef Masi.
You may also want to consider buying generic or store brands versus name brands that experts suggest could save you 30% to 50% on your grocery bill. 
Other solutions from Chef Masi to save you both money and time include:
Share the responsibilities (and the cost) - Some of our best Thanksgiving meals and the easiest on the host are made when others contribute their special dish. It also means that the host does not bear 100% of the cost and the cooking. Make everyone's life easier and less costly by sharing those responsibilities and bringing your special dish to the Thanksgiving table.
Make it International! - While this tip does not necessarily save money, it does expand our palates! Sharing different foods and dishes is made even better when someone brings something from their culture and heritage. We all learn something new and maybe you will try something that you love! "International" is our middle name here at FIU, and we try to embrace that diversity in all we do.
Have a PLAN - We teach this to our students all the time, but it is even more important when planning a big meal with lots of guests. Ensure all the guests know what they will be preparing and bringing to your table. In this way, you do not end up with three or four stuffing side dishes and 10 different pies.
Engage with a local food bank or charity - Most of us are very fortunate to have plenty of food on our table. We always are mindful of those less fortunate than us here at FIU. We have a food pantry to help feed our students in need. There are studies that show that at any given time there is a significant percentage of Americans who do not have enough food and many of these are our students.
"At this time of year and always, we want to encourage everyone to not only give thanks for all our blessings but also to give back to those less fortunate. Even better is the feeling you will get from doing so," concluded Chef Masi.
Now that's food for thought!