By Eric Feldman and Juliana Narvaez
It's a new era of academic activity in the nation's capital as FIU now offers engaging, academic semester experiences that count for course credit, right from FIU's expanded headquarters in Washington, D.C.
Students enrolled in the new programs are among over 30 Washington-based interns this fall. They are participating in one of three academic programs offered by the FIU Honors College, the Jack D. Gordon Institute for Public Policy and the College of Communication, Architecture + The Arts (CARTA). 
"Being a member of the inaugural Gordon Institute cohort in D.C. has already given me a chance to learn and grow by interacting with federal government and national security professionals," said Felix Martinez, who is beginning an internship with the House Committee on Homeland Security next week.
"I'm leaving behind my shyness by socializing and networking, while learning about how to protect our nation by understanding its past, present and future," he said.
Martinez is one of five intelligence fellows to spend a semester in the nation's capital through the program, including taking INR 3134 Writing for Intelligence & National Security at the FIU location.
The academic cohort in D.C. is tied to FIU's already robust and well-known intelligence fellowship, run by the Gordon Institute. The fellowship, which is funded by the U.S. Office of the National Director of Intelligence, prepares students for federal careers in national security, critical threat intelligence and cybersecurity at agencies like the CIA and others within the U.S. intelligence community.
CARTA's NBCU Diversity, Equity & Inclusion Fellowship is a highly competitive program that allows journalism and media students to participate in and help shape fact-based news that accurately and fairly represents diverse global, national and local communities.
Five of the NBCU fellows are in the South Florida Media Network Bureau Experience class that meets weekly to showcase the work these students complete while in D.C. The course is taught by Adrianna Hopkins, a two-time Emmy award-winning anchor and reporter for ABC 7 News, and Patricia Guadalupe, a bilingual multimedia journalist who contributes to NBC Latino, NPR's Latino USA and Latino Magazine.
Lidia Delgado, one of the NBCU fellows, said that although she had only been in D.C. for a little over two weeks, she felt this experience had helped prepare her for the journalism world.
"I've already learned so much about the broadcasting and journalism field," Delgado said. "It's been a completely immersive experience getting the opportunity to network with all kinds of people at conferences and workshops, which work as the cornerstone in preparing me to enter the workforce."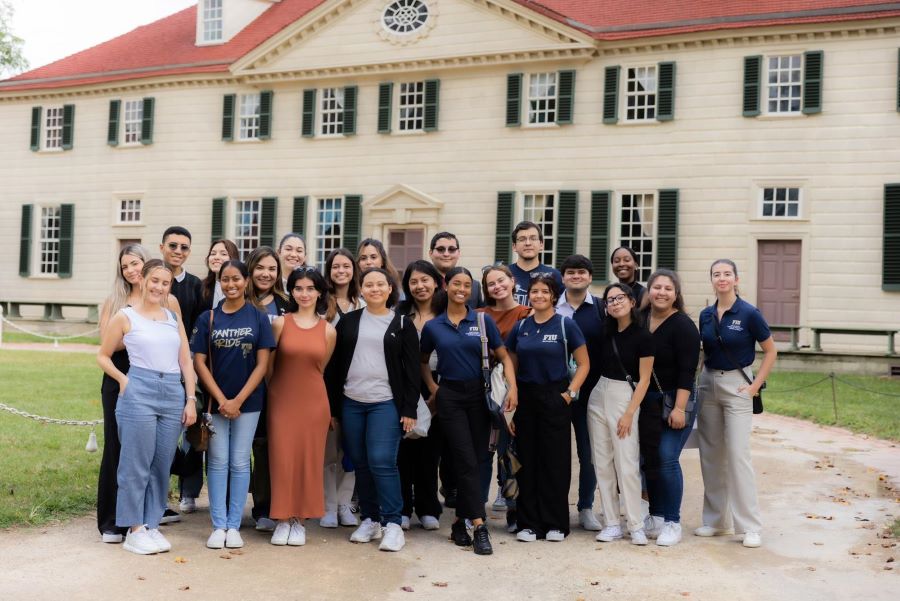 The newest cohort of FIU in DC's Hamilton Scholars program have the opportunity to advocate for FIU's research strengths and become versed in the policymaking landscape. 
Students in this year's cohort have internship placements at organizations including the American Foreign Policy Council, and at South Florida Congressional offices with Representatives Kathy Castor and Frederica Wilson.
Nine students, including the Hamilton Scholars, are enrolled in the Honors College's Washington Seminar, taught weekly by Charlyn Stanberry, vice president for Government Relations at the National Association for Broadcasters, and an alumna of FIU's College of Law. 
"I would absolutely recommend students come to FIU in DC," said one Hamilton Scholar, Lillian Latchmin, a senior graduating this fall with her B.S. in Biological Sciences.
"I'm the best example of a small fish in a big pond: Someone who is coming in with little experience in government and policy (literally only science) is learning something new each and every day, and it ultimately opens your mind to possibilities a person would never consider."
Click here to read the bios of the current Hamilton Scholars and click here to learn how to apply for the Spring 2023 cohort.