Keeping bacteria at bay: Avoid common cooking mistakes and follow these food safety tips to store your Thanksgiving leftovers
November 23, 2022 at 1:23pm
---
By Olivia Catasus
Thanksgiving Day is a time for enjoying a decadent feast with loved ones, acknowledging things we are grateful for and basking in the feeling of satisfaction after eating that delicious meal. It's not the ideal time to come down with a stomach bug.
According to a study by the Centers for Disease Control (CDC), most Thanksgiving food-borne illnesses are a result of turkey, which can carry a strain of bacteria called salmonella if not handled properly. What's the best way to avoid food-borne illnesses and safely store Thanksgiving leftovers for days to come?
FIU Chaplin School of Hospitality & Tourism Management food safety experts weigh in on everything from kitchen contamination, to leftovers safety, to the great debate: should you wash your poultry? 
"Our aim every Thanksgiving should be to keep the nasty stomach bugs at bay," said Imran Ahmad, research assistant professor at the Chaplin School. "Clean, separate, cook and chill" are four steps to a safe cooking environment.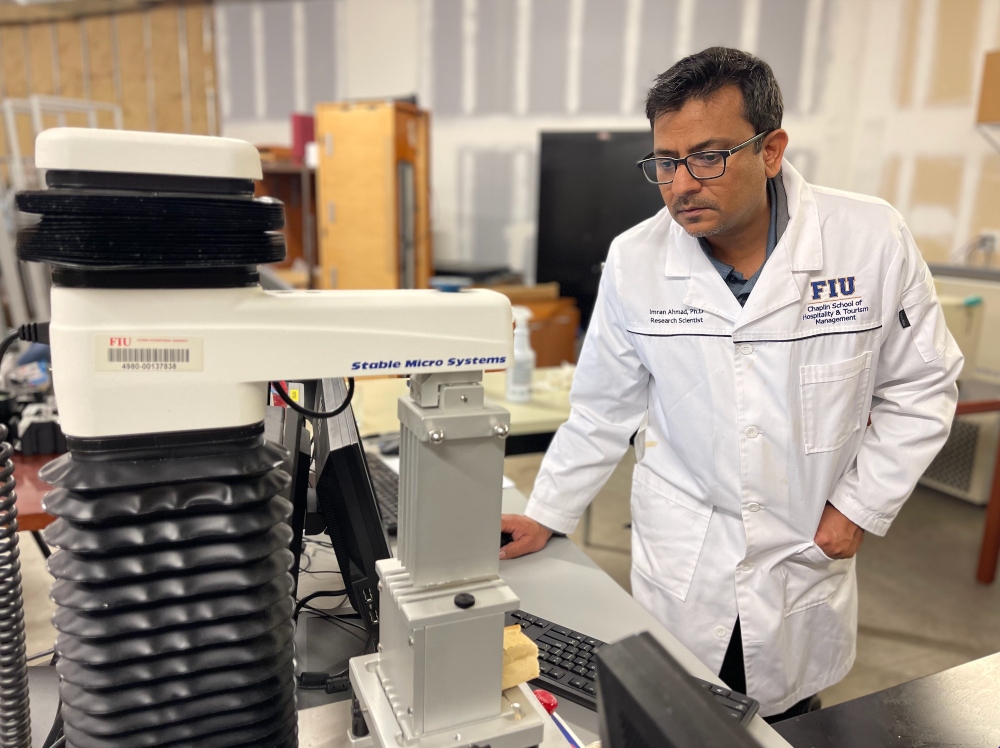 When you safely prepare and store your meals, you reduce food waste and lower the risk of spreading bacterial illnesses. Ahmad says safety starts even before you begin cooking by following these food safety tips backed by the U.S. Department of Agriculture (USDA):
The "before" makes for a great "after": Before you start cooking, wash and sanitize your hands, utensils, and other tools you are going to use, drying thoroughly.
The Happy Birthday song always works: A tale as old as time, washing your hands with clean running water and soap for at least 20 seconds (or the length of the "Happy Birthday" song) can lower your risk of gastrointestinal symptoms by 30% and respiratory infections by 20%.
Sanitize your station: Before you begin preparing your turkey for the oven, sanitize your prep surface using bacteria-killing agents such as white vinegar, Lysol or kitchen bleach.
To wash or not to wash – poultry edition: Avoid washing turkey with water in the sink. Splashing water increases the risk of cross-contamination with other foods and throughout kitchen surfaces. Pay attention to the various foods you put in your kitchen sink. Wash your sink with soap and warm water before handling different types of foods such as fruits and vegetables.
Thawing the frozen turkey: Do not leave the frozen turkey on your kitchen counter or in hot water to thaw. Three ways to safely thaw your Thanksgiving bird are in the refrigerator, in cold water or in the microwave.

Refrigerator: The rule of thumb for thawing your turkey in the refrigerator is 24 hours for every 5 pounds.
Cold water: For a faster thaw, place your turkey in its original wrapping in a cold-water bath for 30 minutes per pound, changing the water every thirty minutes until the turkey is completely thawed.
Microwave: Not all turkeys fit in the microwave – but if yours does and you're in a pinch for time, follow the manufacturer's instructions for quick microwave thawing. Make sure to cook the turkey immediately after thawing to avoid the food staying in the "Danger Zone."
Now that all the cooking (and eating) is done, it's time to safely store those leftovers.
The two-hour rule: Don't leave your food sitting out too long after dinner, keep hot foods hot and cold foods cold.
Saving this for later: Store your leftovers in small shallow containers and put them in your refrigerator – these can be your go-to lunch for the next four days. If you put them in the freezer, leftovers are safe almost indefinitely but will taste best if eaten within two to six months.
 "The best Thanksgiving dinner is a stress-free one. Make sure to keep yourself and your guests safe by following these simple food safety tips.  Do that and reap the rewards of tasty Thanksgiving leftovers for a few days longer than intended," Ahmad concluded.