Women can do what with computing? Students learn different ways computing is intertwined with everyday fields at Break Through Tech Miami's Summer Guild Workshop
August 24, 2022 at 11:47am
---
By Alina Perez
Twenty FIU students from diverse majors and backgrounds came together over a five-day workshop with one common interest: to explore how computing can be a career for them.
Break Through Tech Miami's inaugural Summer Guild took place at FIU's PG-6 Tech Station in August. The unique workshop connects and empowers underrepresented groups in computing such as women (cisgender and trans) and non-binary individuals to give them  first-hand insights into the endless possibilities of computing.
"The most long-lasting impact the guild can have is to help new students, particularly from underrepresented groups, form bonds at a time when having a support system can benefit them the most," said Amy Bennett, Break Through Tech Miami's director.
"Our hope is that with this newfound network, which includes mentorship from industry professionals, students gain the enduring confidence to explore tech education and careers by seeing how computing is universal and offers an endless set of pathways."
Students learned how computing can be used as a medium to express themselves artistically, to solve problems related to the environment and the life sciences, to join hands as a community to do crowd-sourcing, create Apps for mobile devices, and to learn about the power of AI and machine learning. Students also benefited from non-technical workshops that focused on life skills such as problem-solving using the design-thinking process, emotional intelligence, and presentation skills.
Students worked in teams to take on a problem of inequity in society and applied the skills learned during the week to present a roadmap to solutions for issues they highlighted on the final day. The problems of inequity identified included food insecurity faced by many students at FIU, support resources for the transgender community, increasing awareness about invasive animal and plant species in Florida and access to recycling facilities. Their dedication and passion shined through in their presentations and in their socially conscious ideas that they could take forward and fully develop. This summer's workshop participants were selected from a competitive pool of close to 200 applicants.
"Being a part of Break Through Tech Miami, I went from being a somewhat timid public speaker with no solidified background knowledge of computer science to confidently presenting an app that my team and I made in just three days," said Molayo Sobande, a student who will now be pursuing computer science as a major. Her group's app, "Debris," uses mapping and block coding to help researchers locate where unmanaged plastic waste is accumulating. "It's great getting to see how I can use computing to help solve issues I'm interested in." Molayo and her fellow team members, Juno Egea and Segev Amasay, developed an app for their Guild team project called"Debris,"which focused on locating, tracking, controlling, and cleaning up plastic waste "hot zones" in Miami-Dade County.
The goal of these events is for attendees to be introduced to how computing is not limited to only STEM fields, but is also applied to other areas such as biology, psychology and the arts. This program also aims to break the stigma that computing is too difficult or competitive for women to be in.
"Unrestricted learning environments are really important to me. So the willingness of my mentors to support my team's ideas despite us not knowing a thing about Python while trying to use it for our project allowed me to enjoy my experience. Ultimately, the workshop contributed to my decision to switch to computer science," shared Alisha Jafry, an student who changed majors after the Summer Guild.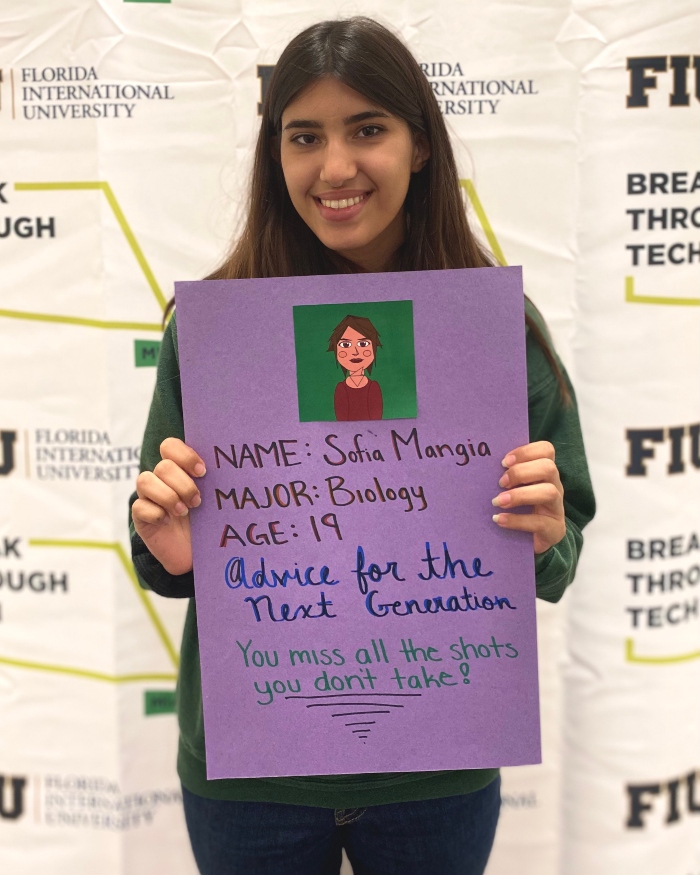 "This workshop is a great chance to showcase what computing is, and what it isn't, and to shatter some of the common misconceptions that discourage talented women from pursing computing as a career, or even taking a course or two. The early results of the event are really encouraging," said Mark Weiss, Distinguished University Professor and Associate Dean at the College of Engineering and Computing.
In the last academic year, at FIU only 19% of computing majors were women. Break Through Tech Miami's mission, in partnership with both educators and employers, is to increase that number significantly by offering workshops and events like the Summer Guild and three-week Sprinternships that allow participants to see how they can make a difference in the community through the power of computing.
Industry mentors and computing students volunteered their time to share their personal experiences to help prepare the students to enter the field. Not only were professional connections made, but also friendships and a community who can go through the computing journey together.
"It was an exciting experience to work with the students. What stood out to me was their ability to identify issues of inequality and how they can be addressed through computing. One of the students joked about how she got lost while trying to locate the program venue. We all smiled and thought it would be interesting to collaborate on an indoor mapping system to help new students on campus. The final presentation was great, and everyone was excited about the idea," said Precious Enze, a SUCCEED graduate student at FIU who was also a Summer Guild mentor.
The FIU Break Through Tech partnership is the fourth in the nation, which has been cultivated through FIU's Knight Foundation School of Computing and Information Sciences. FIU is the only university in the Southeast United States to offer a program like this and is driving the initiative to increase the diversity in computing, not only in Miami's up-and-coming tech scene, but also in tech hubs all over the nation.