Annual Wertheim Music Festival returns Oct. 26 – Nov. 5 with a celebration of musical diversity
Featured are "La Ruta de Don Quixote - A Zarzuela World Premiere" and "Unveiling a Symphony: Organ Concerto World Premiere," the latter composed by Wertheim School of Music founder Fredrick Kaufman.
October 23, 2023 at 5:22pm
---
The FIU Wertheim School of Music & Performing Arts is gearing up for its annual music festival, taking place on campus from Oct. 26 to Nov. 5.
The two-week-long festival unites renowned guest artists from around the world, performing faculty, accomplished alumni and talented student musicians for eight performances at The Wertheim. 
The lineup is nothing short of spectacular. The performance schedule has been curated to inspire, educate and leave a lasting impression on all who attend.
The festival showcases a rich tapestry of music from different historical periods and cultures, making it a true celebration of musical diversity and traditions, with performances from the world-class FIU artist-in-residence chamber ensemble the Amernet String Quartet, the debut of professor emeritus and founding director of the school of music Frederick Kaufman newest composition for organ and the world premiere of a Zarzuela rendition of "La Ruta de Don Quixote" with performers from Spain.
The community can expect exceptional performances by FIU artist-in-residence and Miami International Piano Festival favorite Kemal Gekic, the groundbreaking Ensemble Dal Niente, and a collaboration between New York trumpeter Alexander Norris, FIU faculty and the Jazz Big Band under the direction of visiting assistant teaching professor and trumpeter Omar Lateef. The festivities also offer an afternoon of family entertainment and activities with "Peter and the Wolf," ensuring that there's something for everyone.
For the finale, Broadway legend Eric Jordan Young sings selection from "Sweeney Todd," "Into the Woods," "A Funny Thing Happened on the Way to the Forum," "Sunday in the Park with George" and more in a tribute to the late musical theater icon Stephen Sondeim. Young will be will be joined by the Wertheim Musical Theatre Ensemble in the latter's festival debut.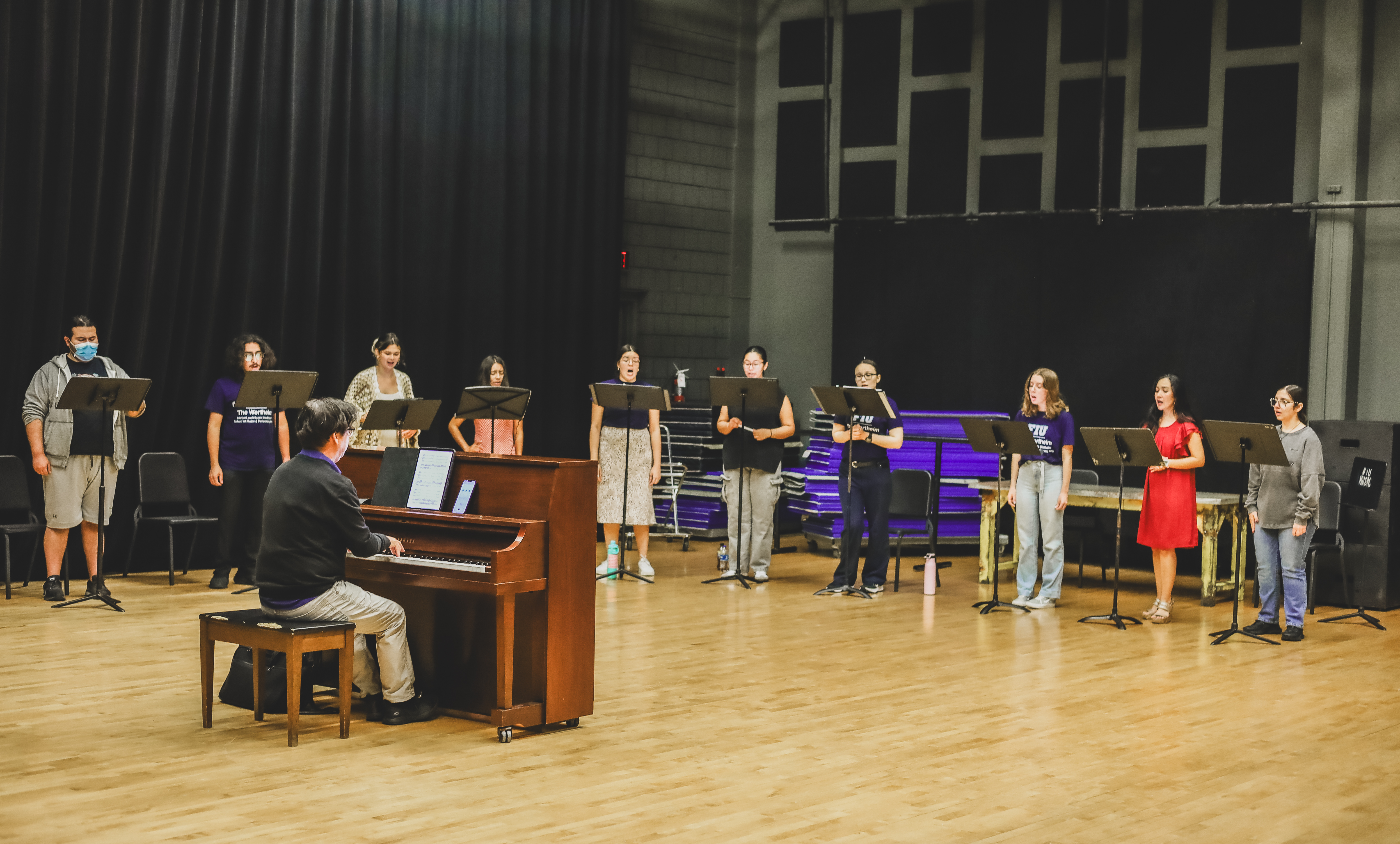 Karen S.F. Veloz, director of the Wertheim School of Music & Performing Arts, sets the tone, "In every note and every rhythm, we find our inspiration and our identity as a resource to the community. The festival is a testament to the university's dedication to educate and enrich the lives of everyone who experiences it."
The FIU Wertheim Music Festival is more than just a series of performances. It is a cornerstone of the school's cultural and educational mission. It enhances the institution's reputation as a hub for creativity, diversity and artistic excellence. It creates a dynamic platform for higher education institutions to actively engage with the public through interactive activities, discussions and captivating performances.
For students, it provides opportunities to develop transferable skills for future careers. It serves as a learning lab, giving students hands-on experience and filling vital roles in the festival's success. These roles include producing, performing, managing, networking and event evaluation, showcasing the pivotal role the festival plays within the university community.
Music enthusiasts and all those with an appreciation for the arts are invited to mark their calendars and join this year's not-to-be-missed festival.
Festival Lineup:
Thursday, October 26 at 7:30 PM:
Strings United: From Baroque to the 20th Century
Friday, October 27 at 7:30 PM
Jazz Harmony: Alex Norris & FIU Jazz
Saturday, October 28 at 7:30 PM
Unveiling a Symphony: Organ Concerto World Premiere
Sunday, October 29 at 2:00 PM
Family Concert: Peter and the Wolf
Thursday, November 2 at 7:30 PM
Unleashing Musical Boundaries: Ensemble Dal Niente
Friday, November 3 at 7:30 PM
Piano Extravangza: An Evening with Kemal Gekic!
Saturday, November 4 at 7:30 PM
La Ruta de Don Quixote: A Zarzuela World Premiere!
Sunday, November 5 at 2:00 PM
A Broadway Legend: Sondheim in Concert!
The FIU Wertheim Music Festival is funded in part by Ocean Bank, the Miami-Dade County Department of Cultural Affairs and WLRN and supported by a grant from Acción Cultural Española (AC/E).

Concerts are held in the Herbert and Nicole Wertheim Performing Arts Center (The Wertheim) located at FIU's Modesto A. Maidique Campus, 10910 SW 17th St., Miami, FL 33199. For more information, visit musicfestival.fiu.edu. Livestreaming is available. Discounted tickets are available for FIU faculty, staff, alumni and students.