$64M in new federal funding propels defense, environment and health research at FIU
January 9, 2023 at 10:30am
---
• Florida Congressional delegation helped secure $64 million in new federal funding at federal agencies critical for FIU research.
• FIU leads Florida universities in federal Community Project appropriations to fuel innovations and discoveries. 
• Funding supports FIU's research on environmental resilience, health, engineering, technology and innovation.
• Supported projects range from a way to revolutionize how cancer and diseases are detected, studied and treated to an early alert monitoring system capable of detecting saltwater intrusion that can destroy coastal infrastructure, and more. 


---

FIU's commitment to research with real world impact has gotten a boost — a big one.
The Florida Congressional delegation has helped secure $24 million in research earmarks for the university. In addition, members of Congress were also successful at securing increases of over $40 million at the university's request for critical research agencies that support FIU research initiatives. 

Of the $64 million, approximately $40 million are associated with the Department of Defense, a critical agency and research area for the university's College of Engineering and Computing.
Part of the recently passed 2023 fiscal year $1.7 trillion spending bill includes funding that will support FIU's focus on addressing critical challenges related to environmental resilience, health, engineering, technology and innovation. Projects range from a way to revolutionize how cancer, Alzheimer's and other diseases are detected, studied and treated — to an early alert monitoring system capable of detecting saltwater intrusion that can destroy coastal infrastructure, and more.  
"Our world faces many challenges and needs solutions. FIU has always been here to answer that call," said FIU President Kenneth A. Jessell. "We thank the Florida Congressional delegation for recognizing the ability of our researchers to find solutions and partnering with us to ensure our federal research funding is on the rise year after year."
The impact of federal funding
Federal research funding is critical for universities, paving the way toward scientific breakthroughs, groundbreaking discoveries and economic growth.
Today, FIU is among the top 3% of universities in the nation classified by Carnegie as an R1 research university for "highest research activity." FIU's total research expenditures surpass $250 million annually.
Stavros Georgakopoulos knows the power and importance of federal funding. This FIU professor in the College of Engineering and Computing has received over $10 million to transform wireless and satellite communications from the Airforce Office of Science Research, one of the agencies that will receive an increase at the request of FIU.  
Instead of bulky, traditional metal antennas, he developed foldable antenna systems that are lightweight, portable and can change shape. This patented technology can be used in Air Force and Department of Defense systems for aircraft and satellites. Private companies can use the technology as well, fostering stronger industry partnerships and job creation.
"FIU research is changing lives in South Florida, at the national level and on a global scale," said FIU Interim Provost Elizabeth M. Bejar. "Our students are active participants in innovation and the technologies that will make them leaders in their fields."
Pell Grant award increase
The recently passed spending bill also increases the maximum Pell Grant award by $500 to $7,395 for academic year 2023-2024 — the largest increase to the Pell maximum in more than a decade.

At FIU, nearly 50 percent of students are eligible for Pell Grants, and 50 percent of those recipients receive the maximum award, making this increase particularly impactful for South Florida students. 
New era of research
This is the second year that Members of Congress were able to request funding for community projects — or earmarks — with benefit to their districts. Five community projects were earmarked by members of the Florida Congressional delegation to allow FIU to build on its research:
Coastal Subsurface Water Table and Saltwater Intrusion Monitoring System
$9.7 million from National Oceanic and Atmospheric Administration, secured by Congresswoman Debbie Wasserman Schultz (FL-23)


Sea level rise causes flooding — but also problems underground, especially in coastal areas. Teams of sea level rise experts in FIU's Institute of Environment have been investigating the impact of rising seas for decades. Now, this project would create a special monitoring system for Biscayne Bay's highly developed near-shore, barrier island and coastal bay shore areas. It would gather much-needed data on sea level rise changes to provide the early warnings coastal managers, utilities, municipalities and building officials need to better plan, adapt avoid and better understand the causes of damage to coastal construction projects.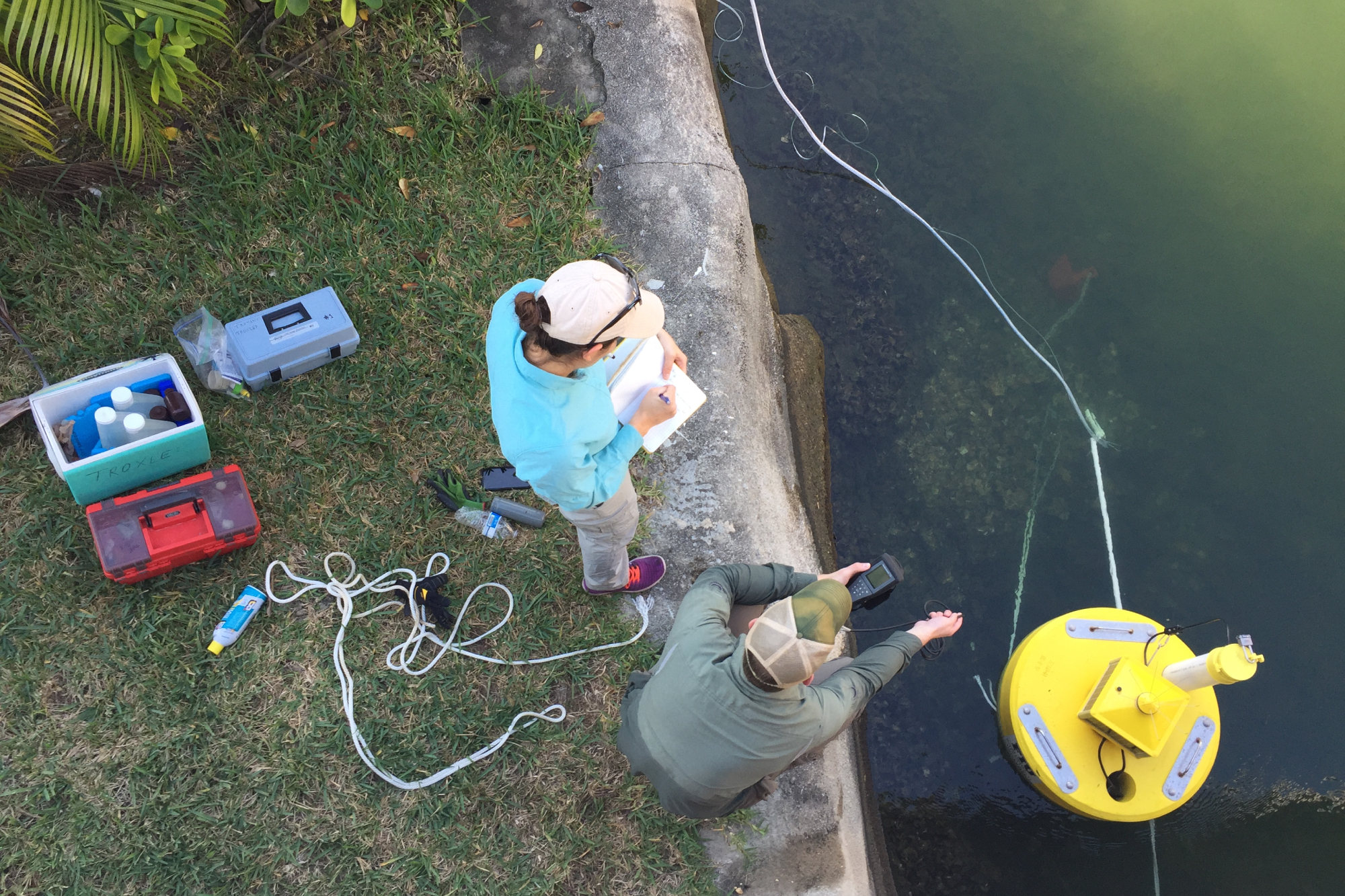 FIU Institute of Environment researchers use a variety of different technology to monitor and protect coastal ecosystems. 
Robotics and Autonomous Systems Laboratory for Coastal Conservation and Restoration
$9.5 million from the National Institute of Standards and Technology, secured by Congresswoman Frederica Wilson (FL-24)
Conserving and protecting precious water resources, like Biscayne Bay, requires constant vigilance. Luckily, FIU has some help out on the water. The FIU Institute of Environment has a buoy system and autonomous surface vehicle equipped with sensors to measure temperatures. Environmental technology, like this, allows scientists to collect and analyze data over a larger area. This facility will take FIU's existing efforts to the next level — creating a hub for environmental tech to better protect coastal environments while fostering greater collaboration between research and agency partners.Additionally, this funding will create research opportunities for K-12 and FIU students. 


PET-Cyclotron Center at FIU
$3 million from the Health Resources and Services Administration, secured by Congressman Carlos Gimenez (FL-26)


A key in the fight against cancer, Alzheimer's

disease

and other neurological diseases is the use of all-important substances or "radiotracers" — that can image tumors, the pathology of neurodegenerative disorders and more — to non-invasively image the brain using Positron Emission Tomography (PET) scans. Except, there's one problem. These radiotracers have a tendency to not stick around for long. That's where a cyclotron comes in. This machine can make these substances on demand — not just expediting research efforts but opening new avenues to understand disease mechanisms and possible treatments.

 

Tomás R. Guilarte, dean and professor at the

 

Robert Stempel College of Public Health & Social Work

 

and the lead researcher behind the PET/Cyclotron Center at FIU, knows this technology would be a major step for FIU's brain health, aging and health disparities research. The center also would be the first of its kind in the state university system. This new allocation complements last year's appropriation of $2 million dollars, secured by Congresswoman Debbie Wasserman Schultz.

SOUTHCOM/FIU: Enhanced Domain Awareness and Security Research Hub
$1.3 million from the Department of Defense, secured by Congresswoman Maria Elvira Salazar (FL-27)
FIU and U.S. Southern Command (SOUTHCOM) have collaborated for over a decade, which has resulted in hundreds of student internships and a partnership where faculty, staff and students conduct primary research on topics related to Latin American and Caribbean security. This project would amplify these efforts, incorporating additional research jobs and collaboration between entities, with a greater focus on Central America and the Chinese Influence in Latin America. It will provide data and analytic power to support U.S. Department of Defense and partner-nation decision-makers with real-time information and analysis.


Business Growth and Acceleration Program (BizGAP)
$650,000 from the Small Business Administration, secured by Congresswoman Maria Elvira Salazar (FL-27)
FIU's College of Business and the Florida Small Business Development Center Network collaborate with local companies and a team of highly-experienced business experts who offer confidential, no-cost consulting to entrepreneurs looking to increase their success. Building on those existing efforts, this project aims to assist over 1,000 businesses in South Florida.


The Florida Congressional delegation also supported advancing key FIU appropriations increases requested by FIU. These increases are expected to provide FIU researchers with greater opportunities for agency collaboration and to allow for the continuation of existing projects. FIU requests that were funded in the Omnibus include:
Wire-Arc Additive Manufacturing (WAAM)
An increase of $20 million at the Department of Defense.
Previously received $5 million in federal funding in 2022
3D printing isn't just for plastic. It's also for manufacturing metals. This project would support FIU College of Engineering and Computing Distinguished University Professor Arvind Agarwal's work to create customized, durable, high-performance designs that can be used for the Army's next-generation vehicles and munitions.


Army Research Lab: Rapid Advanced Deposition (RAD)
$10 million increase at the Department of Defense
Previously received $5 million in federal funding in 2022
FIU is also developing new materials used in Army weapon systems that cannot be easily replicated or copied. This effort will advance their research to create a new foundation for stronger, tougher and durable weapon systems that can hold up in harsh environments.


An Air Force Office of Scientific Research: Gigahertz-terahertz Research
$5 million increase at the Department of Defense
Related projects received a total of $10 million in federal funding in 2017 and 2018
Georgakopoulos developed foldable antenna systems. Now, he'll aim to collaborate with the Air Force to create antennas that can transmit and receive real-time data — creating new possibilities for ultra-fast communications, remote sensing and reconnaissance with super-fine resolution, better virtualization for realistic training to enable the development of next-generation Air Force and Department of Defense systems with unprecedented performance.


SOUTHCOM: Enhanced Domain Awareness (EDA) Initiative
$4 million increase at the Department of Defense 
Decision-makers usually need quick answers to make decisions about critical infrastructure and resources, energy, environment, tropical diseases, national security and disaster risk management. FIU's Security Research Hub has helped support SOUTHCOM's requirements for Enhanced Domain Awareness activities. This additional funding will allow the university to pursue expanded activities, and greater collaboration with experts from FIU, government, civil society, think tanks, private sector and multi-lateral organizations for real-time data and analysis.


South Florida Geographic Program
$1M increase at the Environmental Protection Agency 


Designated a university of distinction for environmental resilience by the State University System of Florida Board of Governors, FIU has spent decades protecting the world's oceans and freshwater resources. Much of its funding to support water quality testing and monitoring comes from this important geographic initiative at the EPA. FIU seeks to expand water quality monitoring efforts and use cutting-edge technologies for long-term monitoring of Florida waters.