Federally funded TRIO programs help underrepresented students earn bachelor's degrees, progress to graduate school
Meet two recent grads who credit their success to support they received through these programs.
First-generation alumna Natalia Sanchez '22 entered FIU four years ago with a dream to study criminal justice. But in her first semester, she found she was struggling in math and turned to Student Support Services (SSS) for assistance. 
At SSS, Sanchez found a community so close-knit and determined to help her succeed that she participated for three years, and even went on to become a program assistant herself. SSS provided her with tutoring, which helped her ace the math classes she once worried she would fail, as well as peer mentors and success coaches who helped guide her transition into college life.
After graduating cum laude as a member of the Honors College, Sanchez began a master's in higher education administration at FIU and is now a graduate assistant and mentor for a program she participated in as a student: the Golden Scholars program, which provides a path to admission at FIU and support to first-generation students from underrepresented backgrounds in a six-week summer bridge experience.
Sanchez believes SSS had a positive impact on her career trajectory and her life.
"SSS taught me to always reach out for help if I need it, and it shaped me into a better student. It also helped me better establish goals, be proactive about the steps to achieve those goals, and complete my goals," Sanchez said. "I think SSS is a very beneficial program that every student who qualifies should take advantage of."
Supporting student success
FIU has been home to federally funded TRIO programs such as SSS since 1992. These programs are designed to support postsecondary educational achievement among traditionally underrepresented communities. Housed on the second floor of the Student Academic Success Center, FIU's TRIO programs are operated by the Office of Student Access & Success and are situated in a cozy, collaborative and high-tech study space that encourages face-to-face interaction and camaraderie among students.
These programs brought a total of $6.5 million in competitive federal grant funding provided by the U.S. Department of Education to the university this five-year TRIO cycle, and they assist an average of 800 FIU students each year.
"Our mission is to support the retention and graduation of low-income and first-generation students, which together make up about half of the undergraduate population at FIU," said Jeannette Cruz, senior director of Student Access & Success and supervisor of FIU's TRIO programs. "Beyond that, these programs are providing a space for students to form strong bonds with each other and begin building a professional network that will serve them throughout their careers."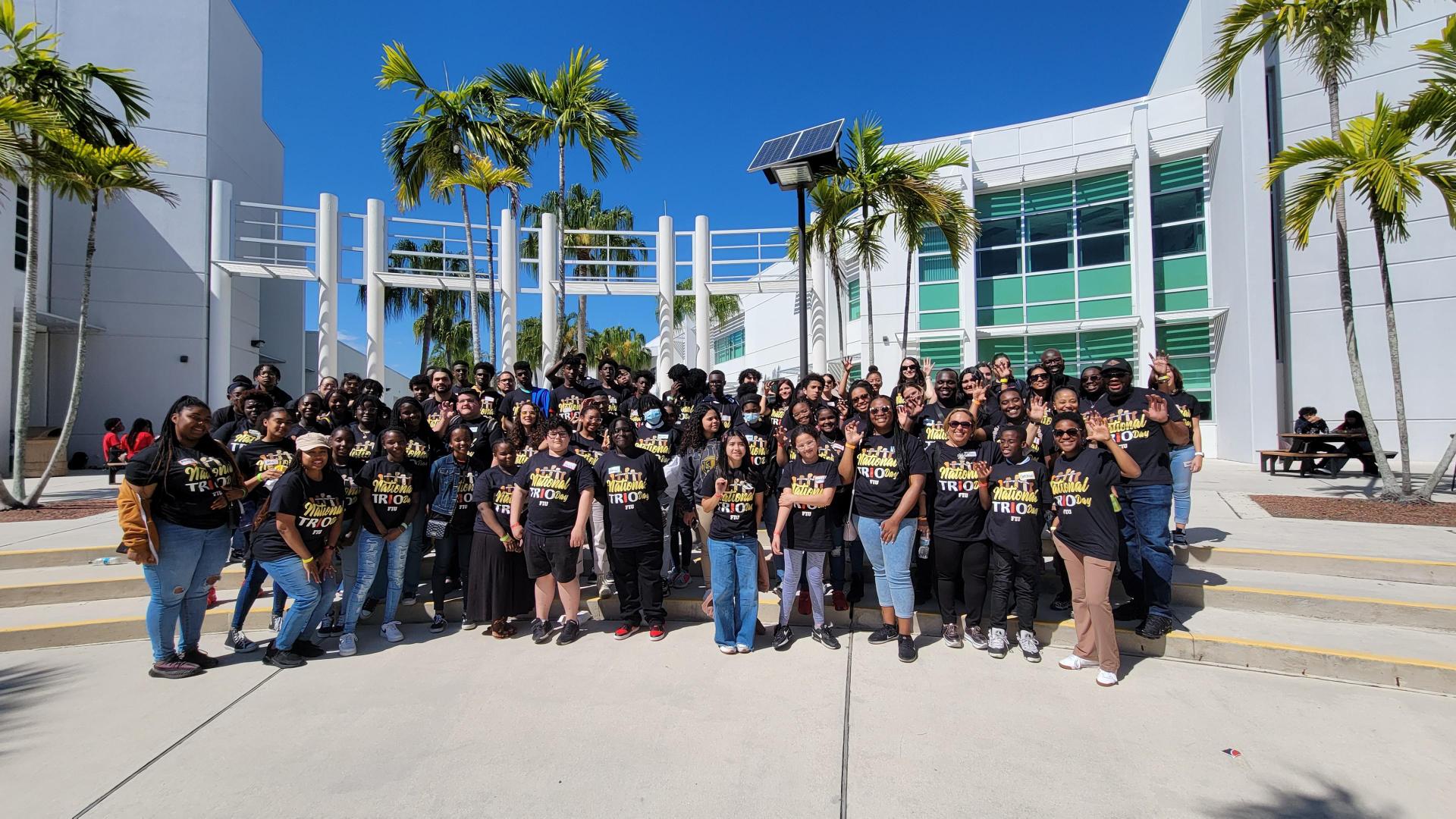 The university is currently home to five TRIO programs. Three are dedicated to identifying high school students who have the ability to succeed in college and providing the resources necessary to support them on the path to matriculation:
Two programs are available to enrolled undergraduate students: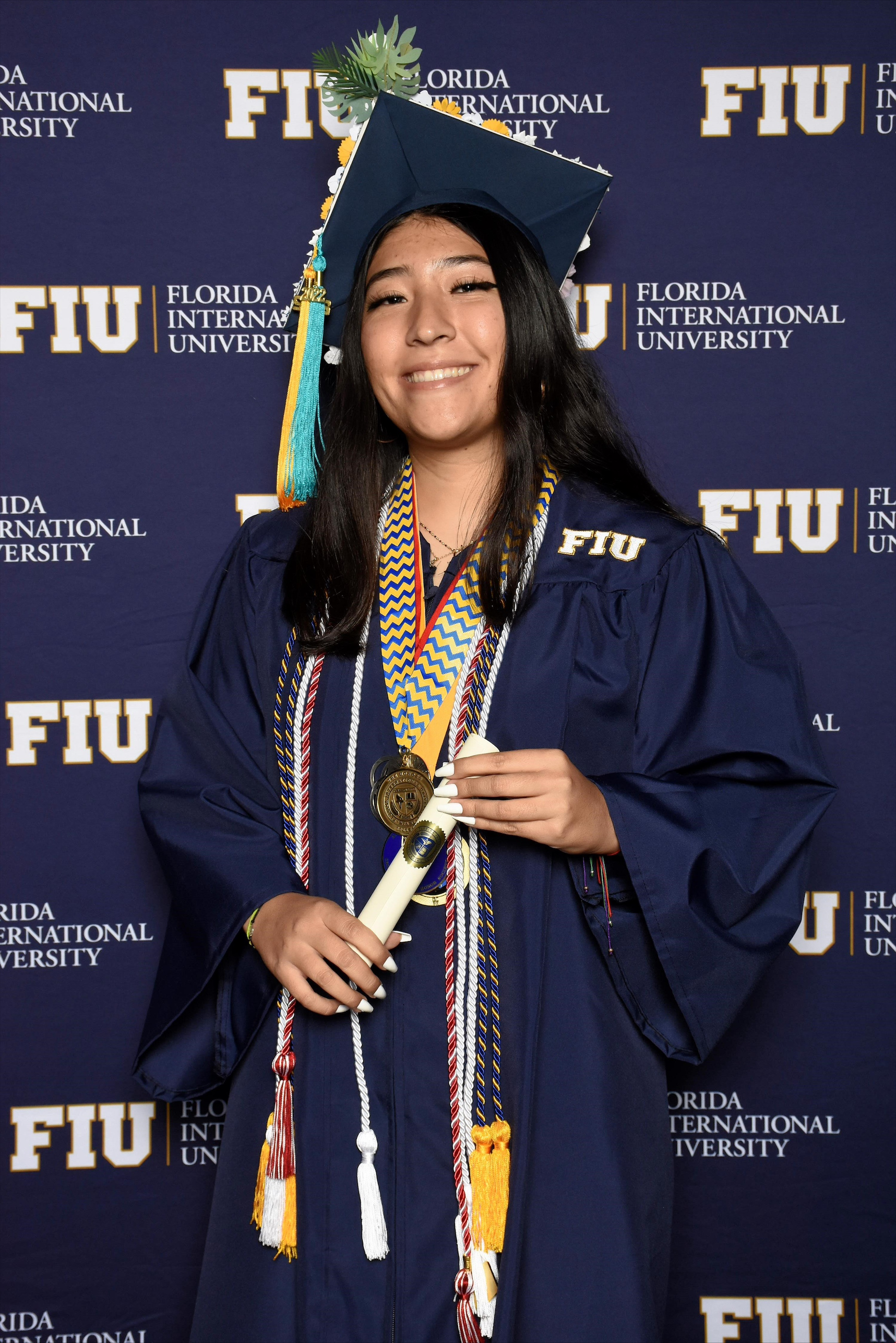 Achieving dreams
These programs are providing learning opportunities for students like Tiffany Munro '22, who graduated in the summer with dual degrees in psychology and philosophy. Munro is a McNair Scholar alumna, who, as an undergraduate, built a comprehensive resume, which includes research internships and assistantships, conference presentations, part-time jobs and a perfect GPA.
As a McNair Scholar, Munro had the opportunity to participate in the Summer Education Research Program at the University of Wisconsin-Madison. There, she conducted a literature review with a faculty mentor, examining the trends, patterns and methodology of research focusing on spirituality as it relates to the overall wellbeing of college students who identify as Black, Indigenous or people of color. She presented her findings at UW-Madison's undergraduate research symposium in August 2022.
Munro believes participating in the McNair program was essential to earning acceptance into the counseling psychology doctoral program at UW-Madison, where she will begin studying in the fall semester. She said the McNair program helped her answer so many important questions she once had, like how to get involved in research early on, how to find a mentor and how to plan her next steps.
"Now that I'm finally on the other side of that dream, as a McNair alum and knowing that I will start my doctoral studies in the fall, it feels absolutely surreal. I never thought that this would be possible for me, and I definitely think that's thanks to the McNair program," Munro said.