Double alumna who teaches at FIU to appear Tuesday on Food Network's Chopped
August 28, 2023 at 12:13pm
---
The thee words no chef appearing on a reality TV cooking competition wants to hear? "You've been chopped." Instead, chefs on the Food Network's highly rated show, "Chopped," are hoping for: "You're Chopped Champion." That title comes with a $10,000 grand prize.
So, what does this have to do with FIU professor, nutritionist and professional chef Vicky Colas? We'll find out soon, as she's scheduled to appear on the show this week.
Chaplin School of Hospitality & Tourism Management professor and two-time FIU alumna "Chef Vicky" as she's professionally known, is scheduled to show off her culinary skills in a pre-recorded episode of the popular game show that will air at 8 p.m. on Tuesday, Aug. 29. Did she win? No one knows as she's been sworn to secrecy about the outcome.
"It's going to be exciting and nerves all at the same time but stay tuned. That's all I'm able to say," Colas explained. Colas teaches "Institutional Food Service Production," geared to both Chaplin School hospitality students and dietetics and nutrition students studying at the Robert Stempel College of Public Health.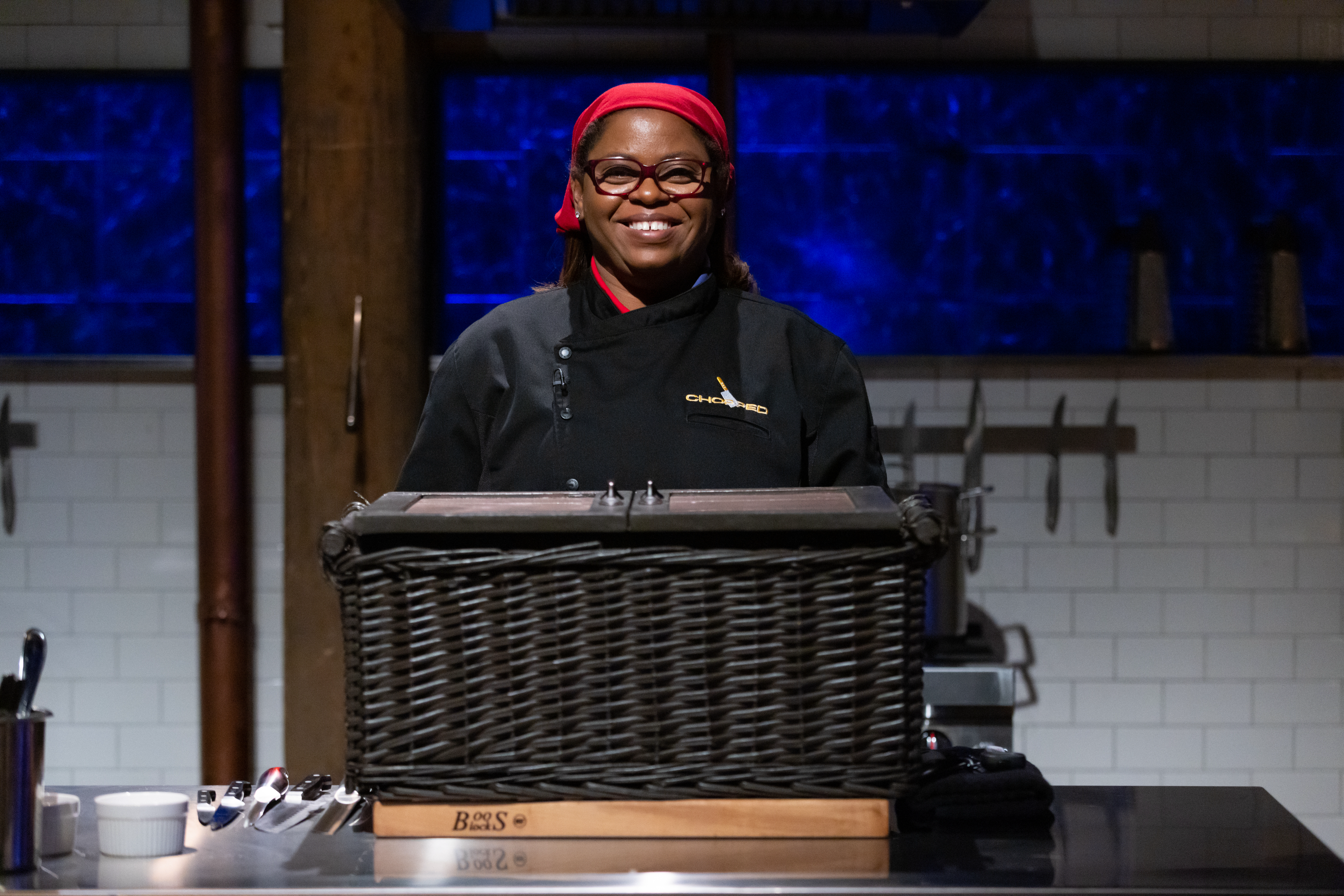 Chef Vicky is keeping silent about the show results but did share this official promotional image of her "Chopped" appearance.
The Food Network appearance is a full circle moment for this FIU professor and double alumna. She graduated in 2005 from the Chaplin School with her bachelor's degree in hospitality and culinary management, then again in 2014 with her master's in dietetics and nutrition from Stempel. Her love for cooking started with a hands-on learning experience during college for the Food Network South Beach Wine & Food Festival presented by Capital One (SOBEWFF®), one of the largest wine and culinary festivals in the world.
"As a student, I volunteered, and once I got exposed to batch cooking and cooking for the masses, I fell in love with cooking," she said. "It's a full circle for me because . . . now I'm going to be appearing on "Chopped" on the Food Network."
Besides her role as an associate professor at the Chaplin School, Chef Vicky runs her own eatery, Gumbo Twist, a fast-casual,  curbside and delivery-only restaurant concept out of Sunrise. She was born and raised in Haiti, and her Caribbean cooking flair is unique. She has also helped incubate several other brands through her business thanks to some of the lessons she learned at FIU as a student.
Now Colas is passing on her knowledge to a new generation of aspiring hospitality leaders, such as Natalie Garcia, a 2022 graudate who is currently working on a master's degree in the Chaplin School.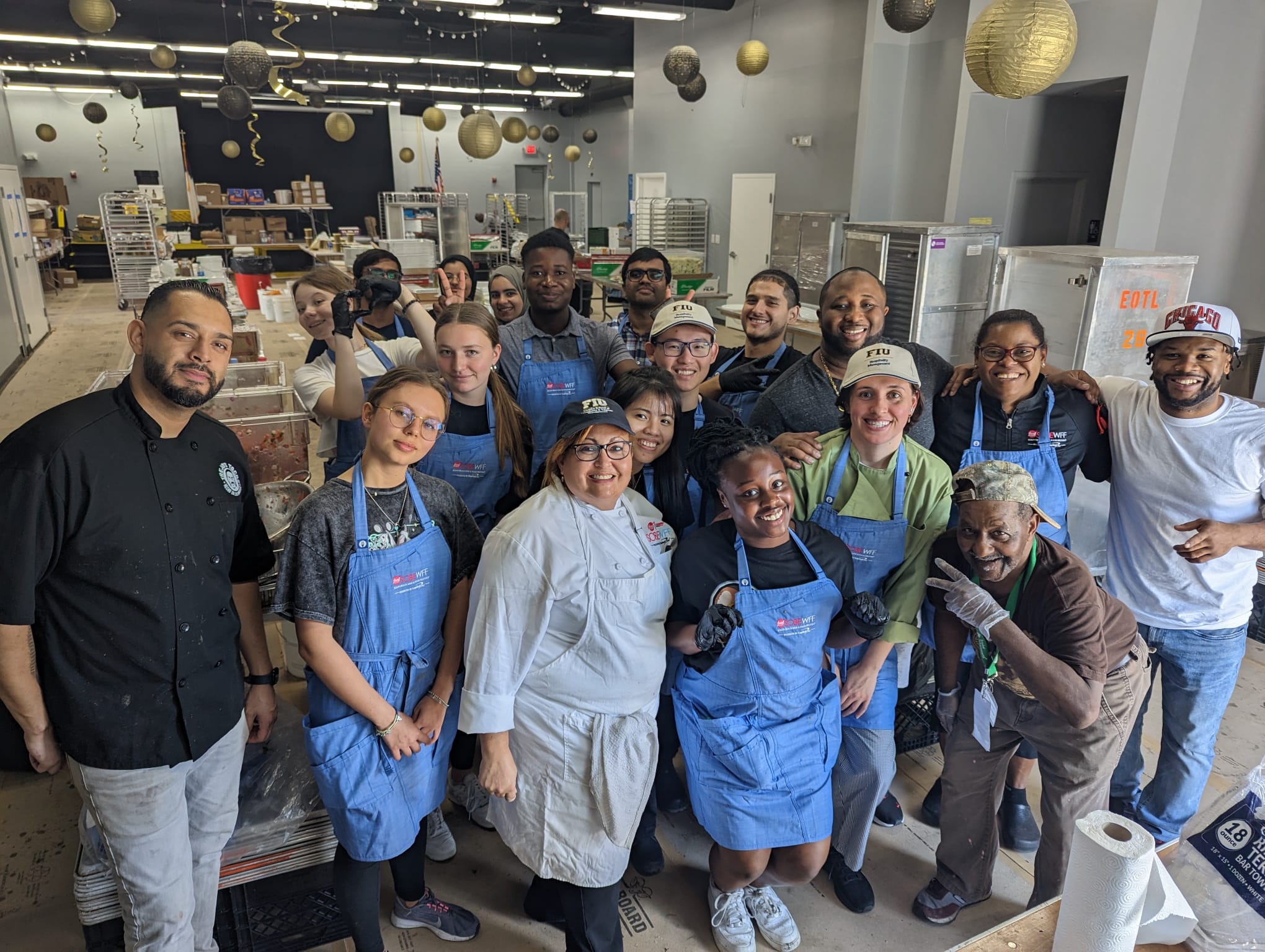 Chef Vicky and students volunteering during the 2022 South Beach Wine & Food Festival®.
"It is an accomplishment in itself that she was able to represent herself as she's come a long way as a chef, as a leader in the industry," says Garcia, herself a chef. "And regardless of whether she wins or not, she's a leader in our book."
Culinary management lead professor John Noble Masi agrees. "We could not be prouder to have Chef Vicky compete on national TV. She has been a great addition to our team. In addition to being an FIU alumna, she is a passionate advocate for our students," he added.
The show brings four chefs together competing in a three-round contest. The chefs are given a random mystery basket full of an unusual combination of ingredients that they have to turn into either an appetizer, main course, and dessert for evaluation by a panel of judges. The winner of the final round gets the glory - and the prize money.
So how far did she get? Chef Vicky isn't giving away any TV spoilers, but she says that, regardless of the ending, being recognized on the show "helps me tell my students that hard work does pay off."
Adds Garcia of her mentor, "We all know she's going to rock this championship and we're all rooting for her to win."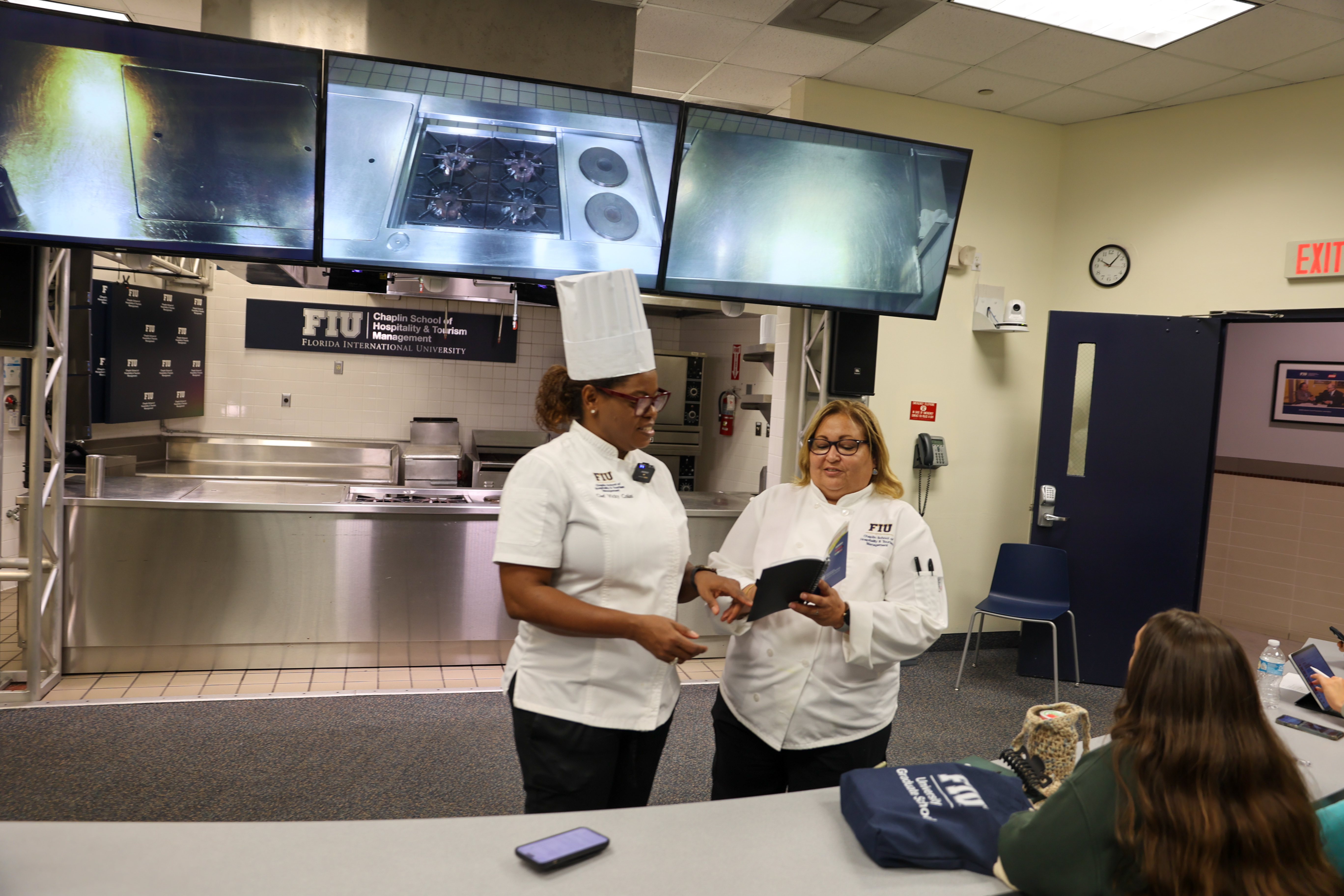 Chef Vicky (left) with Natalie Garcia '22, who serves as her teaching assistant.