FIU hosts leaders charged with reversing environmental impacts and guarding against cybercrime
The university is supporting conversations and action with the potential to influence the community, the nation and the world.
February 7, 2023 at 5:06pm
---
By Kyomi Cabral
In keeping with FIU's growing profile and research portfolio in the arenas of environmental resilience and cybersecurity, the university has hosted several related high-profile meetings in the past few months.  
FIU's strength in coastal conservation and water-quality monitoring came into play most recently as members of the State of Florida Blue-Green Algae Task Force gathered at the Biscayne Bay Campus to hear from FIU scientists as well as other experts from FAU, FGCU and the Smithsonian Marine Station in Fort Pierce. 
The Blue-Green Algae Task Force is charged with identifying solutions to reduce the adverse impacts to freshwater of Cyanobacteria, a single-celled organism that in increasingly warmer conditions can grow and produce toxins linked to illness in humans and animals.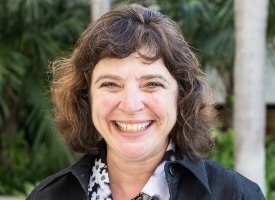 Evelyn Gaiser (pictured), an FIU aquatic ecologist who is the George Barley Eminent Scholars chair and a distinguished professor of biology, serves on the task force. She addressed the results of the Algal Blooms and Hypoxia Research and Control Act, which this year is up for reauthorization from the legislature.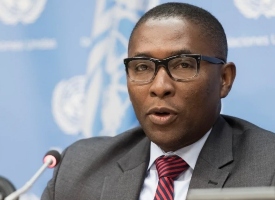 That meeting followed on the heels of a visit to campus by the United Nations Special Adviser and Assistant Secretary General for Climate Change Selwin Charles Hart (pictured). He participated in a discussion with Director of the Wolfsonian–FIU Public Humanities Lab Rebecca Friedman. Geared to understanding the concerns of young people, the panel included an FIU Ph.D. candidate conducting research in the field and was moderated by a member of the university's top-ranked Model United Nations team. Students were able to hear about and ask questions concerning climate action and climate justice from the vantage point of a city and region recognized as "ground zero" for climate change.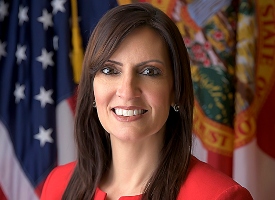 The Florida Cybersecurity Advisory Council, under the direction of FIU alumna Lt. Governor Jeannette Nuñez '94, MPA '98 (pictured), in December brought to campus Secretary of the Florida Department of Management Services Pedro Allende and Florida Chief Information Officer Jamie Grant for conversations around protecting state agencies from cybercrime. 
FIU Interim Provost Elizabeth Béjar participated in the event, during which she highlighted the activities of Cybersecurity@FIU, a hub for all initiatives and programs involving research and education around digital defense. She discussed the university's multifaceted approach, which combines technical strength in areas such as intelligent systems, the Internet of Things and cloud computing and storage with complementary expertise in international and public affairs, business and law. 
FIU currently produces the highest number of minority graduates in STEM nationally and has recently invested in a new facility to increase its research capacity related to engineering and technology.