Game on! Esports takes FIU by storm
A thriving community connected by a love of video games has inspired FIU to expand academic and extracurricular opportunities for students interested in the multibillion-dollar industry
September 15, 2023 at 11:59am
---
On the heels of an extraordinary inaugural year, FIU Esports celebrated National Video Games Day on Sept. 12 by introducing the 2023-2024 lineup for its varsity competitive team and launching a new team, too.
Gaming at FIU officially kicked off last year when the university committed to supporting players within the Panther community, developing an academic program that will provide students with the skills to work in the growing, lucrative industry, and even building a state-of-the-art, active-learning-focused esports arena on campus.
The new roster for FIU's first varsity team, which plays the popular five-on-five combat game "Valorant" at the collegiate competitive level, has big shoes to fill. FIU's Valorant squad rose to No. 6 in the nation in spring 2023, winning tournaments against well-known schools in the collegiate gaming sphere, including University of Missouri, Texas A&M, and University of Tennessee Knoxville. In April, they traveled to Philadelphia to compete in the two-day Nerd Street 2023 Valorant Rendezvous, taking home first prize.
FIU Esports announced it is sponsoring a second varsity team this year to play "Rocket League," a soccer match-style game played using vehicles in place of athletes.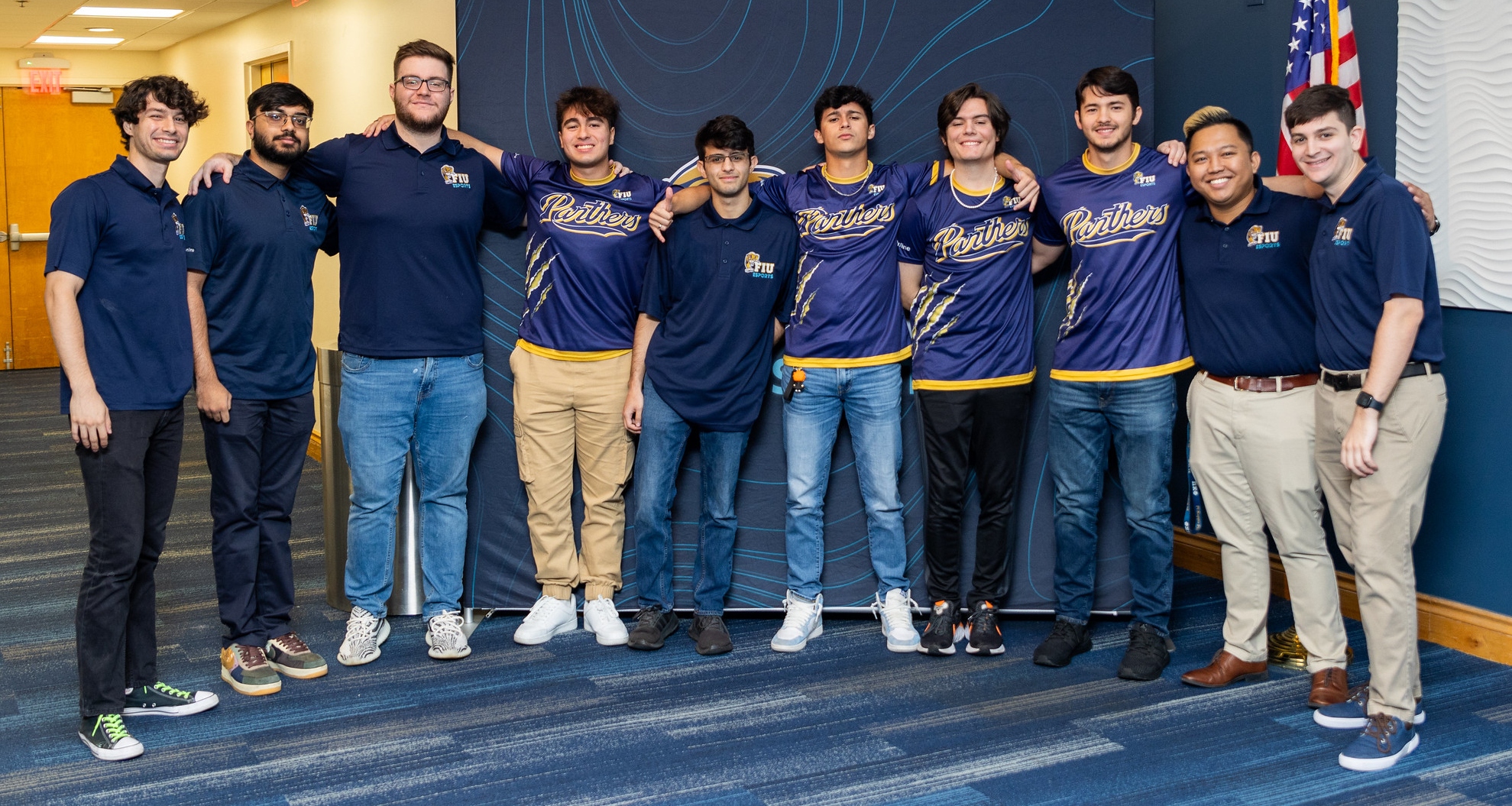 Committed to more than just a love for the game
FIU's gaming community first gained foothold online during the pandemic, amassing over 2,700 users on its online Discord server, including current and prospective students as well as alumni. In response to the increasing interest – compounded by the student-led Panther Esports Club, which boasts 570 members – the university officially launched the FIU Esports department last Fall. To date, the new department has hosted over 80 student events, including the first Panther Games Expo, which featured a panel of notable gamers and was attended by 225 guests.
The esports initiative at FIU is three-pronged, placing institutional emphasis on community, academics and competition. The idea is to 1) foster a welcoming environment in which students from all majors and backgrounds can build friendships based on their shared love of gaming, and 2) prepare students for successful careers in what is projected to be a $321 billion industry by 2026, according to PwC's Global Entertainment and Media Outlook.
Careers in gaming aren't limited to just designing games or playing them competitively – though many of the world's best competitive players are earning millions between tournament prizes and sponsorships. The rise in popularity of online play and competition has opened up gaming-related job opportunities in business management, marketing, large-scale event planning and logistics, cybersecurity and much more.
And if the club's membership and online participation are any indication, the gaming community at FIU is both thriving and thirsty for expanded opportunities.
For these reasons, Jose Toscano, senior director of Student Life & Development and advisor to the varsity teams, believes esports isn't just some passing fad, like the Harry Potter-era Quidditch obsession that gripped FIU in the mid-2000s.
"I've been doing student programming for over 20 years, and if you'd asked me a few years ago, I would not have guessed that gaming would have such a meteoric rise, being able to stretch across so many industries and academic careers. But it's true, esports is here to stay," Toscano said at the National Video Games Day event.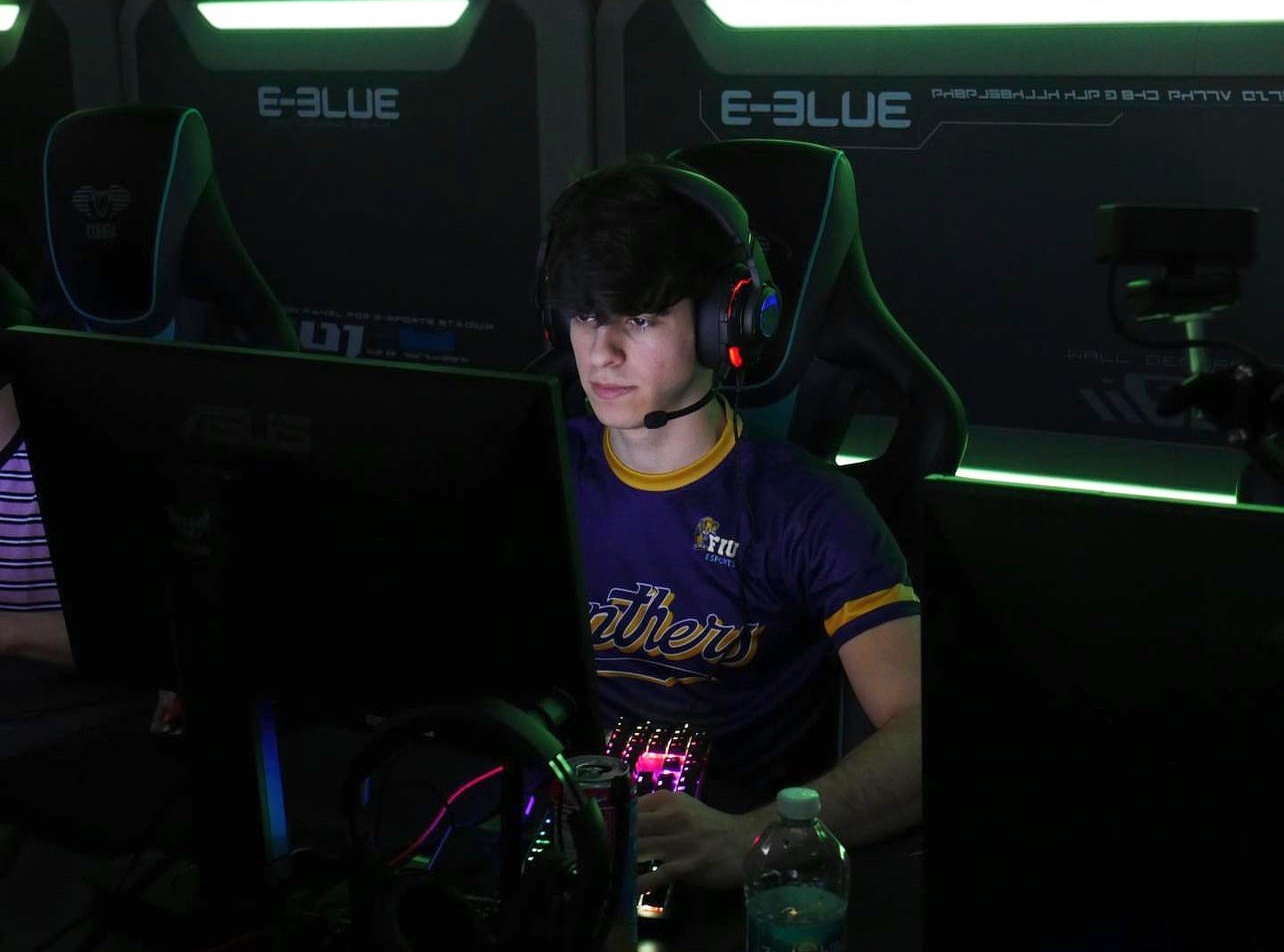 It's why the university is backing the esports initiative with the resources necessary to transform into a culture of gaming. FIU just completed construction on its Interactive Learning Arena, housed in the new SIPA II extension. Outfitted with state-of-the-art equipment, the facility is set to open later this academic year. With the arena's debut, FIU aims to host large-scale esports tournaments that attract both collegiate and professional players to campus, while also facilitating academic pathways, fostering research incubation and providing student programming.
Currently, gamers can visit the Graham Center esports lounge to play online using high-tech computer setups specifically designed for gaming. This year, the lounge offers free play, a big perk for a community that is accustomed to having to pay for online access to their favorite games. Outfitting of an esports lounge in the Wolfe University Center at BBC is underway and is set to open to students in early 2024.
FIU is also expanding its course offerings to prepare students for a variety of careers related to gaming. The Chaplin School of Hospitality & Tourism Management currently offers an introductory class discussing the esports ecosystem, including events, venues, sponsorship and media. Additionally, FIU Online has committed to building a new curriculum around the subject in conjunction with the College of Business. The undergraduate certificate, slated to launch in Spring 2024, will leverage the active-learning environment in the new arena and will begin with two inaugural courses covering the business side of gaming and other emerging technologies. Additionally, students will be able to enroll in a free, online micro-credential called "360 Esports Player Health and Wellness."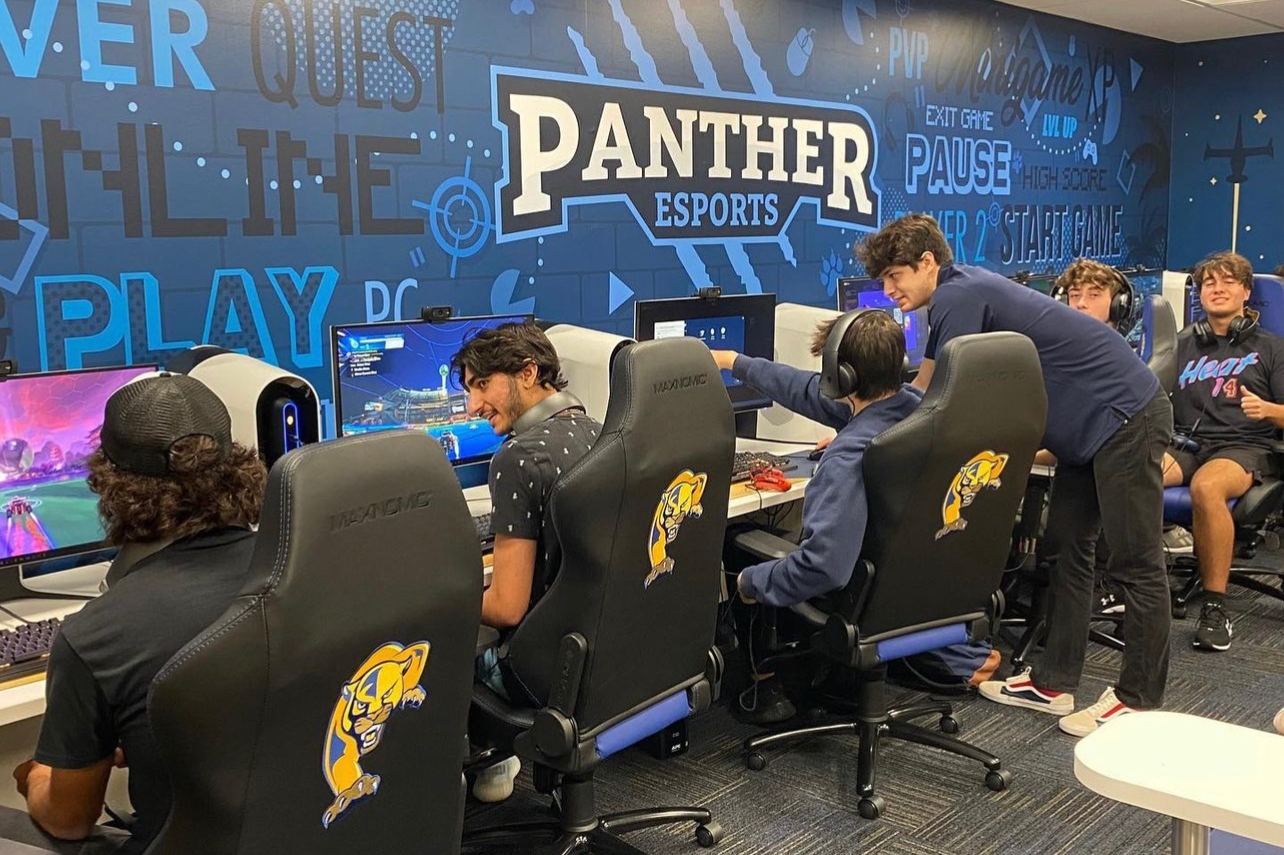 Inspiring new pathways
Jose Garcia Chirino (known online by his gaming alias, "Narnia") is a junior theater major with a love for Super Smash Bros. Garcia was a founding member of the FIU Esports student programming committee last year and has been involved in FIU's gaming community since its fledgling stage.
"I've always had faith this community at FIU was going to grow, but even I couldn't see how big this would become. It's really reassuring, because there's a lot of people who share common interests and who I can talk to. This campus is so big, and I know there's a lot of people out there who have trouble finding their clique in college, so that's so important," he said.
Garcia Chirino also took Intro to Esports & Gaming last semester, which opened his eyes to the opportunities that await him and has inspired him to consider pursuing a second major in marketing.
"I want to be on the business and marketing side of esports. I hope to go into event production and maybe host my own tournaments, so to be able to learn how to align that with my passion for gaming is such a great opportunity."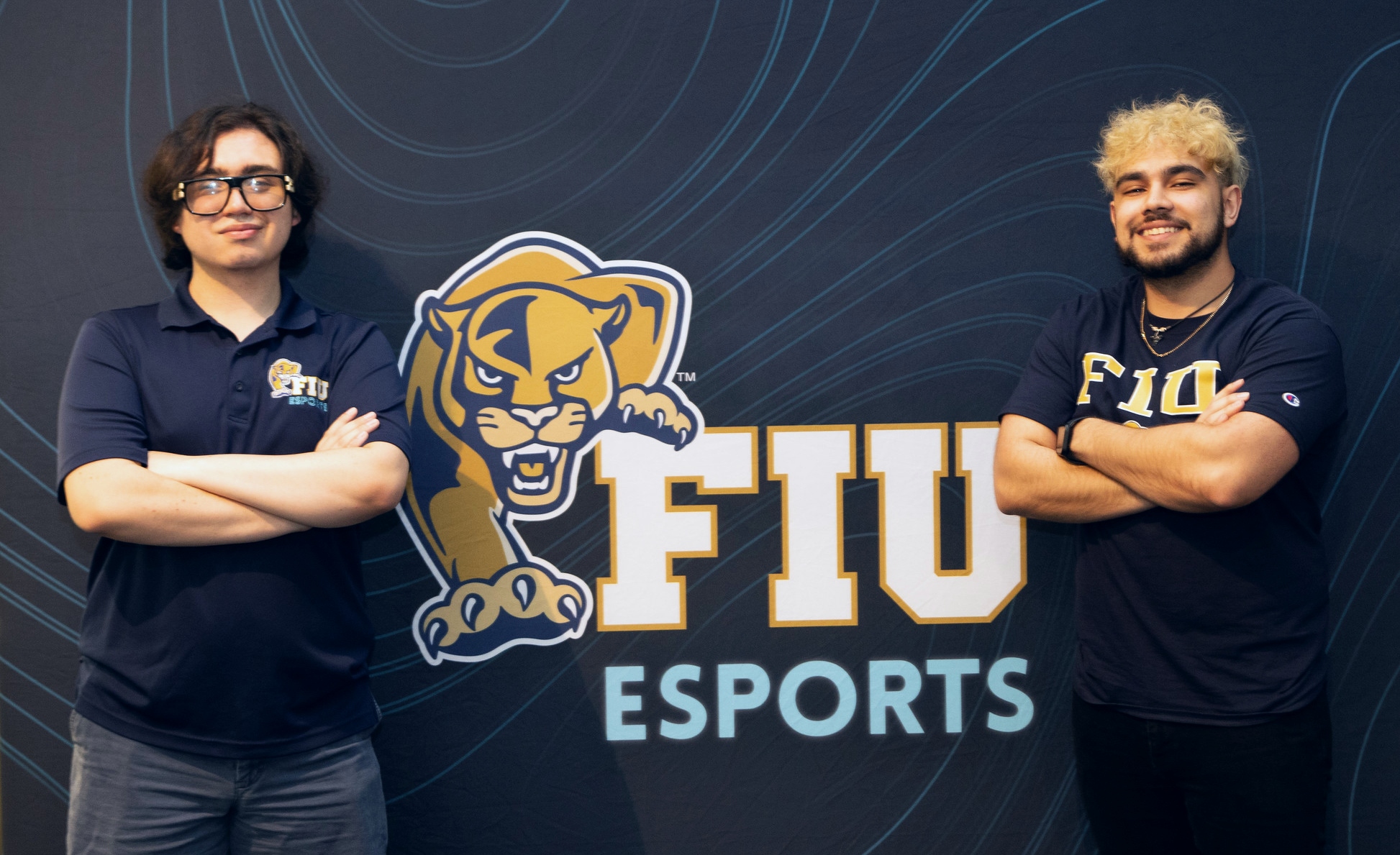 Jose Garcia Chirino, left, with Alejandro Velazquez at FIU's National Video Games Day celebration on Sept. 12