Health experts urge action on climate change at FIU's Global Health Conference of the Americas
October 2, 2023 at 12:20pm
---
All eyes were on the environment and its impact on health at this year's Global Health Conference of the Americas led by Florida International University.
The conference took place in Cartagena, Colombia, September 13-15, 2023, and convened over 300 experts from Colombia and abroad to discuss today's pressing global health challenges. In partnership with the Colombian Society of Pediatrics and the Pan American Health Organization (PAHO), partners, and sponsors, the event hosted insightful sessions and panel conversations designed to help break silos and foster collaboration. It also included keynote speeches by Jarbas Barbosa Da Silva, Director of PAHO, and Guillermo Alfonso Jaramillo, the Minister of Health and Social Protection of Colombia. 
"Achieving global health for all requires us to work together," said Dr. Carlos Espinal, director of the Global Health Consortium at the Robert Stempel College of Public Health & Social Work. "Our diverse backgrounds and unique perspectives can help us come up with interventions that address the complex challenges and needs of our communities."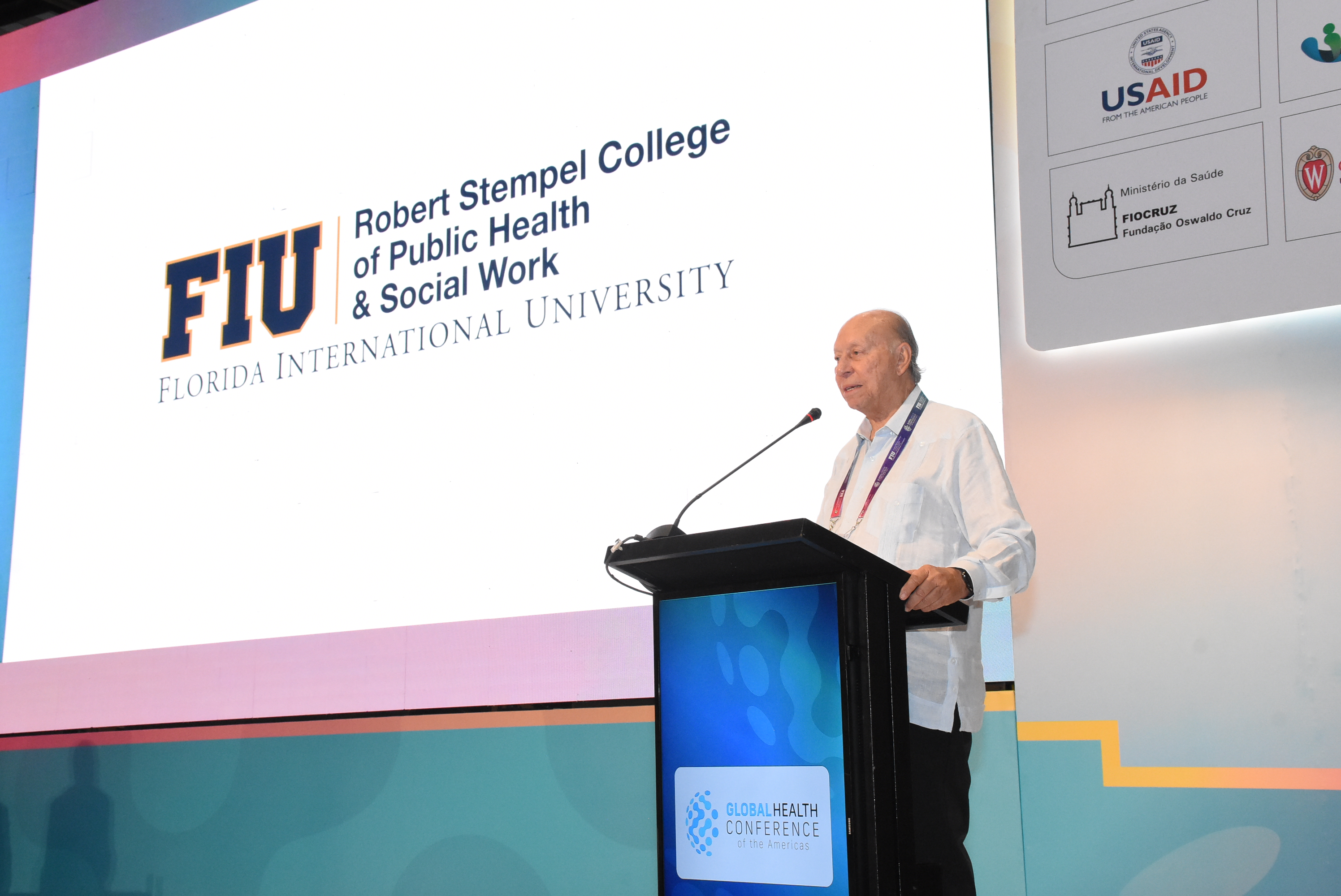 Experts from health, medical, and academic sectors presented research that explored the adverse effects of climate change on public health, from the rise of arbovirus outbreaks to the impacted health of coastal communities.
The World Health Organization estimates that between 2030-2050, climate change will lead to about 250,000 additional deaths caused by health issues like malnutrition, malaria, and heat stress.
"This is a growing threat we cannot ignore," said Dr. Espinal.
Increase in arbovirus outbreaks
Arboviral diseases, like Dengue, Yellow Fever, Chikungunya, and Zika, spread to people through the bite of mosquitos carrying the infection. 
"Arbovirus outbreaks are now happening in areas that had never experienced them before," said Dr. Diana Rojas, an infectious diseases epidemiologist from the World Health Organization.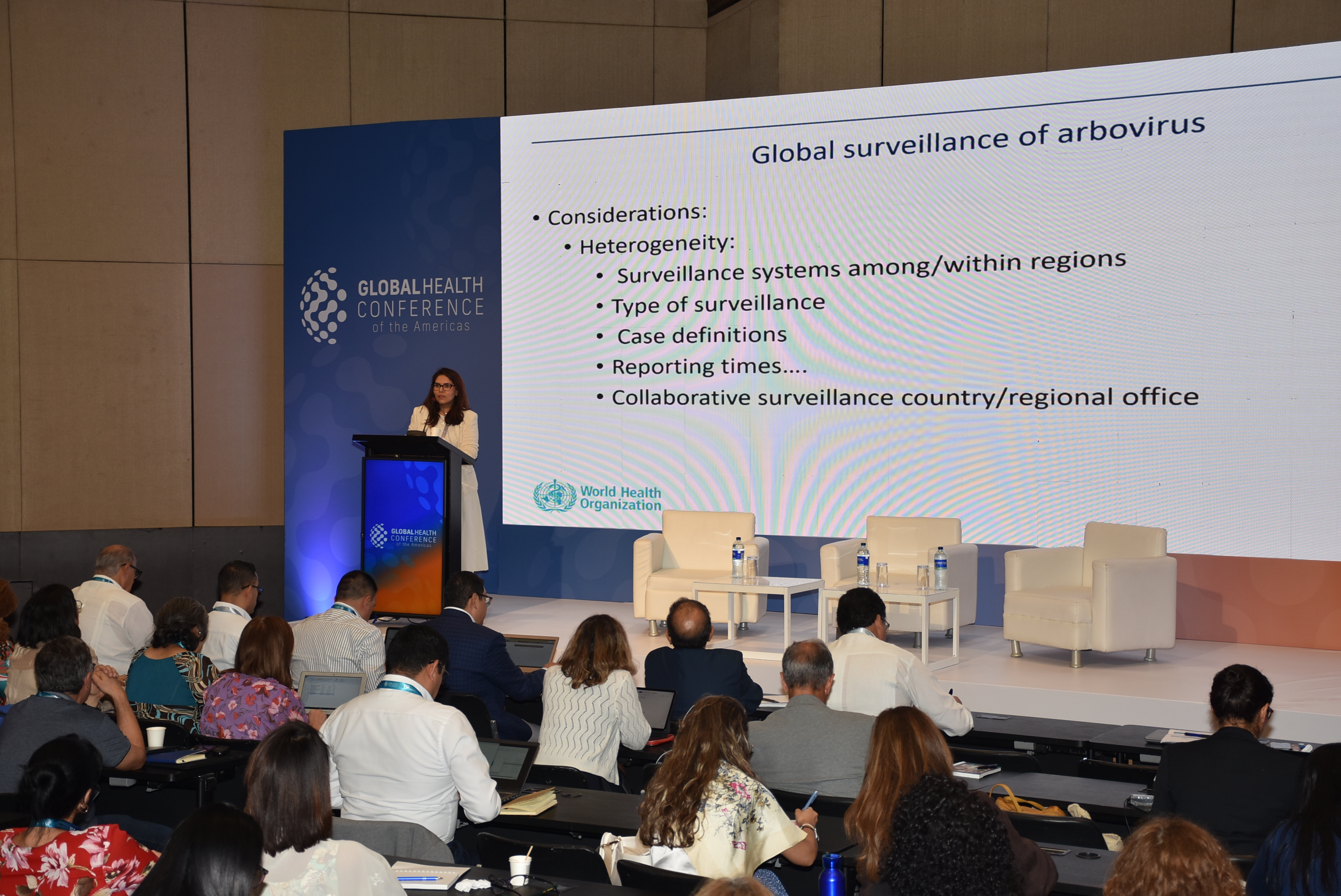 Dr. Rojas pinpoints a change in climate as one of the main culprits for surges in mosquito-borne arboviral diseases across the globe. In 2022, dengue cases spurred up in Europe—the number of reported dengue cases reached a level equal to the combined total of cases reported in the preceding 11 years.
"These rising temperatures are a breeding ground for mosquitos," she said. "Climate affects all traits important for growth, development, and transmission of these diseases."
At the conference, global health experts urged governments to improve the surveillance and monitoring of arboviruses to better understand and control transmission.
They also stressed the importance of health promotion, like the promotion of available vaccines and how to prevent mosquito bites, to limit the risk of arboviral disease.
Exploring the impact of climate change
"Human influence has been a major driver of the rapid warming we are seeing in our world," said Dr. Rajiv Chowdhury, Chair of Global Health at FIU. According to Dr. Chowdhury, the disparities we see in communities, like displacement and food insecurity, will only worsen as the years progress.  
At the conference, Dr. Chowdhury presented a case study that highlighted Colombia as one of the worst climate-affected countries—nearly 36 million people in the country are exposed to extreme heat.  He also shared insights into an ongoing collaborative study with the University of Cartagena, which is exploring the public health impacts of climate change across three sites in Colombia: the coastal city of Cartagena, an urban slum in Medellin, and the departments of Amazonas and Caquetá.
"This study aims to offer invaluable insights into the relationship between climate change and public health across these sites," said Dr. Chowdhury.
Throughout the conference, health experts emphasized the critical need for region-specific research, underscoring its role in guiding governments toward the development and implementation of interventions aimed at combating climate change.

A path forward
On the conference's final day, FIU leaders launched a coalition dedicated to addressing the interconnected challenges of global health and climate change. Dr. Chowdhury, who originally envisioned the idea of this region-wide coalition with Dr. Espinal, will serve as the scientific director of the initiative.
"This coalition will bring together governments, international organizations, non-governmental organizations, universities, and other stakeholders to promote collaborative action and find holistic solutions to these pressing issues," said Dr. Espinal. It aims to start its work by November 2023.
For the past eight years, FIU has hosted the Global Health Conference of the Americas to bring together the best minds across disciplines to push the edges of knowledge to improve health worldwide.
The next conference will take place in September 2024, in Miami, Florida.