Meet FIU's social media influencers
They're repping FIU, and their followers are loving it!
September 25, 2023 at 5:00pm
---
In the age of social media, rising to the level of an influencer has become a dream for many. But how do you go from scrolling through others' posts to creating memorable content yourself? Students participating in the FIU Creators program are doing just that as they parlay their passion for FIU into an educational experience that's both enriching and entertaining. With direction from professional university staff, they are finding their own unique voices. 
"I've been creating content on YouTube for over nine years, showcasing my life since I was 11," says Paris Manuel, a junior biology/pre-med student. Even with all that experience behind her, she welcomed the opportunity to promote FIU and put her skills to a very specific use. "Getting into this program has done nothing but brought me joy, new friendships and a newfound school spirit as a Panther!" 
Manuel regularly posts about her inolvement on campus, including her singing with an a cappella group. She is one of 23 students hand-picked to participate in the FIU Creators program, some of whom, like Manuel, have a long-standing social presence while others were chosen because they showed potential.
Laura Herrera, a junior business administration/marketing major, jumped at the chance to post on Instagram in support of the university and wanted to share "my college experience as an international student and my love for FIU," she says. "This program brought to my life many opportunities for career growth that I never thought were available for me." She often posts on Instagram about the things that are new or different for her as a native of the Dominican Republic.
Valeria Collazo is something of a star – dare we say an actual influencer – with her 140K (and growing) Instagram followers.
"Going into this program, my audience didn't consist of college students, so to see the amount of love I have been receiving from both my old audience and new audience is so special," says the senior marketing major. "I feel as though I've connected with a whole new community, which is such a great feeling."
In exchange for volunteering to promote FIU, the students get training and mentorship from someone who just a few years ago was a student herself and learning how to navigate the intricacies of the ever-growing world of social platforms. 
Alumna Maria Rives '16 holds the title of social media manager in the university's Division of Strategic Communications, Government and External Affairs. She studied psychology at FIU, which she says helped her gain an understanding of how social media can be used to connect with audiences of all ages and backgrounds. She started the FIU Creators program to harness the power of those who know the vibrant FIU community best: students. 
The content creators serve as ambassadors and reflect the many types of students who live and learn here, Rives explains. Since 2022, they have collectively published more than 350 posts that extend the university's audience reach and provide a first-hand look at the FIU experience for peers and prospective students. They ensure a continuous stream of engaging material for the university's social media platforms, among them student lifestyle tips, campus life and a behind-the-scenes look into specific programs. In a perfectly symbiotic relationship, the students build a valuable skillset while contributing to the university's digital outreach efforts.  
"Since the launch of the program, FIU has experienced a surge in online engagement," Rives says. "Prospective students receive an authentic view of FIU, and current students and alumni feel more connected than ever. FIU's online fosters a sense of belonging, and these ambassadors are the driving force behind this transformation."  
And adds Joel Villarini, director of social media, "For those aspiring creators looking to pursue a career in content marketing, the FIU Creators program offers a unique opportunity to gain first-hand experience in the field and build a robust portfolio."  
Meet the 2023-2024 creators.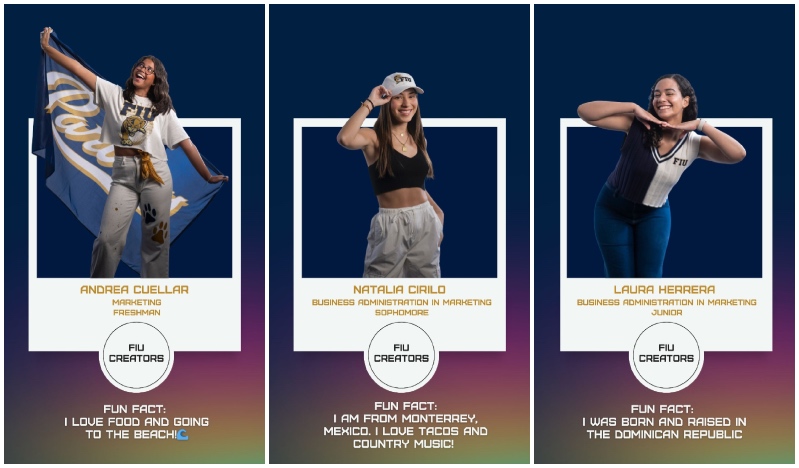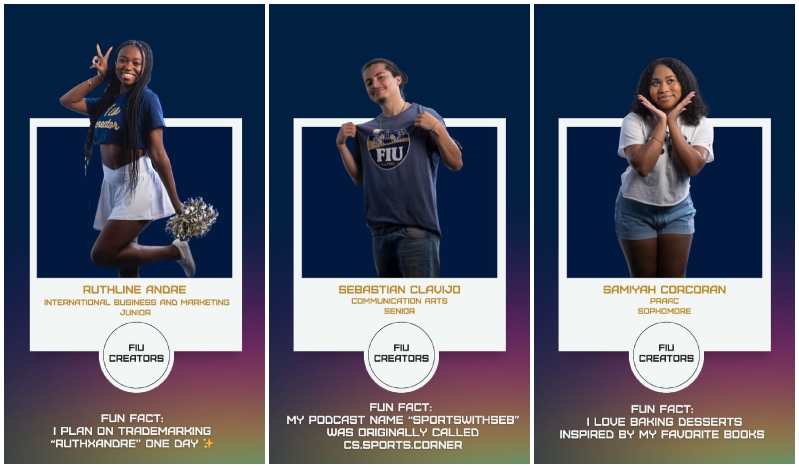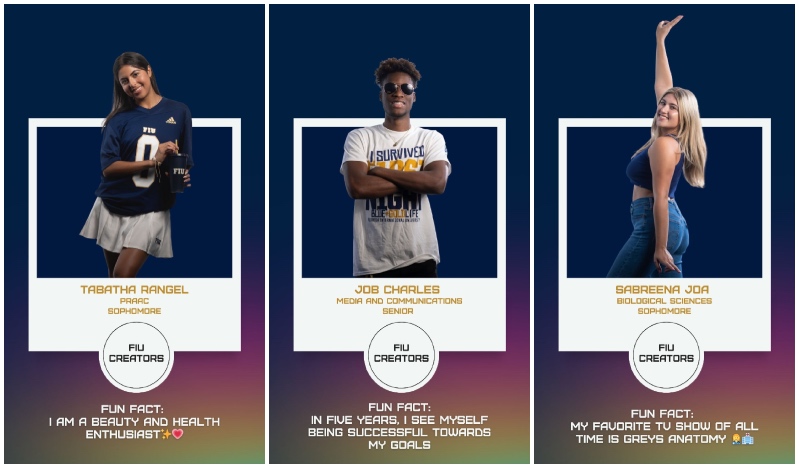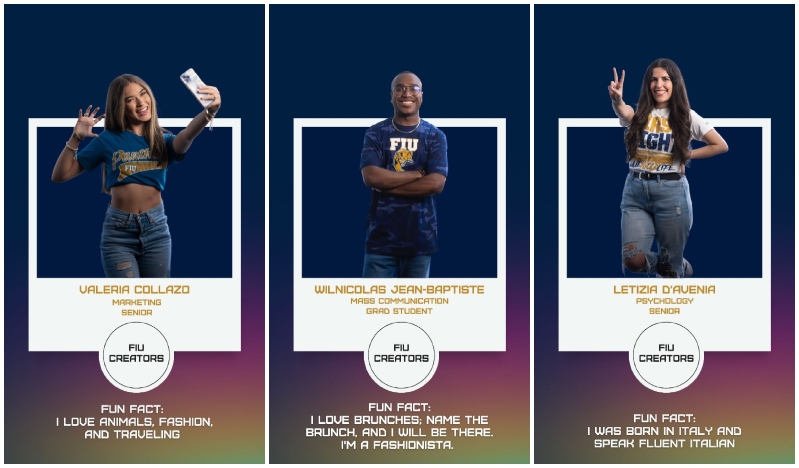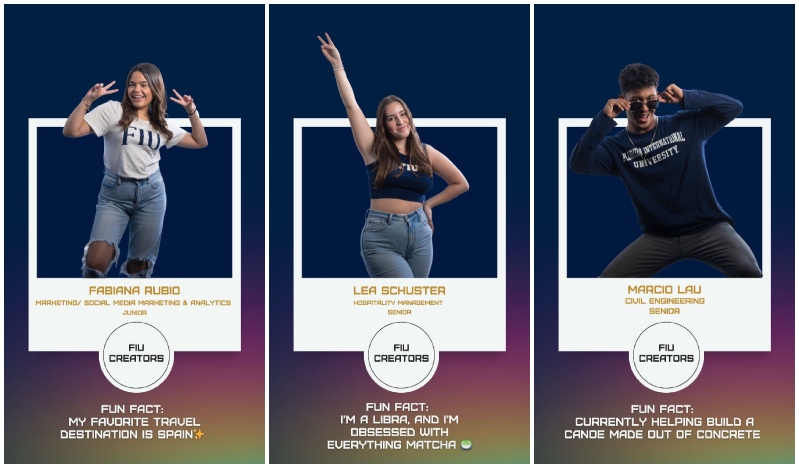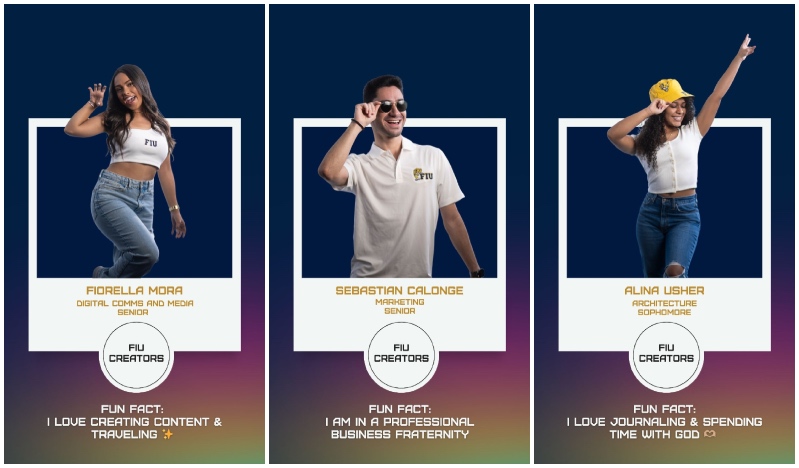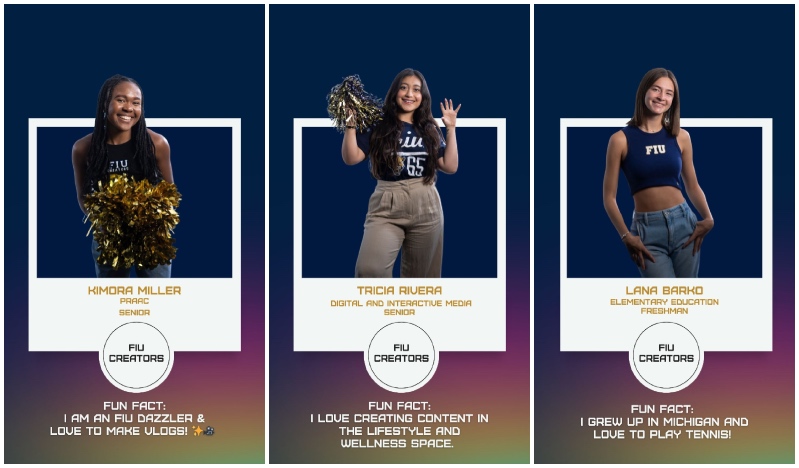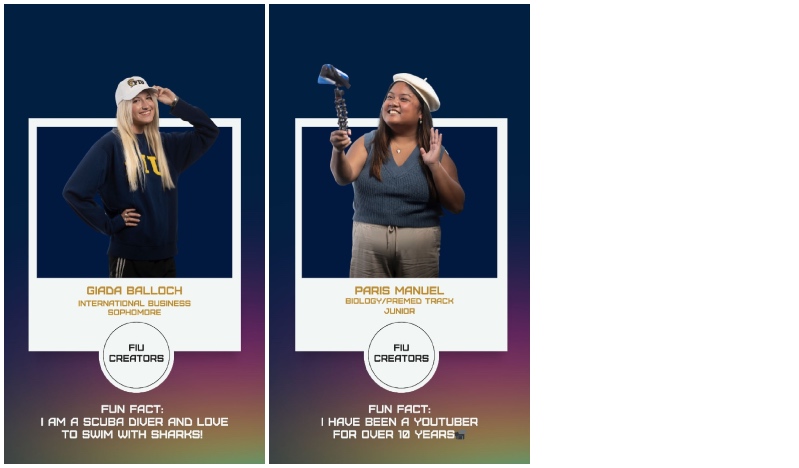 Students looking to become the next viral sensation, or simply just wanting to explore the exciting world of content creation, can apply to the FIU Creators program when the application period is announced next summer on Instagram.