Student-led "green team" diverts over 40 tons of waste at the South Beach Wine & Food Festival®
The green initiative is part of larger model for sustainability.
March 22, 2023 at 12:45pm
---
Graduate student Keidybel Rincon wants to be a chief environmental officer of a company that values sustainability and saving the environment. She's on her way, after playing a lead role in the debut of a new green team at one of the world's largest mega events. 
Over 40 tons of waste is staying out of landfills thanks to a green initiative launched at the 22nd annual South Beach Wine & Food Festival® and led by students and their professor in the Chaplin School of Hospitality & Tourism Management under the guidance of Clean Vibes, a company dedicated to responsible on-site event waste management.
The team handled 47,960 pounds of recycling, 14,300 pounds of compost and 23,867 pounds of rescued food.
That's a total of 86,127 pounds, or over 43 tons. Included in these waste diversion efforts was food donated to local homeless shelters to make thousands of meals for food-insecure communities. The numbers are significant for the festival, which has successfully performed food rescue for more than 15 years and recycled plastic and other discards for ten years.
"It was truly a great experience being a part of this monumental task and especially now to see the results that show that we did some serious good for the festival, the community and the planet," said John Buschman, the Chaplin School professor who lead the green team and food rescue activities. He also co-directs the university's unique bachelor's degree in global sustainable tourism. 
Nearly 65,000 people attended the 110+ gourmet gatherings that took place last month on Miami Beach and across South Florida.
The green team is part of a larger model for sustainability, which includes the Chaplin School's fully online degree that provides students with the knowledge and skills to lead the hospitality and tourism business sectors on sustainable practices, resiliency and advocacy in this emerging field, creating future leaders in sustainability. This spring, the first cohort graduates and heads into the workforce.
"We are here to leave the beach as clean as we found it, and as a way to help our planet. Teaching people and education, it is big and sharing all our knowledge about sustainability is a great way to do that," said Rincon, the graduate student looking to put sustainability into practice when she takes an industry position.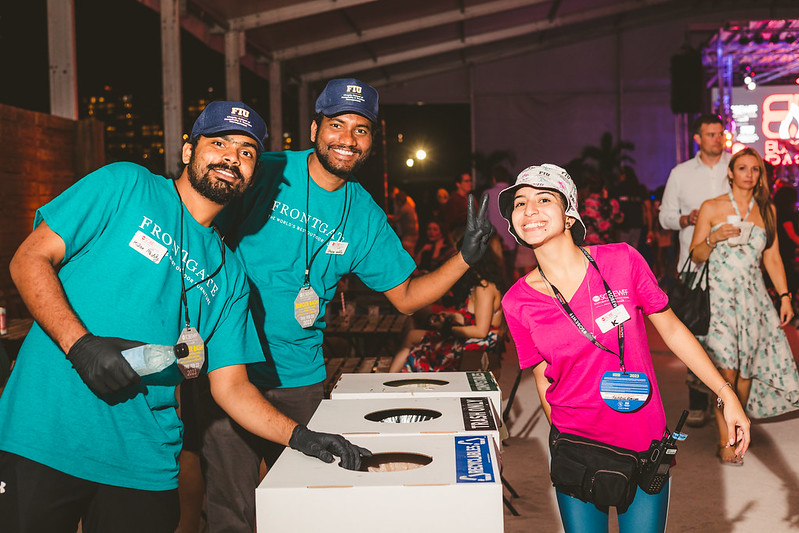 Students, including Keidybel Rincon, right, educate festivalgoers.
While North Carolina-based Clean Vibes has implemented volunteer programs to assist in waste diversion at large events for over two decades, this was the first time they partnered strictly with a university to provide and organize volunteers. 
"For a first-year partnership with a very small window of time for planning, we exceeded our expectations in terms of both cooperation between Clean Vibes, the festival and the FIU team as well as in regard to the amount of waste that we were able to divert from the landfill," said Anna Borofsky, Clean Vibes co-owner.
According to the Environmental Protection Agency, landfills are among the country's largest sources of methane - a greenhouse gas emitted by waste such as food scraps, wood and paper - that contributes to global warming. A United Nations Climate & Clean Air Coalition annual report found reductions in methane emissions are the best way to slow down climate change.
The UN report includes a strategy to reduce climate pollutants significantly by 2030 by reducing methane emissions.
The green team will now go on to tackle three-day Ultra Music Festival, where FIU students will lead the on-site waste diversion program. For Rincon and her fellow volunteers, the goal is simple, "We want to help the world as much as we can."