The university's social media student ambassador program, called FIU Creators, has welcomed its Spring 2023 cohort.  
The group consists of twelve passionate content creators picked from over 100 applicants, who will participate in university events, share their college experience through their own social media and be featured on the university's main social media platforms. Four creators are returning from the program's initial cohort, and seven new creators are replacing former ones who have graduated.  
The goal of the FIU Creators program is to feature a better look at FIU student life from a student's first-hand perspective. It's about showing what the REAL FIU experience is like. 
Creators don't limit their activities to Instagram and often extend to other platforms such as LinkedIn. The experience creators gain in the program helps them become more appealing to recruiters looking to hire content production talent and to brands looking for influencer partnerships. 
The content creators receive training and mentoring from FIU's social media team, established South Florida content creators, VIP access to selected university events, FIU swag and surprises throughout the semester.  
"It has been so much fun being an FIU Creator. I always have a blast making content and attending events that I can share my perspective on as a student. I am so grateful that FIU has begun to offer such an opportunity for students to be a part of. This program is perfect for me since I crave to obtain as much hands on experience as possible when it comes to creating content. My favorite part of the program is being able to be around other creators because we help each other out and share new ideas about how we can improve on what we come up with. I decided to join in for another semester [as an] FIU Creator because spreading #PantherPride has fueled my passion to keep learning, growing, and creating content that is relatable and fun for everyone! #PawsUp - Kimora Miller 
The FIU Creators program launched during the Fall 2022 semester and will continue to evolve to better serve its participants and the university community. Together, the students created 48 original pieces of FIU-themed and college life content.
FIU Creators were also featured and participated in the production of the university's main social media channels, with some of the content reaching well over 100,000 video plays. Comments left by prospective students show excitement in applying and enrolling at FIU. 
Maria Rives, social media manager, says, "The FIU Creators program has been a game-changer for our university, elevating our image and elevating the quality and relevance of our content, setting a new standard for higher education." 
Joel Villarini, director of social media, adds, "We are creating a content creation talent pipeline for agencies, brands and media. FIU Creators are the content creators you want on your teams! They are quick learners, highly creative and know how to deliver the message with skill and precision."
Applications will open late summer 2023 for the 2023-2024 FIU Creators cohort. An announcement will be made on @FIUinstagram.  
Meet the spring FIU Creators, and don't forget to keep an eye out for their content! 
"My experience as an FIU CREATOR is educational and gratifying, as I can apply my personality on social media using my creativity and content creation knowledge that I am gaining from the team, while showcasing my FIU experience as a student. I decided to join this team as I very much enjoy displaying my love for FIU on different social media platforms while showing engineering students, like me, that college is more than just attending classes and going home; there is more to do at our campus that can change your college experience for the better."
- Marcio Lau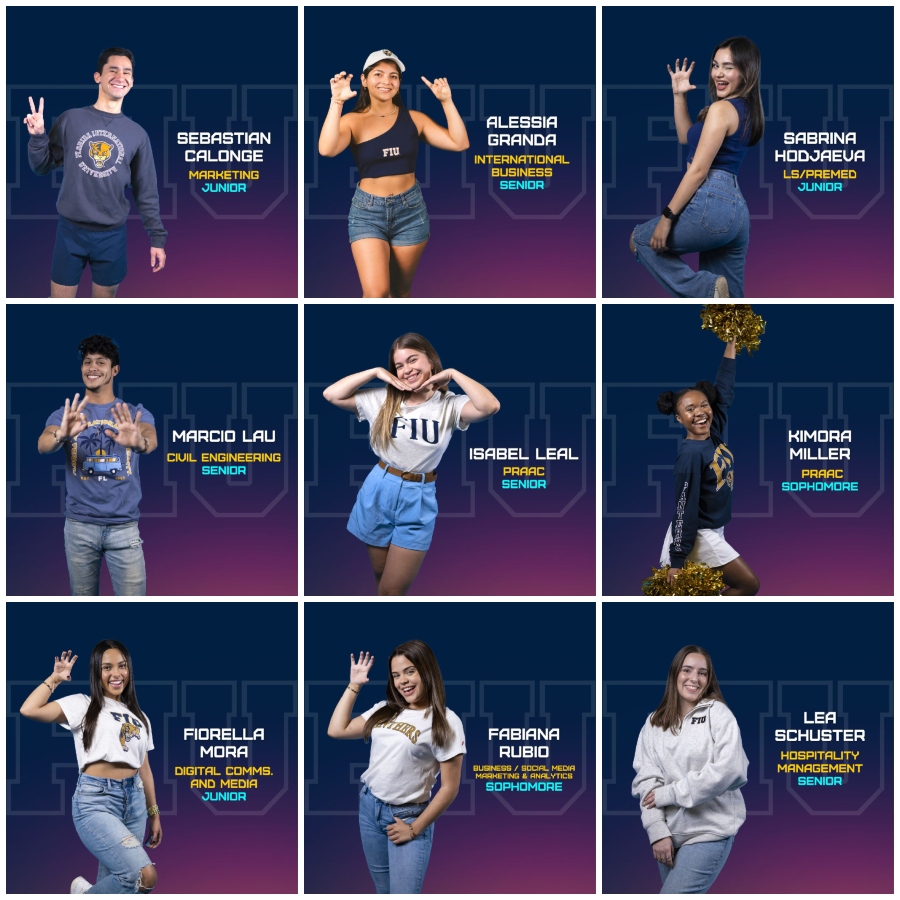 .
The creators are:
Sebastian Calonge 
Junior – Marketing 
Fun Fact: I own my photography business.
Alessia Granda 
Senior - International business 
Fun Fact: I am from Peru, and I love my culture. 
Sabrina Hodjaeva 
Junior–Liberal studies/pre-med track 
Fun Fact: I am a skin care enthusiast. 
Marcio Lau 
Senior - Civil engineering 
Fun Fact: Currently helping build a canoe made out of concrete. 
Isabel Leal 
Senior - Public relations, advertising and applied communications 
Fun Fact: Micro influencer and have worked with brands such as Clinique and Good American
Kimora Miller 
Sophomore–Public relations, advertising and applied communications 
Fun Fact: I am an FIU Dazzler and love to make vlogs! 
Fiorella Mora 
Junior - Digital Communications and media
Fun Fact: I love creating content and traveling. 
Fabiana Rubio 
Sophomore - Business marketing/social media/e-marketing analytics 
Fun Fact: My favorite destination is Europe! 
Lea Schuster 
Senior - Hospitality management 
Fun Fact: I love boba tea. 
Daniel Suarez 
Junior - Multimedia production 
Fun Fact: I love to play basketball. 
Alina Usher 
Freshman – Architecture 
Fun Fact: I'm from Belize, and I love going on adventures! 
Oriana Villalobos 
Junior – Marketing 
Fun Fact: I love beauty and creating content.