My chance to work and learn at one of the world's largest food and wine events
FIU students of all majors get hands-on experience at the Food Network South Beach Wine & Food Festival presented by Capital One
February 15, 2023 at 10:50am
---
By Phuong Hoang, senior majoring in Hospitality Management at FIU Chaplin School of Hospitality & Tourism Management, specializing in marketing 
Born and raised in Vietnam, I have always been exposed to herbs and spices from my mother's kitchen whether it be at home or through her work as a recipe and menu developer. As much as I am grateful to have a family engrossed in the restaurant industry, I have also dreamed of learning about Western foods and culture, which are considered luxuries back home. So, four years ago, when I heard about the chance to volunteer and possibly work with celebrity chefs and restaurateurs at the Food Network South Beach Wine & Food Festival presented by Capital One (SOBEWFF®), I became a volunteer.
This is my fourth year volunteering and this year the feeling is just as thrilling as when I picked my very first shifts. The whole experience is like going to class in a slightly different setting, learning from potential employers and applying skill sets when handling realistic situations.
As an international student, there are many employment restrictions when it comes to seeking work experience. But at SOBEWFF®, any student can work while earning scholarships. This year is the 22nd anniversary of the Festival. The motto of the Festival is "EAT. DRINK. EDUCATE." I was able to do that with a hands-on learning experience by taking on various roles that have given me a great head start to test out different aspects of hospitality. For example, working in registration helped me understand the front-facing side of customer service as I greeted and checked in guests. As an inventory clerk, I got a back-of-house perspective from the loading docks.
My story is only one among many other passionate future leaders who are currently pursuing their degree at FIU. Student volunteers come from every major, including engineering, psychology, architecture and even disaster management. In total, more than 1,300 students work about 4,300 shifts at the Festival. 
My friend and fellow hospitality student Natalie Garcia is graduating with her bachelor's in the fall. Natalie has had multiple experiences working with SOBEWFF®, helping out at major iconic events such as the Burger Bash and the Grand Tasting Village. This year, she's a volunteer lead at Wine Spectator's Best of the Best taking place at the famous Fontainebleau Miami Beach.
"I have been able to enhance many applicable skills such as teamwork, communication, adaptability, leadership and many more," Garcia said. "I've volunteered in so many different positions because I wanted to try something different every time and expand my knowledge within each role. The most surprising thing I'd say is the number of connections one can make and the amazing memories."
Nicolas Calvo Lozano is an international student from Colombia pursuing a master of science in hospitality management with a specialization in hospitality real estate development. Lozano has also undertaken different roles including event support, registration, logistics lead and, now, a volunteer recruitment coordinator.
"In the people industry, having the opportunity to be part of SOBEWFF® helps me to expand my creativity, apply my leadership skills, and improve my problem-solving skills. I am a huge fan of all types of events and SOBEWFF® is a unique experience that I couldn't let pass. How amazing it is to support others and lead people toward a shared goal!" Calvo said.
According to Lozano, his SOBEWFF® experience has helped shape his approach to the customer service industry. From welcoming the first guest on-site, to maintaining a perfect workflow backstage, he says it's all worth it thanks to the excitement and feeling of success when overcoming challenges on the spot. In addition, he says he's become great at multitasking, negotiation, and leadership since they're part of a typical SOBEWFF® day, all while building relationships with industry professionals.
As for me, this is my last Festival. It's bittersweet, but I have learned a lot and matured over the years with each experience. My biggest advice to other students considering whether or not to volunteer: Just do it. Even if you're not in hospitality, go ahead and take the opportunity to be a part of it, even if it's one or two shifts. The experience is worthwhile.
But for now, I'll cherish my last SOBEWFF® and one day plan to come back as a guest with my mom.
Students still have a chance to be part of the SOBEWFF® volunteer program, by booking an online interview appointment at sobewff.setmore.com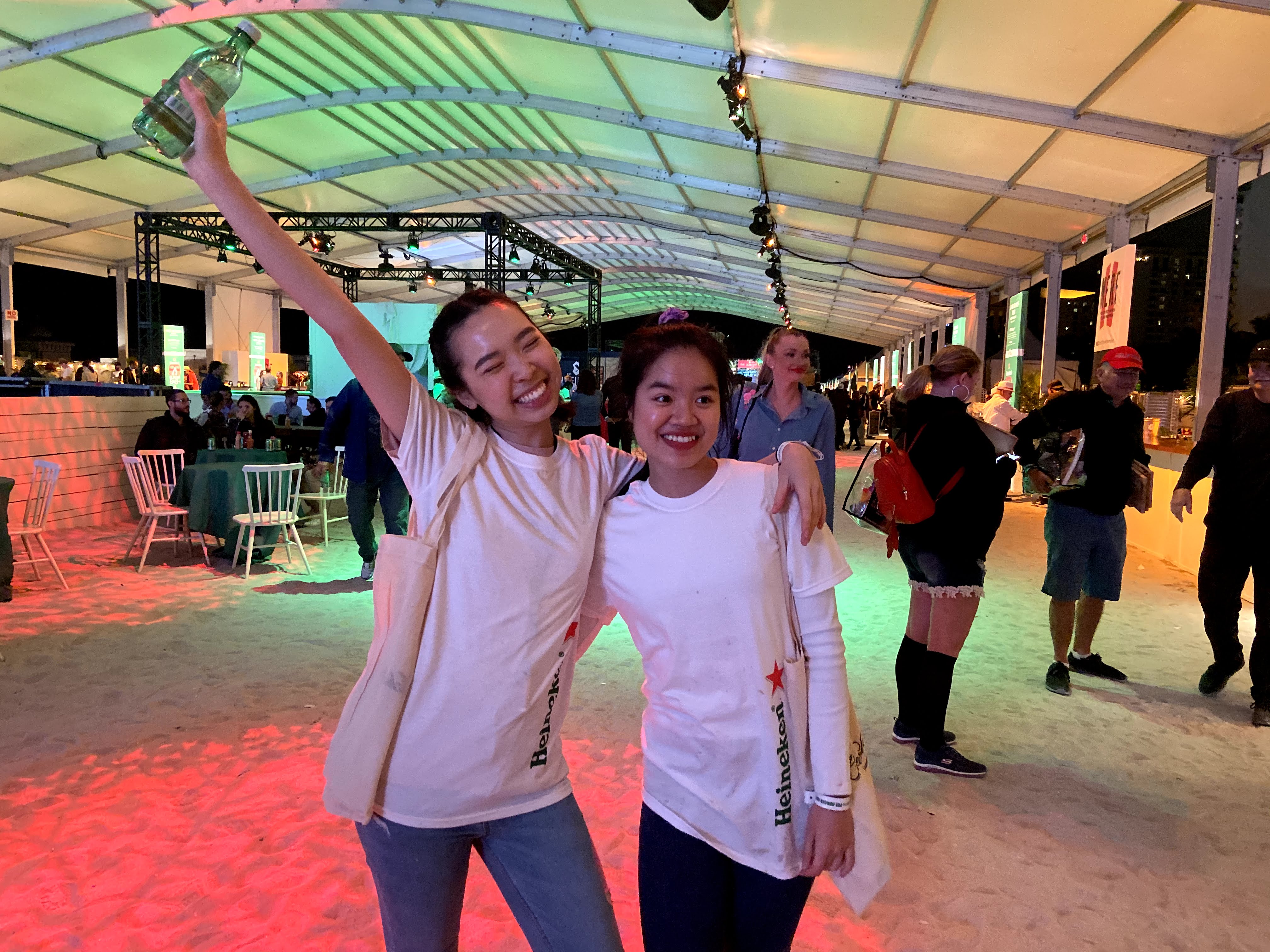 International students Phuong Hoang (left) and Nga Chung BS '22 volunteer and have fun at the Festival.