On the menu: Robots, pickle pizza and experiential learning
The Chaplin School of Hospitality & Tourism Management sent future leaders to a national restaurant convention to meet industry professionals and get a taste of innovations in the food industry
---
Robots that serve tableside, new order-taking technology, immersive dining experiences and an explosion of plant-based foods - oh and don't forget pickle pizza - are what's on the menu and trending for 2023, according to exhibitors at the world's largest gathering of food service professionals in the Western hemisphere.
Five standout FIU Chaplin School of Hospitality & Tourism Management students got to experience these trends for themselves, when they and their professor, John Noble Masi, lead faculty member in the restaurant/culinary management track, took FIU's award-winning, student-run teaching restaurant, the FIU Bistro at the Biscayne Bay Campus, on the road to exhibit at the recent National Restaurant Association Show in Chicago.
The FIU Bistro debut at the industrywide convention happened thanks to an invitation by industry partner Tabit Technologies, a point of service (POS) system used by students to take customer orders at the FIU Bistro. The students helped demonstrate the product in The Tabit + FIU booth, one of 2,100 exhibitors showcasing products on the 11 football fields of space inside Chicago's McCormick Place Convention Center.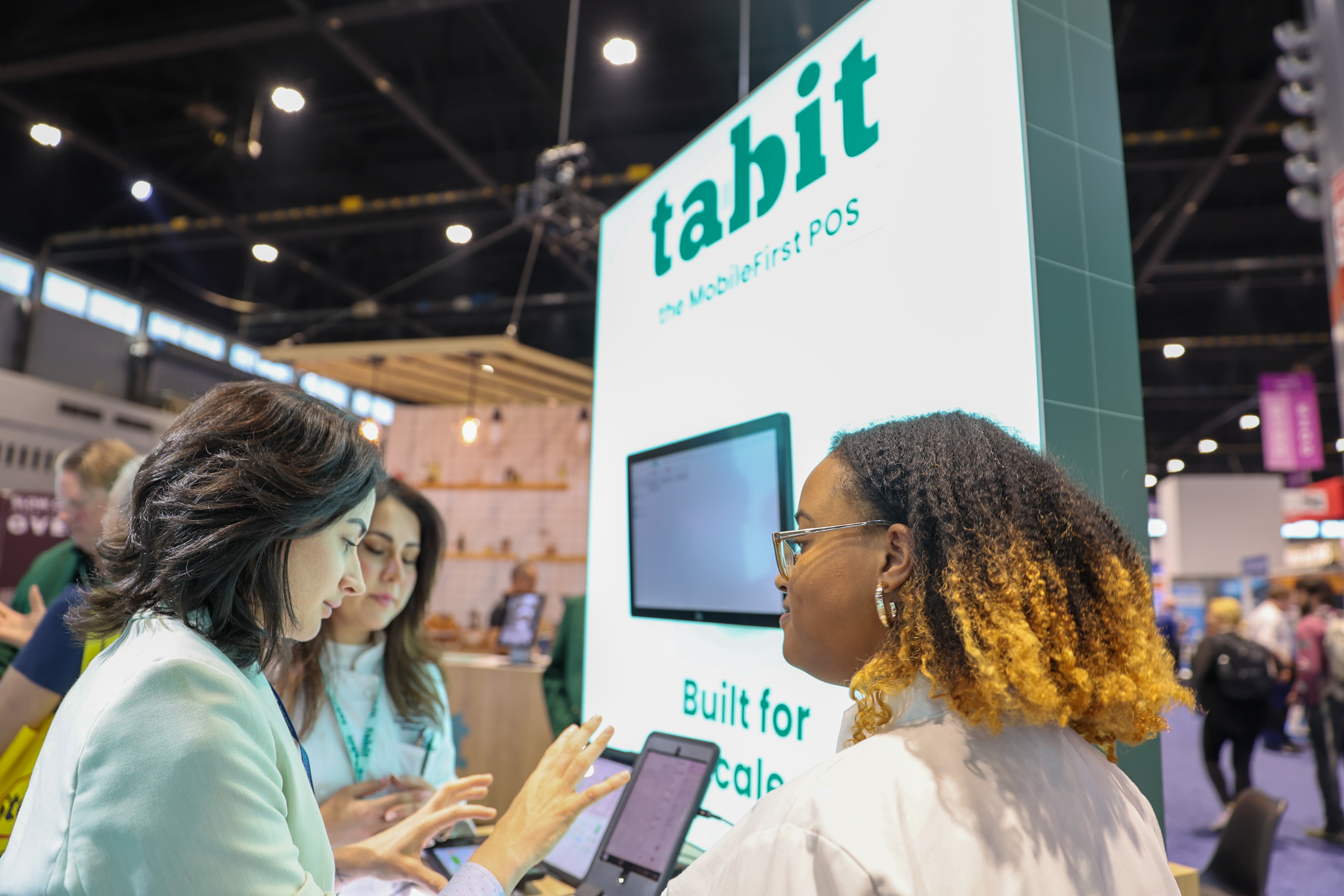 Students Savannah Anton Sammour (middle) and Rebecca Gibbs (right) demonstrate Tabit Technologies to a show attendee.
"At the expo, I was able to network and talk about my experience using Tabit. We also had quite a few alumni stop by the booth after recognizing our FIU logo on the banner," said senior Ami Mistry. "We had the opportunity to tell them how much the university has grown and how much has changed since they last went to FIU."
Students also explored the show floor, joining some 55,000 attendees that included industry professionals from 50 states and 107 countries.
For industry professionals, like Tabit founder and president Nadav Solomon, the collaboration between students who love tech and his company was a natural fit. Tabit allows restaurants to customize the online ordering process, enhances communication among restaurant employees as well as with customers and provides other options that give owners control of their business from the palm of their hand. Tabit has been in use at the FIU Bistro for the last two years.
"Tabit's vision is to create an ultimate hospitality experience by enhancing human interaction. Therefore, it's not always about the tech," Solomon explained. "Partnering with one of the largest hospitality universities in the country allows us to fulfill this vision, especially when working with exceptional professors like Chef Masi and his team." 
Masi concurred that the benefits go both ways, as his students have seen the lessons that he teaches in class – how to boost profitabilty, successfully market new menu items and keep existing customers happy by relying on data about past purchases – in practical terms via the Tabit technology.
"Tabit makes it easier to teach, which makes this a great partnership all around," said Masi.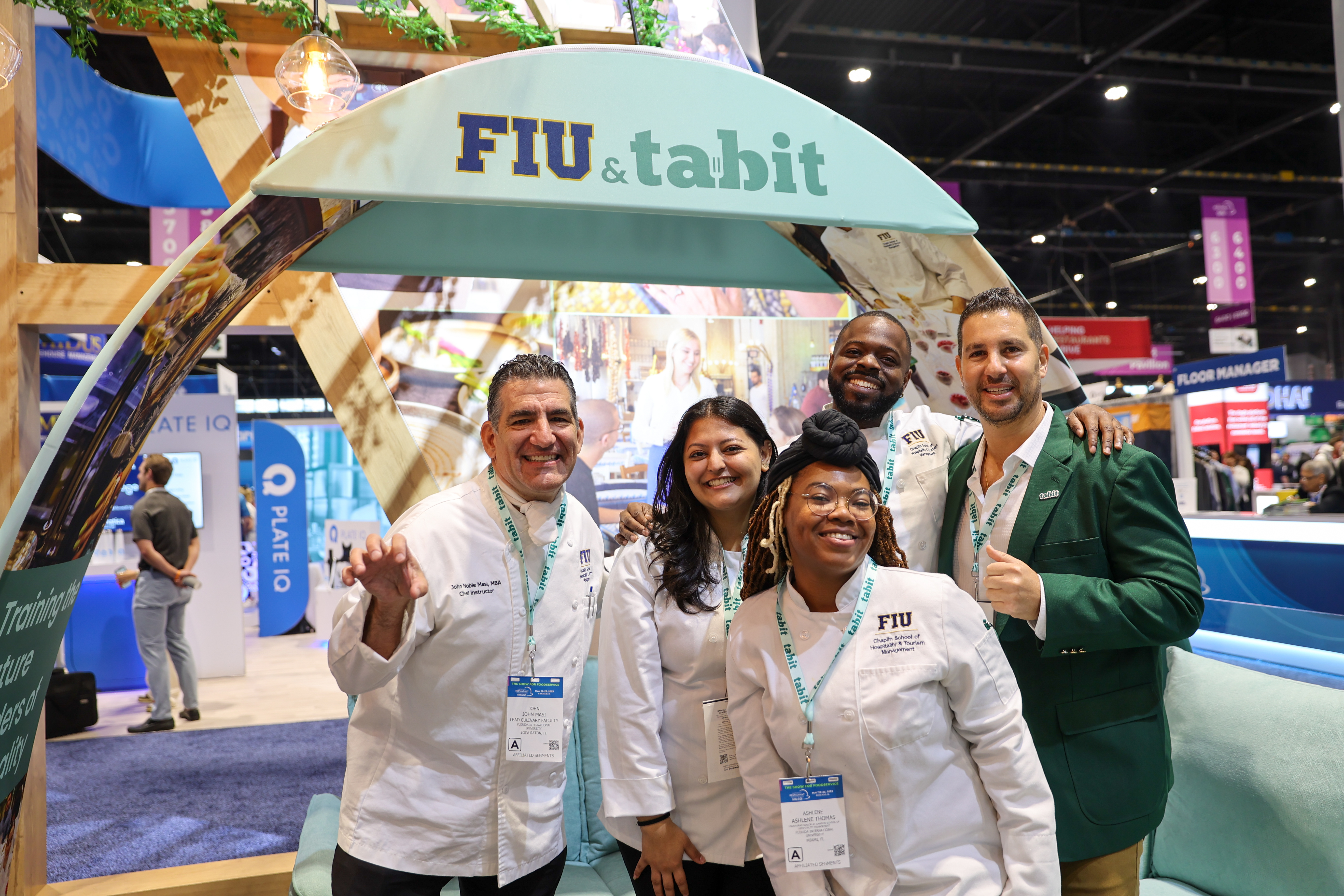 Chef John Noble Masi (left) and students Ami Mistry, Ashlene Thomas and Michael Eboka with Tabit Technologies founder and president Nadav Solomon inside the FIU Bistro exhibition booth
Senior Savannah Anton Sammour, who helps run her family's two restaurants while a full-time student, felt that everything she has learned in Masi's class prepared her for interacting with professionals in the field.
"I really felt secure visiting the exhibition and describing this product to prospective buyers," Sammour said. "I was able to have experiences I had never had before, connect with new business contacts and create memories." 
The booth was a hit, especially as it doubled as a meeting place for FIU alumni who work as buyers, suppliers and manufacturers of food and beverage. They stopped in to take pictures with the students and share their love of FIU.
"Being invited to be part of such a large and influential convention was such an unexpected delight," said student Ashlene Thomas. "I was able to see just how many opportunities there are in this corner of the hospitality industry. All in all, what an amazing experience."
Oh by the way, that pickle pizza is real. Pizza Hut just added it to their menu a week ago. It's one of the fads, along with breakfast salads and fried lasagna, to be on the lookout for in 2023.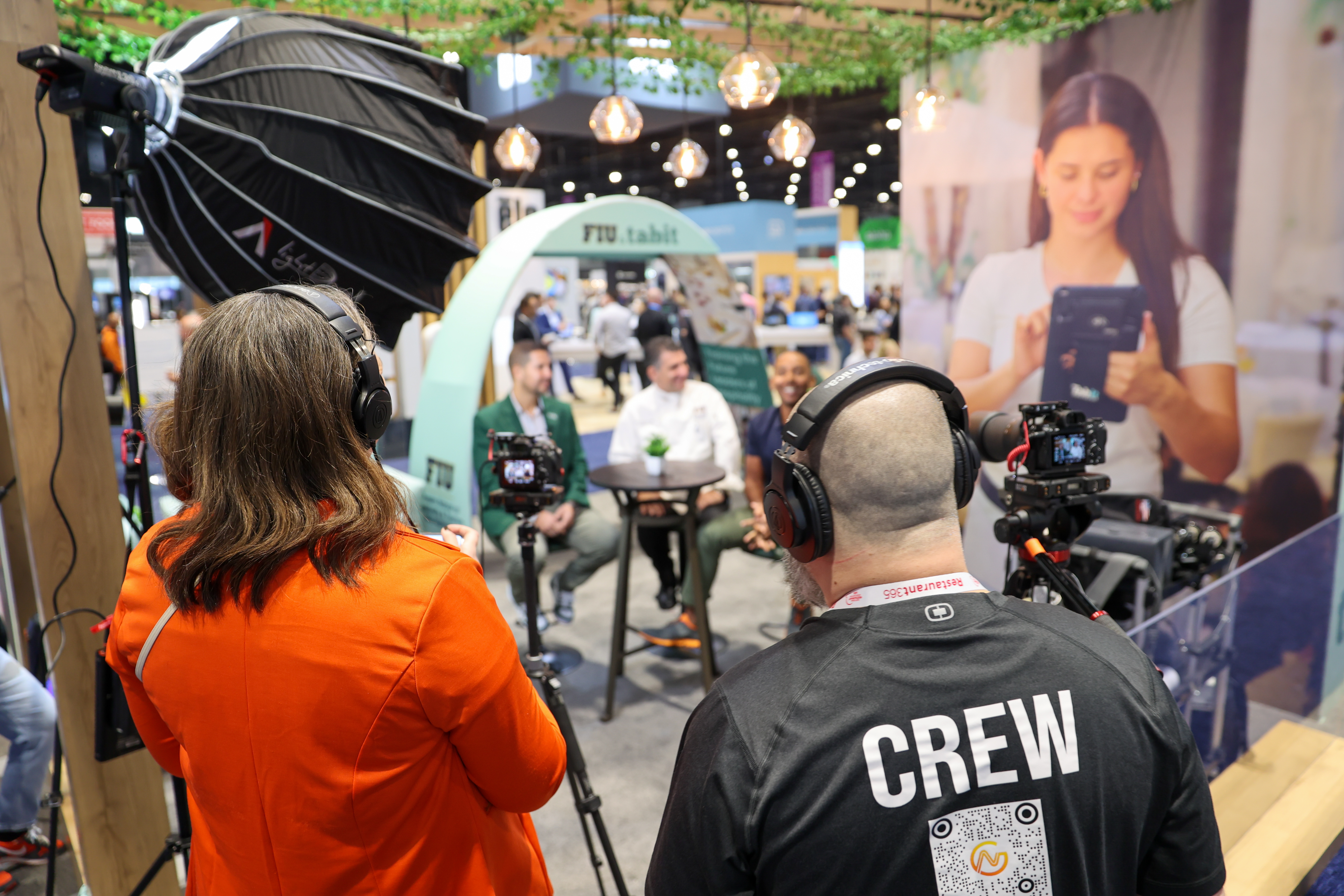 Tabit Technologies CEO Nadav Solomon (in background, in green) and Chef John Noble Masi (in white) are interviewed about FIU's successful partnership with the company on Nation's Restaurant News.