Panther strong: Meet three women veterans who are pursuing their next careers at FIU
---
At a university that is top-ranked nationally for its support of veteran and military-affiliated students, a close-knit community of women who have served in the United States Armed Forces is growing and thriving, bonded by a sense of service and national pride.
As Women's History Month comes to a close, meet three veterans who are pursuing their next careers at FIU while helping the Office of Veteran and Military Affairs continue to connect and serve fellow Panthers who have answered the call of duty: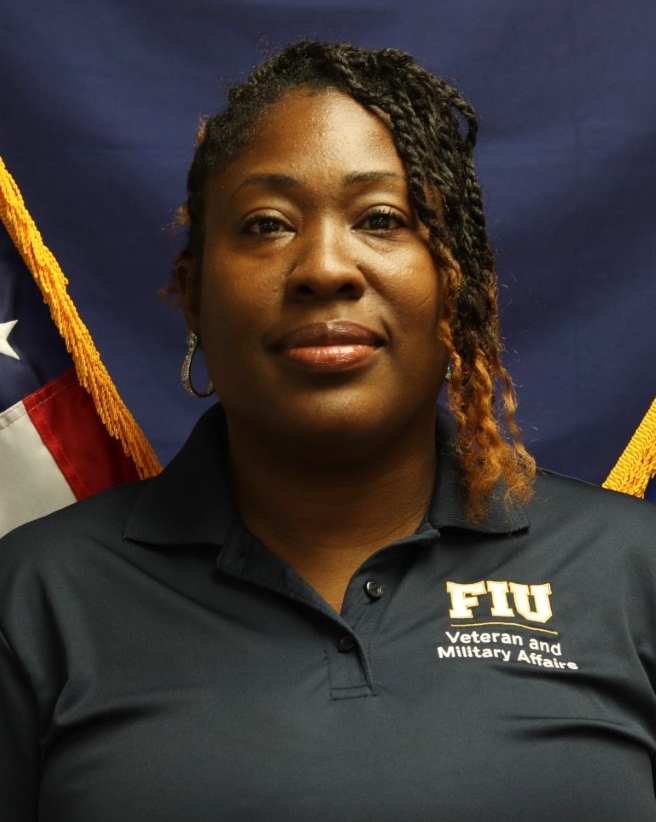 Cheryl Donalson, U.S. Air Force
Cheryl Donalson was the first woman in her family to enlist, though she comes from a line of that includes a grandfather was in the Air Force in the Korean War and father who was in the Army and who fought in Vietnam.
"Despite the wars they went to, it was their stories of traveling and seeing the world that convinced me to join too," Donalson said. Her career as a technical sergeant in the Air Force led her all over the world, and her time spent living among other cultures, particularly when she was stationed in Japan, opened her eyes to new perspectives on life.
After returning home to Miami, a neighbor convinced her she had the compassion and skills necessary to advocate for children as a guardian ad litem – a decision that would set her on the path she walks today. Donalson is a first-generation college student and a junior studying social work at FIU. She hopes to one day lead a career helping fellow women veterans navigate their military benefits.
Her inspiration grew from her own experience as an expectant mother navigating the Veterans Affairs health care network as well as from her experience in the Air Force, when, among many roles, she served as a Green Dot facilitator teaching about sexual assault awareness, prevention and services available to fellow airmen.
Donalson is a member of the inaugural student veteran ambassadors, a team committed to engaging fellow student veterans in campus activities and helping them make meaningful connections with each other as well as students who are not part of the VMA community.
"The VMA has provided me the opportunity to reconnect to the military family," Donalson said. "VMA has always made me feel welcome, and it's great having a place where I can go and discuss military issues and talk about my military career to people who really understand."
Genesis Rodriguez, U.S. Navy
Genesis Rodriguez knew she wanted to pursue a career working with veterans since she was a high schooler volunteering with veteran-serving programs. But it wasn't until she was two years into an associate degree, and she found herself feeling stuck, that she decided to enlist in the Navy herself.
Rodriguez is a graduate student studying rehabilitation counseling. Her goal is to become a veteran readiness and employment (VR&E) counselor with the V.A.
She was inspired by her own VR&E counselor, who supported her through a rocky transition from military to civilian life. She had been considering taking a year off school when her counselor convinced her otherwise, helping her move from Washington to California during the beginning of the pandemic and enroll in classes at the University of California–San Diego, where she earned her bachelor's degree.
"She was phenomenal. She really changed my course of action when it came to education, and pretty much changed my life after the military," said Rodriguez.
In the Navy, Rodriguez was a gunner's mate, and her military career led her to countries like Oman, Sri Lanka and India. Though as a kid she was shy and anxious, the experience encouraged her to come out of her shell and be a more independent person.
"The military really taught me resilience," Rodriguez said.
At FIU, Rodriguez is a member of the Student Veterans of America–FIU Chapter (SVA), and she assists the VMA with social events, professional development workshops and more. Through the VMA, she too found a community of like-minded Panthers who are dedicated to her success.
"Through the VMA, I've learned there are so many benefits allotted to us as veterans, and I've also learned important things like networking and resume building. It's really helped me a lot," Rodriguez said.
Amanda Khoury, U.S. Marine Corps
Amanda Khoury, a junior studying international relations, joined the Marines as a way to prove to herself that she could do more with her life than some people around her believed she was capable of as a teenager.
Through the Marines, she developed an interest in volunteering, participating in projects such as walking and training rescued German shepherds to prepare them for adoption, and she continues to be involved in the community today through programs such as Loaves & Fishes, through which she helps make meals and hygiene packages for people who are homeless.
Continuing the path of military-oriented service, Khoury volunteers with the Wounded Warrior Project and is a local platoon leader for The Mission Continues. She is also involved in advocacy efforts through Concerned Veterans for America.
"I want to stand up for people whose voices aren't being heard and make the world a little bit better of a place for them," Khoury said.
She was always the person friends and colleagues would come to in the military for direction or advice, and she found herself standing up for friends against bullies. It not only helped her find her own voice, but it's how she decided to pursue a career as a lawyer, where she ultimately hopes to work as a diplomat advocating for civil and human rights.
One of her biggest takeaways from the Marines is the leadership lessons she learned from various commanding officers and mentors.
"I always identified what I liked about different people's leadership styles and kind of used it to build my own for the future," Khoury said.
Khoury encourages every military-affiliated Panther to get involved with the SVA and VMA. The VMA staff helped her understand her benefits and connect with other organizations both in and outside of FIU.
"They were really here for me when I needed it most," Khoury said. "It's like a family."
Interested in getting involved?
The Office of Veteran and Military Affairs (VMA) hosts events and workshops geared toward FIU's military-affiliated women throughout the year, including the recent Military Women Social on the GC Lawns and the upcoming Women Veterans Symposium in partnership with the Women Veterans Alliance, set to take place in October 2023.
The VMA and Student Veterans of America–FIU Chapter (SVA) also host a full schedule of social, academic, professional development, benefits-related and other programming open to all veteran and military-affiliated students. Look for upcoming events in Panther Connect or by following @FIUVMA on social media.
"I encourage students to get involved because, just as the military showed us, more can be accomplished as a team," said Derek Auguste, VMA program director. "Getting involved with the VMA and SVA is like joining a team in a welcoming and inclusive environment. We want you to have an exceptional experience at FIU with a team that wants the very best for you."