Twenty-three students and one student club were recognized last week for stand-out leadership, service and scholarship at the 2023 Outstanding Student Life Awards.
Founded in 1989 by former Provost for BBC and Vice President for Student Affairs Richard Correnti, the annual ceremony recognizes Panthers who excel academically and in the areas of distinguished service to others, citizenship, innovation, leadership, diversity advancement and promotion of the Panther spirit.
Among these remarkable students, two especially outstanding Panthers rise above the crowd for special recognition with the Presidential Award and the Larry W. Lunsford Leadership Award.
The Presidential Award is given to one student each year who has gone above and beyond any one award category to make a significant impact on the FIU community. The recipient of this award has shown leadership, dedication and action to significantly enhance life on campus and advance the university's prestige.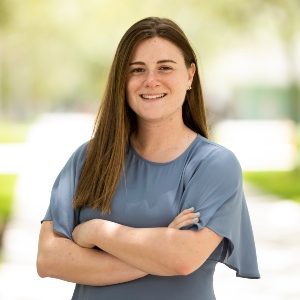 Laura Garcia Barcia, a doctoral candidate in FIU's Predator Ecology & Conservation Lab, received the Presidential Award this year. Garcia Barcia's work to protect endangered sharks and deter illegal shark fin trading has garnered international attention, which led to the Hong Kong Center for Food Safety enhancing surveillance of fins on the market. She also helped launch a unique partnership between the ANGARI Foundation and FIU to engage middle and high school students in marine science research, and she is a dedicated mentor to the next generation of marine scientists studying at FIU.
"I am very grateful for this nomination and also very proud of all the work I've been doing at FIU for these last years leading both our undergrads in their marine bio program and also local students in K-12 schools," said Garcia Barcia, who was unable to attend the ceremony as she is currently out at sea conducting her research, said in a video testimony.
The Larry W. Lunsford Leadership Award is given to a student who rises above any one category of leadership and has proven their dedication to improving the quality of life on campus and enhancing the quality of student life.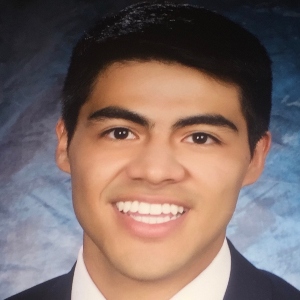 Fernando Melara, a senior majoring in biomedical engineering and College of Engineering & Computing senator for SGA, received the Larry W. Lunsford Leadership Award this year. In addition to mentoring young contestants on the academic Olympiad team of his home country, El Salvador, Melara serves as a learning assistant for multiple departments at FIU. In SGA, Melara champions initiatives that promote success for fellow international students. Melara's research has also received national attention at undergraduate research conferences, earning him the opportunity to present his work to the National Institutes of Health; and he is part of a team of students who developed a new surgical stapler, for which a patent is pending.
"I'm very grateful for this nomination. This award represents the amount of impact that I have had the possibility to engage in during my time here at FIU," Melara said in a video testimony.
The following students and student club were also selected as recipients from a pool of more than 250 nominations and 46 finalists:
Outstanding Service Award
Alexia Fleites, premedical studies
Nicole Cruz, computer science 
Outstanding Spirit Award – Individual
Cara Phuong Hoang, hospitality management
Outstanding Spirit Award – Group
Diversity, Inclusion and Belonging Award
Ashley Perez, criminal justice
Ikechukwa "Ike" Onwuka, earth systems science doctoral student
Outstanding Innovation Award
Nicholas Gonzalez MS '22, computer science
Rafael Moya-Palacios, public relations, advertising and applied communications
Outstanding Scholar Award – Undergraduate
Ana Claus, mechanical engineering
Matty Sey, mechanical engineering
Outstanding Scholar Award – Graduate
Adnan Maruf, computer science doctoral student
Seyed Saman Khedmatgozar Dolati MS '21, civil engineering doctoral student
Outstanding Leadership Award – First Year
Isabel Trespalacios, international relations
Outstanding Leadership Award – Sophomore
Ian Gonzalez, hospitality management
Outstanding Leadership Award – Junior
Natalie Concepcion, international relations and political science
Tiara Campbell, biological sciences and chemistry
Outstanding Leadership Award – Senior
Kimora Miller, public relations, advertising and applied communications
Luis Gutierrez, creative writing
Melanie Perez, biological sciences and natural and applied sciences
Valentina Casanova, biology and psychology
Outstanding Leadership Award – Graduate
Dino Fanfan, medical student
Nicholas Conway, medical student
Special Recognition – Student Government Association
President Cristhofer Lugo '22, computer science
Vice President Valentina Casanova, biology and psychology