By Emmanuel Cabrera Muñoz
Nearly half of U.S. families with young children struggle to afford diapers, according to a recent study conducted by The National Diaper Bank Network. Babies who do not have access to clean, dry diapers are at increased risk for developing rashes and urinary tract infections.
Diapers are a necessity, but not all families can afford to buy as many as babies need.
Student Gabriela Rojas is working to help local families facing this dilemma. A first-generation college student, Venezuelan native and a mom herself, Rojas is passionate about ending diaper need. This led her to a career at the Miami Diaper Bank — a nonprofit dedicated to collecting and distributing clean diapers to low-income and homeless children.
Today, Rojas is the executive director of the Miami Diaper Bank. Through her work, she helps thousands of low-income families throughout six counties in Florida keep their babies healthy with clean diapers. Most recently, she and the team launched a mobile diaper bank in Miami-Dade County — a pink van full of diapers and resources to assist families in need.
This summer, she will graduate with a bachelor's degree in public relations and communications and will continue applying the knowledge and resources she obtained at the university toward her mission of impacting South Floridian families, one diaper at a time.
FIU News recently spoke with Rojas to learn more about her job, her FIU journey and her motivation.
How did you get involved with the Miami Diaper Bank?
I started with the Miami Diaper Bank when my son was six months old. I was doing marketing and volunteering, as well as some communications. The reason I got involved was because I lived through diaper need for my son. As a young mom, I asked my parents for funds to make ends meet. I also applied for and received food stamps and Medicaid. I was a stay-at-home mom, and daycare was too expensive to go back to work without having any savings.
What is different about my story from the story of the more than 100,000 families we serve is that I had a support system locally. Whereas thousands of families served by Miami Diaper Bank do not have this privilege and are trying their best to provide all they can for their babies.
Tell us more about your role and what you love most about running a diaper bank.
As the executive director, I am in charge of all aspects of the day-to-day operations. I also manage the board and oversee all departments, focusing primarily on fundraising and cultivating partnerships with stakeholders. What I love most about running the Miami Diaper Bank is seeing the smiles on all of the faces of the moms we help. I know firsthand how difficult and stressful it can be for moms, especially single ones, to get the necessary resources for their babies. That's where my passion to give back comes from. I also believe that regardless of the parent's income and stability, all babies deserve to have the most basic needs covered.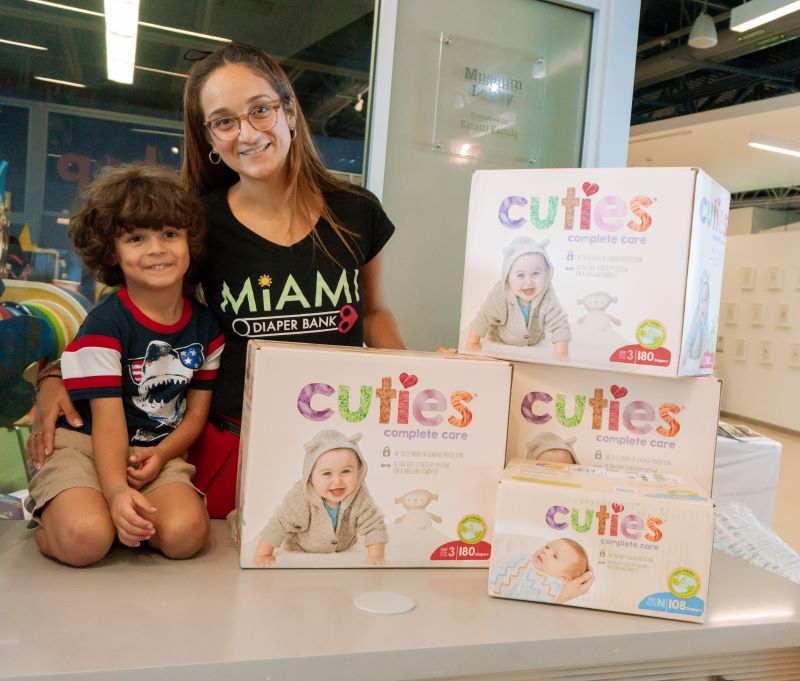 What does a day on the job look like for you?
Every day is a little different. Some days I am in the warehouse with the rest of the staff getting orders and diapers ready for distribution. Some days I am out doing press and interviews to raise awareness about diaper needs. My favorite days are when I get to go to the communities and distribute diapers to our families. Sometimes, you can even find me building relationships with local stakeholders like city and county officials, funders and community groups. From speaking on behalf of the nonprofit and fighting against diaper needs to manage the nonprofit's social media accounts, I can be juggling multitudes of tasks depending on the day and time of the year.
How will the mobile diaper bank help the community? Who will it serve?
The Mobile Diaper Bank will be going into diaper deserts in Homestead, Florida City and North Miami beach to reach families in their own communities. This will help break down barriers to service and help an additional 2,400 families for the first year of operation. It will not only bring diapers and wipes but it will also bring additional resources from community partners to these families. 
How did FIU shape your career and help you work at the Miami Diaper Bank?
FIU shaped a lot of what I am doing. I found out I was pregnant when I was a freshman. Thankfully, I had some great professors who helped me get through my first semester while I was pregnant. I restarted my college path right after giving birth, when my son was about four months old, and I have been with FIU ever since. With great professors, I have been able to get it done. I graduate this summer.
Throughout my time at FIU, I have been able to develop my skills and implement communications tools at the Miami Diaper Bank. I am hands-on with everything in the organization, but also with communications and marketing since I am always spreading word about who we are and what we do to raise awareness around the organization. My communications degree has also helped me leverage my knowledge when appearing in the media or the press, doing interviews and helping create compelling stories about the mission of the Miami Diaper Bank.
I always saw FIU as a place that I would attend. I went to grade school in Sweetwater, minutes away from FIU. I always thought the university was a cool school. In Venezuela, I wouldn't have had the opportunities I had here. Being able to have the opportunity to go to school and attend college was life changing.
What advice would you give students who want to create a non-profit or work for a non-profit?
Be passionate about the nonprofit's mission and vision for what it is creating. Otherwise, it won't feel as rewarding for you. Sometimes you have to be "scrappy" and persevere. There are some days when you have many things to get done and other days when you are sitting in front of a computer for a long time, so being flexible and resourceful and just being passionate about that organization vision and mission is important. You never know how far in the organization you can get. I had passion, and I had no idea that I could ever be a director. And here I am six years later, just trying to help my community.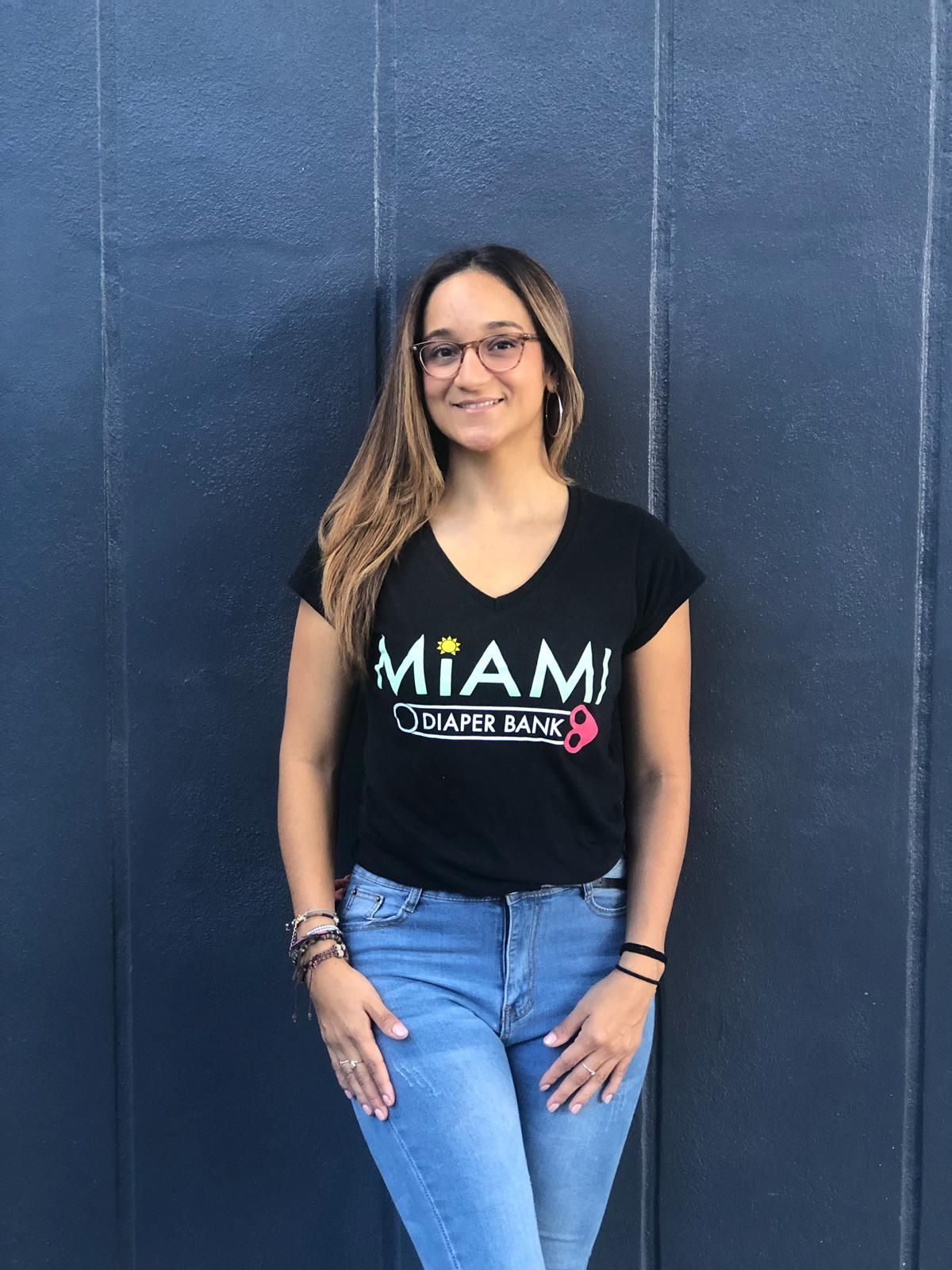 Gabriela Rojas