Students, community gain insights on navigating professional world as women of color at annual forum
---
Amid Women's History Month, the FIU Women's Center in the Office of Social Justice and Inclusion brought together Black women and allies for a day of cultural celebration, introspection, networking and empowerment at the third annual Miami Black Womxn's Forum.
The forum honors the historical contributions of Black women while providing the resources and space for participants to share lived experiences and learn from one another. This year's theme was "Phenomenal Woman Defying the Odds" – an allusion to Maya Angelou's 1995 poem "Phenomenal Woman," which four students performed as spoken word during the afternoon session. 
Throughout the day, attendees heard from speakers and panels on topics such as navigating professionalism and work culture, holistic wellness, exploring the hair industry, and financial wellness and entrepreneurship.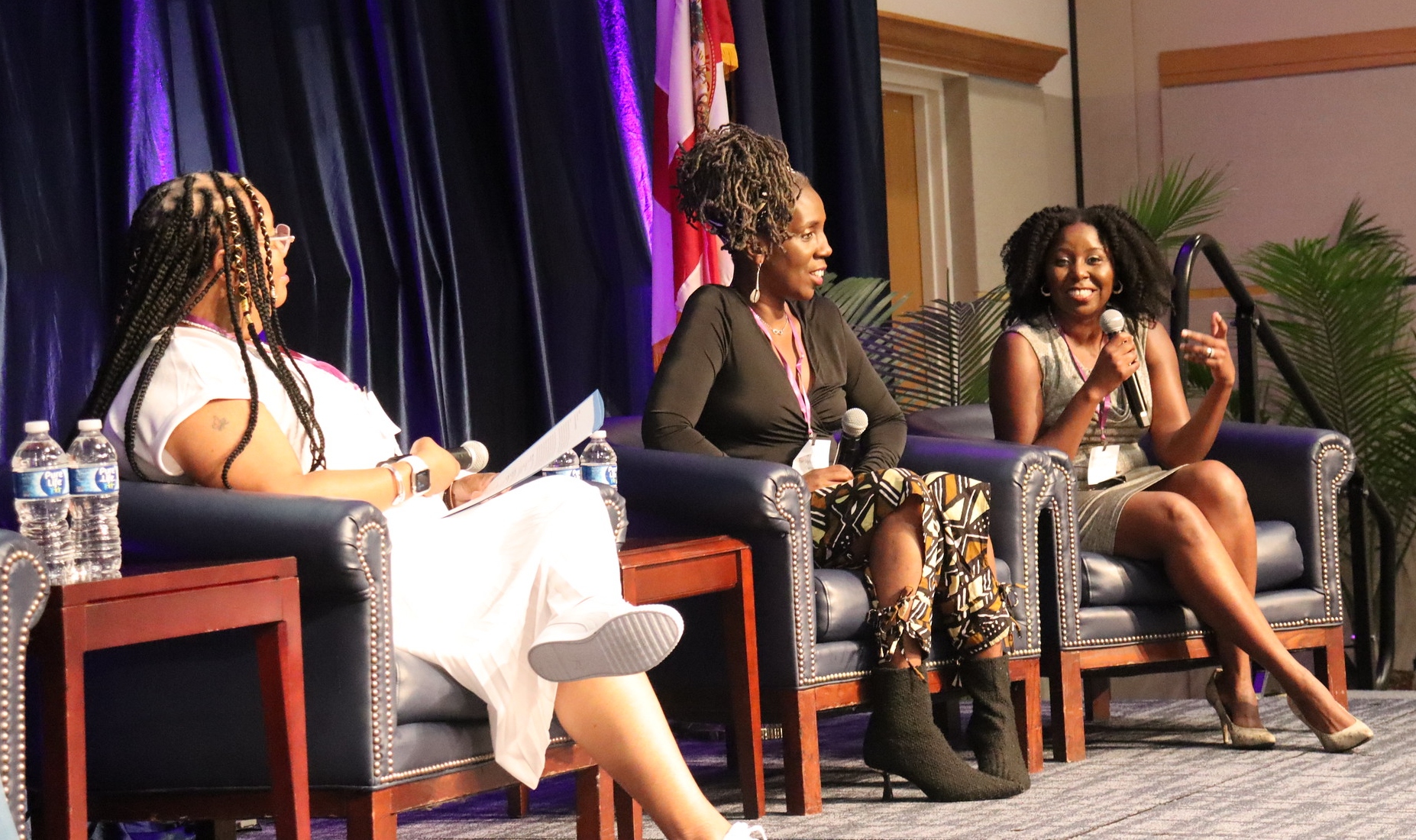 Keynote speaker Stacy-Ann Smith, vice chair of the YWCA South Florida and senior manager of financial compliance at Ultimate Software, shared her experiences navigating the professional world both as a Black woman and having emigrated from Jamaica in her twenties.
When asked about staying true to one's authentic self, Smith reminded the audience: "We have different facets. We don't just have one personality. We have to recognize that being authentic does not mean that we have to show up with every aspect and every side of us every time. We have to be able to read the room and read the impact we could have on the room at that time and be authentic to that moment."
Smith also discussed feeling stagnant in one's career and advised the audience not to get caught up comparing themselves to others.
"Remember that sometimes, even with those we look up to, we are seeing the end result and not the difficulties or obstacles that they had to overcome to get to that point. Focus on you, think about what you want, think about what you're passionate about, and let that passion be the guide for your next steps in life," Smith said.
Throughout the day, speakers emphasized the difference between a sponsor and a mentor, and the importance of cultivating both relationships. A sponsor is someone who has achieved a level of leadership from which they can advocate for the upward trajectory of their colleagues within an organization. A mentor is someone who can offer guidance – even critiques, when necessary — to help mentees on the path to achieving their long-term goals.
"It's not a true statement that we weren't meant to sit at the table, or that there isn't enough space for all of us. We all belong…. Have a person who is able to advocate for you and bring you along for the journey," Smith said on cultivating a sponsor. "And for those of us who HAVE a seat at the table, carry someone with you. As you climb the ladder and earn a seat at the table, bring someone up with you."
When building one's professional network, panelist Shauna Davis, global technology director at Deloitte, shared the "5-and-5 rule": An ideal network should include at least five people who are professional peers and five people who can potentially become your mentors and coaches.
"Be intentional about connecting because it's such a key component to your upward trajectory," Davis said.
Panelist Stephanie Steele-Nelson, president and owner of Breaking Steele Consulting, added: "Have someone in your 'garden' who is doing better than you. If you know you want to become a leader or an entrepreneur, hang out with leaders and entrepreneurs, because those are the people who are going to help push you to do achieve."
Audience member Kwanaiya Gibson, a certified county mediator and notary public, said she struggles to find the confidence to put herself out there as an entrepreneur. With encouragement from her family, she attended the forum, which she said was extremely insightful.
"My husband looked at me and said, 'You launched a website, you own multiple businesses, but you continue to swim in the shallows. So, I signed you up for [the forum],'" Gibson shared during the discussion on professionalism and work culture. "And my dad sat me down and said, 'You have two degrees. What are you doing with those degrees?' And when I told him, he said, 'okay but what does the world see you doing?'"
Panelists' advice: Water her garden – her network — and continue to grow.
"Allow yourself to have those moments of insecurity and low self-esteem. Allow yourself to have those emotions, but don't wallow. Don't be reactionary. It's what you do with that and how you self-reflect that helps you continue to improve and grow professionally," said panelist Morgan McKie, assistant IT director at FIU Online.