These alumnae keep the Chiefs and Eagles in Super Bowl shape 
The three trailblazing athletic trainers work year-round for the NFL teams
February 10, 2023 at 9:30am
---
Kansas City Chiefs quarterback Patrick Mahomes put it out there in a recent tweet for the world to see: FIU alumna Julie Frymyer MS '07 had successfully taken charge of healing the superstar's sprained ankle in advance of the AFC Championship Game.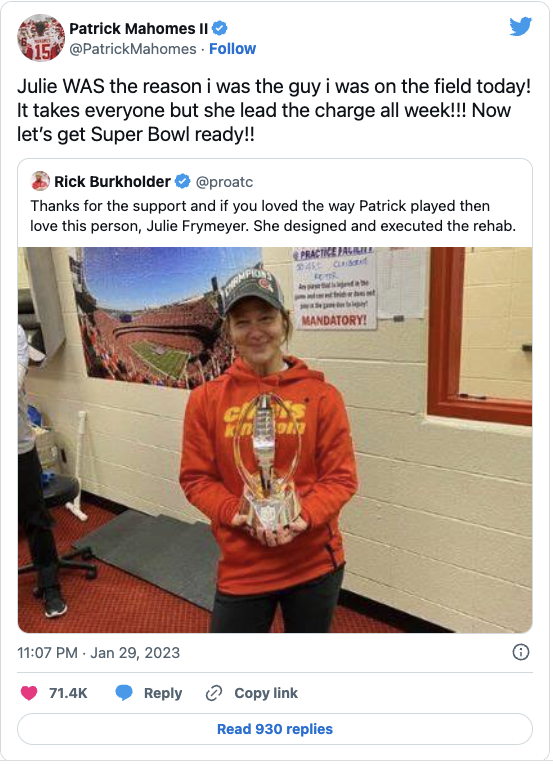 The shout-out called attention to the impact of athletic trainers on the overall health of players who put their bodies through grueling workouts and intensive play on the field. (Frymyer holds an exercise physiology degree from the College of Arts, Sciences & Education and also studied physical therapy.)  
One former football pro commented on Mahomes' tweet with a reference to the "unsung heroes of the NFL," describing athletic trainers as "the sounding boards, and encouragers, and some of the hardest working people you'll ever meet." 
Tiffany Morton MS '13 would know. She's Frymyer's colleague and a fellow FIU alumna, both part of the Chiefs organization. For them it's a 24/7 season that goes well beyond the rehabilitative magic for which Mahomes credits Frymyer. They focus heavily on exercise and education to prevent injury in the first place. They also interact with strengthening and conditioning coaches to ensure the greatest payoff and a host of others in the interest of players' wellbeing. 
The recent scary scene of the Buffalo Bills' Damar Hamlin being revived by an athletic trainer – hailed nationally as the man who saved the defensive back's life – drove home the level of skill, dedication, availability and preparedness such a specialist brings. 
"Athletic training is an integral part of the medical team," says Michelle Odai, chair of the department of athletic training in the Nicole Wertheim College of Nursing & Health Sciences. "We are national board certified and state licensed to practice, just like other medical professionals. Sports medicine is an umbrella term, but we are the main medical professionals for sports medicine. Athletic trainers are there every day, whenever practice is going on, during games and on off days."  
Flying out to Arizona with the team last weekend, Morton boarded the same charter plane as the players and coaches, just as she always does for away play, but the Super Bowl comes with its own unique challenges. 
"It's the high of working hard to get to this point," Morton said on Monday night of the excitement she feels, "but it is still a lot of work." 
Case in point: Morton spent the previous week packing up seven trunks of everything and anything that might be needed during football's biggest road game. That included standard tools of the trade – rehab equipment, electronic monitors, foam rollers, you name it – to establish two separate athletic training locations in the host city, one of them at the team hotel. She also gathered sundries such as Nyquil and Chapstick – yeah, one guy really did forget his lip balm back in Kansas City – and anything else "that might make them comfortable, especially medically . . . so that they can stay focused on the game." 
Such a commitment is not lost on the organization, and the trainers are treated like members of the team. Morton, for example, has her own Super Bowl ring in recognition of contributions to the Chiefs' 2020 win in Miami. 
Hoping for her own bling is alumna Shaniece Jackson MS '18, DAT '21, an athletic trainer with the Philadelphia Eagles. Jackson joined the team full-time in 2021, and Morton reached out to her with a congratulatory text a couple of weeks ago when the Eagles won their division championship. 
Finding themselves in the mix of America's biggest game is already a victory for the two of them, Morton says. "It is a positive moment to stop and reflect and realize, 'Wow, we have come so far,'" she says in recognition that women, and especially women of color, have arrived on sports' largest stage. "It takes a lot of people to support that," she continues.  
A mentor whom Morton credits with making it all possible is Rick Burkholder, the Chiefs' head trainer and a leader in the field who has taken responsibilty for the promotion of female professionals.  
"That is absolutely why I am here," she says of the man who in 2016 made her the team's first female athletic trainer (and just the third in the NFL). "I like to think I would have eventually made it [to the top], but without his creating a pathway and creating scholarships and opportunities, speaking to people above him, the commissioner of the NFL, it would have been a long time." 
Today there are 21 female athletic trainers employed by the NFL out of an approximate 150 total. More than 25,000 athletic trainers currently work in the United States, nearly half of them women.
With the game now just two days away, Odai, the FIU professor, declined to share a prediction or a preference as to its outcome. "It's a win-win," she says, refusing to take sides and sharing instead "#thefiubowl" in a recent online comment in recognition of her former students' "competing" against one another. 
Morton agrees that whatever the final score on Sunday night, "FIU can't lose."