Hundreds of well-wishers gathered in the Ocean Bank Convocation Center on Thursday to witness history: the investiture of FIU's sixth president. Dr. Kenneth A. Jessell formally took the reins in a show of pomp and splendor attended by dignitaries, students, faculty, staff and alumni.
"Fanfare for the Common Man" resounded as professors, representatives from other universities and elected officials, many dressed in colorful regalia, entered in procession as part of one of the oldest traditions in academia. The event included a dramatic "passing of the Torch of Knowledge," which saw the flame exchange hands between alumni and a current student; a speech by Miami-Dade County Mayor Daniella Levine Cava; and the recitation of the oath of office by a man universally respected for his long tenure as an astute, devoted FIU administrator.
President Jessell, 67, acceded to the university's highest office on an impressive record of service as a senior vice president and the chief financial officer and, most recently, interim president. He arrived at FIU in 2009.
His no-nonsense, get-it-done approach and salt-of-the-earth nature, say those who know him best, make him perfectly suited for the critical, demanding job on which he has embarked.
"President Jessell is, without a doubt, the right person at the right moment to guide us along this journey, with dedication, optimism and true Panther pride," said FIU Board of Trustees Chairperson Dean C. Colson. "Let me tell you a little bit about Ken, whom I consider a trusted colleague, a friend and among the humblest humans I know," he continued. "Ken is a consummate professional who has achieved great success thanks to his diligence and integrity. When I say that Ken Jessell is the right person for the job, don't just take my word for it. Already FIU is shining bright under his leadership."
Colson referenced the recent surge in national rankings of FIU's graduate programs, among them the law school, one of the youngest in the country. That FIU will continue its meteoric ascent under Jessell remains assured, he added.
Lieutenant Governor Jeanette Nuñez '94, MPA '98 lauded Jessell in her role as a representative of the state of Florida. As a two-time alumna and the parent of two recent FIU graduates, however, her words held extra meaning as she extolled the man at the head of a university that has meant so much to her.
"I am thrilled that we have President Jessell to continue leading the charge," she said. "Ken is humble. He has the utmost integrity and intellect. He is homegrown, home-raised and hometown, just like FIU, and I'm confident that with his background and his passion, he'll continue to work collaboratively, but he'll also fight for FIU in the halls of Tallahassee and the halls of D.C. The future of FIU is indeed bright, and part of that is in great tribute to the leadership of Dr. Kenneth Jessell.
"We truly are blessed to have such a prominent institution in our own backyard," Nuñez said of her alma mater. "FIU is an incredible economic engine for our state. Its large portfolio of programs attracts students from across the globe in so many areas and offer opportunities for our students and graduates to make a difference, to help them pursue their careers, to support their families and to serve their community."
For his part, the president thanked those who believed in him, talked of his background as a first-generation college student and three-time graduate of the State University System of Florida (he holds a Ph.D. in finance) and shared his vision for the future. As the leader of a top-tier research institution, he emphasized the twin pillars of student success and research excellence with an understanding that the two are intertwined and will each have far-reaching impact in the state, the nation and the world.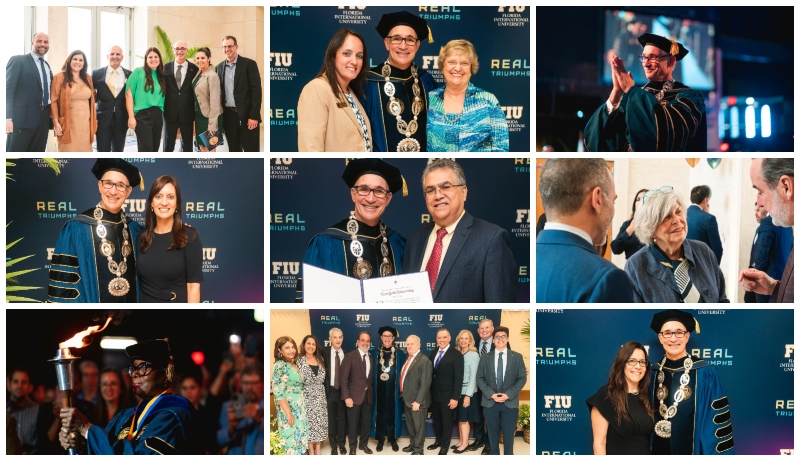 In addressing the greatest challenge facing the planet today, he reiterated an unwavering commitment to the university's powerful research program in the arena of environmental resilience, a comprehensive portfolio of collaborative investigations – for which FIU has gained international prominence – that cover the natural and built environments as well as the related toll on human health.
He spoke of FIU's recently announced alliance with Baptist Health System to expand the medical school's research and clinical footprint. And he highlighted FIU's dedication to growing the engineering-and-technology economy – exemplified by the current construction of a $150 million campus innovation complex – by educating the next-generation of researchers and industry leaders primed to direct the use of AI, nanoscience, advanced materials and more to solve physical infrastructure problems, cybersecurity concerns and medical conditions.
"It will be up to all of us to ensure FIU's continued rise among America's great universities," Jessell stated as faced the audience, "as an epicenter of excellence and impact, a place where leaders are nurtured in an environment of learning that shapes the future."
For all his looking forward, the president took time to express gratitude for those who laid the groundwork for today's accomplishments and tomorrow's breakthroughs. He acknowledged the contributions of his two immediate predecessors, both in attendance, and led the applause for special invited guest Betty Perry, who sat in the front row, the wife of FIU's late founder and first president, Charles E. Perry.
Mathematics faculty member Domitila "Tillie" Fox has attended five FIU presidential investitures and believes that only President Perry – at the time the youngest man to found a university and the most successful, as his efforts resulted, in 1972, in the then-largest first-day enrollment in history – never had an equivalent ceremony, at least not a public one. She described the investiture on Thursday as one of her favorites.
"It was full of music and happiness," she said of the event. "His speech was wonderful, and everybody loves Ken," she added. "He's always been very low key, very fair, always trying to help. He's very down to earth. He'll talk to you. He'll take his time."
Rising senior Kelvin Bencosme, a political science major, said the new president's personal story, as a son of Florida and a graduate of Florida's public university system, resonated with him.
"It was inspirational," he said. "I feel like I have someone who is going to represent me well, someone who understands FIU and our community."