Wall of Wind challenge is launching pad for high school students, hub for alumni
---
By Erik Salna
A fear of many during a hurricane: Wind damaging your home's roof.
Thanks to an FIU program, local high school students got a taste of the work engineers do to ensure safety and create rooftops that will resist hurricane-force winds. Recently, the university hosted its Wall of Wind (WOW) Mitigation Challenge, which has teams of high school students develop innovative wind mitigation concepts and solutions within guidelines set by Wall of Wind engineers.
The objective for this year's challenge was to reduce the wind-induced uplift force on a building's roof by optimizing its overall shape. Teams were tasked with designing a rooftop that would improve its aerodynamic performance.The rooftop models were tested in FIU's Wall of Wind laboratory, the largest such windstorm research facility on a university campus, which measured their performance. The best designs were able to withstand Category 1 hurricane wind speeds, over 74 miles per hour.
"I really enjoyed the challenge," said Luke Penafiel, a junior at TERRA Environmental Research Institute. "It helped us learn the basics of mechanical engineering and what the process for designing and creating a reliable structure is like." 
"The WOW Challenge is a platform to educate high school students in our community with regards to hurricane engineering and community resilience," said Arindam Gan Chowdhury, professor of civil and environmental engineering and director of the NHERI Wall of Wind Experimental Facility. "Student teams are given real-world wind engineering problems and they conceive and validate wind mitigation concepts to solve such problems."
He added, "The WOW Challenge informs students about the importance of mitigation and community resilience to prepare them as future leaders in disaster mitigation. We see these young students become motivated toward STEM careers and possibly enrolling at FIU with the dream of performing research at our national NHERI WOW experimental facility."
For Liam Huang, a junior on the team from TERRA, the experience pointed to his future. 
Huang is planning to apply to FIU and is interested in majoring in computer science or computer engineering.  His goal is to pursue a career in that field, most likely in software engineering. The WOW Challenge gave him a sneak peek into the kind of work he might one day be doing. "Learning the intricacies of writing a technical report based on the research and experiments done on prototypes was very interesting," he said. "These skills will definitely be useful later on as an engineer." 
Connection hub
The challenge also acted as an important gathering point for Panthers past, present and future. Several alumni served as judges (and many were successful in requesting their employers sponsor the event); current students volunteered to help with the event; and possible future students prepared their projects.
Alumna Lacey Soriano '20, M.S. '23, a science teacher at G. Holmes Braddock Senior High School, is proud to bring her students to participate in the WOW Challenge. 
"I have competed with my students in the challenge for the last three years, and every year I can see the exceptional change in their problem-solving skills [and] in their wind engineering interest and knowledge as well," she said. "As a teacher, we are constantly looking for real life scenarios [and] challenges to push our students to think critically and problem solve. I am proud to be an FIU alumna and am so grateful that we have great community partners like FIU to be able to have our students compete in events such as the Wall of Wind challenge."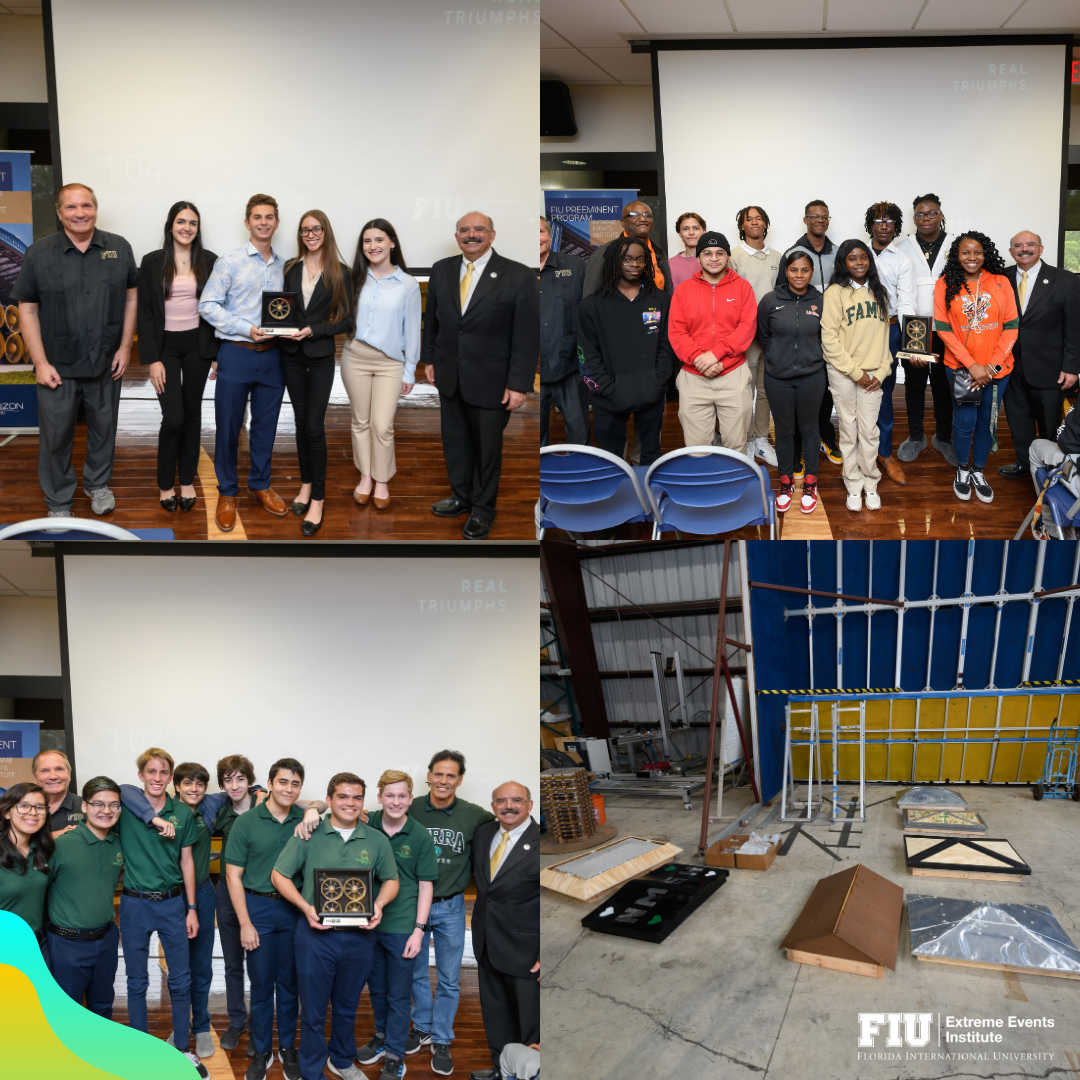 Alumna Melody A. Gonzalez '18, a project engineer at the global engineering and construction company Black & Veatch, also eagerly returned to campus to participate in the event as a judge. 
"[It was] great to be back at Florida International University," she said. "The WOW has a special place in my heart, as it was my first professional experience."
While at the university, Gonzalez was a student leader in Engineers on Wheels program, an initiative that brings FIU engineering students to South Florida K-12 schools to provide youngsters with hands-on activities and engineering experiments.
Through the program, Gonzalez helped kids and teens learn about engineering concepts related to extreme events, hurricane safety and resilience. She and a team of students visited schools within Miami-Dade and Broward Counties, presenting and performing wind test demonstrations, highlighting the importance of infrastructure planning and encouraging them to pursue careers in STEM.
"I was transported to the future. The students from Miami Dade County Public Schools were like executives and engineers. What a truly impressive experience.  The Wall of Wind Challenge created an opportunity for students to compete while finding solutions that will directly impact their community. Our future in South Florida is bright indeed."
— Carlos de la Camara, Director Science Curriculum Support Specialist, HS Department of Mathematics and Science, Miami-Dade County Public Schools
Gonzalez said the experience deeply impacted her. "I developed a profound understanding of the importance of K-12 outreach to fuel the next generation of STEM professionals." It's one of the reasons that led her to support her alma mater — and future engineers — at the WOW Challenge this year.
The NHERI Wall of Wind Experimental Facility located at FIU's College of Engineering and Computing is funded by the National Science Foundation (NSF) and part of the Natural Hazards Engineering Research Infrastructure (NHERI) network. The WOW enables researchers to better understand wind effects on civil infrastructure systems and to prevent wind hazards from becoming community disasters.
"FIU's Wall of Wind is a unique national resource in building better and stronger structures," said Dean of the College of Engineering and Computing John Volakis. "We are pleased to have high school students from around South Florida come to experience this amazing facility, and hopefully be motivated to pursue a tech career." 
The competition receives widespread support from the community every year. Among this year's event sponsors were DDA Forensics, Bliss & Nyitray, Inc., CONNECT Engineering, Black & Veatch and The Biltmore School. Alongside alumni, the panel of judges featured representatives from the Florida Division of Emergency Management, Miami-Dade County Emergency Management, FIU Emergency Management, FOX Weather Network, Broward County Public Schools and Miami-Dade County Public Schools.
The challenge is hosted by the International Hurricane Research Center (IHRC) and Extreme Events Institute (EEI) with grant support from the State of Florida Division of Emergency Management. 
Erik Salna is the associate director for education and outreach at FIU's Extreme Events Institute.
"The sponsors [of] this program are building a stronger bridge for future scientists and engineers, especially for us minority students that would likely not have had this opportunity and experience anywhere else. For this unique chance alone, we cannot thank you enough. Please continue to inspire those down the path of STEM, as your support has inspired me to pursue a STEM career after high school."
— Jeremiah Duarte, senior at Booker T. Washington Senior High School