White coat ceremony officially welcomes new medical students
The Herbert Wertheim College of Medicine initiated 121 future physicians.
---
In 2009, FIU made history when a small group of pioneering students entrusted their education to a new medical school and donned their first white coats. On Friday, the Herbert Wertheim College of Medicine celebrated its 15th white coat ceremony, initiating 121 future physicians.
Dr. Juan Cendan, dean of the College of Medicine, welcomed the Class of 2027 into the "noble profession of medicine," which he described as "part art, part science, total dedication. A balance of knowledge and human connection."
The white coat ceremony is celebrated yearly at medical schools nationwide to mark the beginning of medical students' journey to becoming physicians. Since FIU's first white coat ceremony, the College of Medicine has graduated more than 1,000 physicians. 
About the MD Class of 2027
The new class, chosen out of more than 6,200 applicants, reflects Miami's cosmopolitan character. Students represent 19 countries, and 78 percent are bilingual. Almost a fifth of the students are the first in their families to graduate from college. Most (81%) are Florida residents, and a majority of those are from South Florida (63%).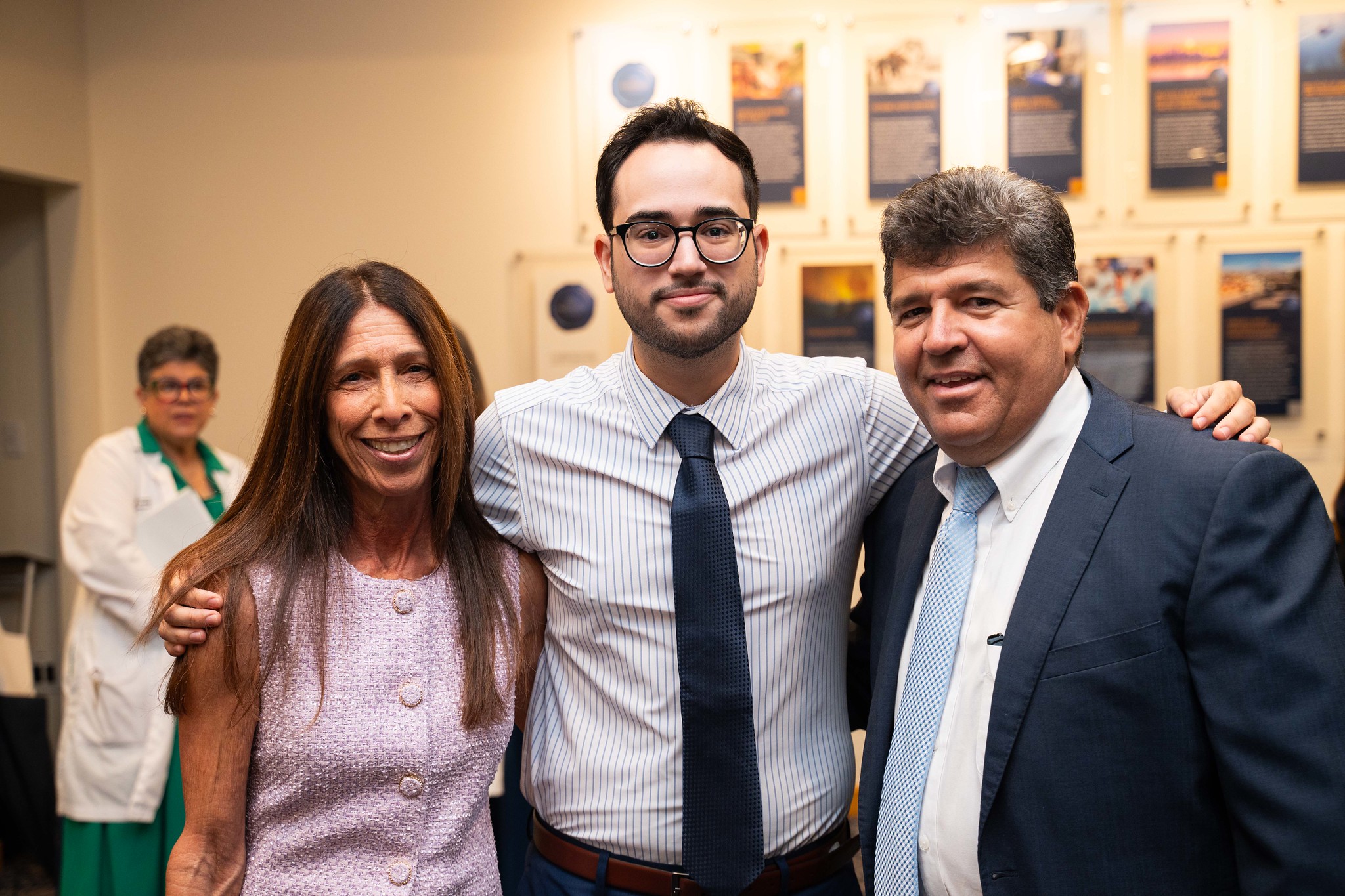 A third of the students are FIU alumni. Roman Montes de Oca is one of them. He got his undergraduate degree in biological sciences at FIU in 2021 and is starting medical school with a full tuition scholarship established by Dr. Albert and Debbie Tano. "I'm so grateful to the Tanos," he said. "This relieves a big financial burden from me and my family. I won't have to worry about how much money I'll make to repay my student loan. And I can work somewhere that may not have a very high salary, but where I can serve the community."  
View the White Coat Ceremony Photo Album
At the ceremony, FIU President Kenneth Jessell acknowledged the importance of training local doctors to provide care in South Florida. "This class is proof that at FIU, we're meeting the needs of our local students and the needs of our local workforce by attracting talent from our own backyard."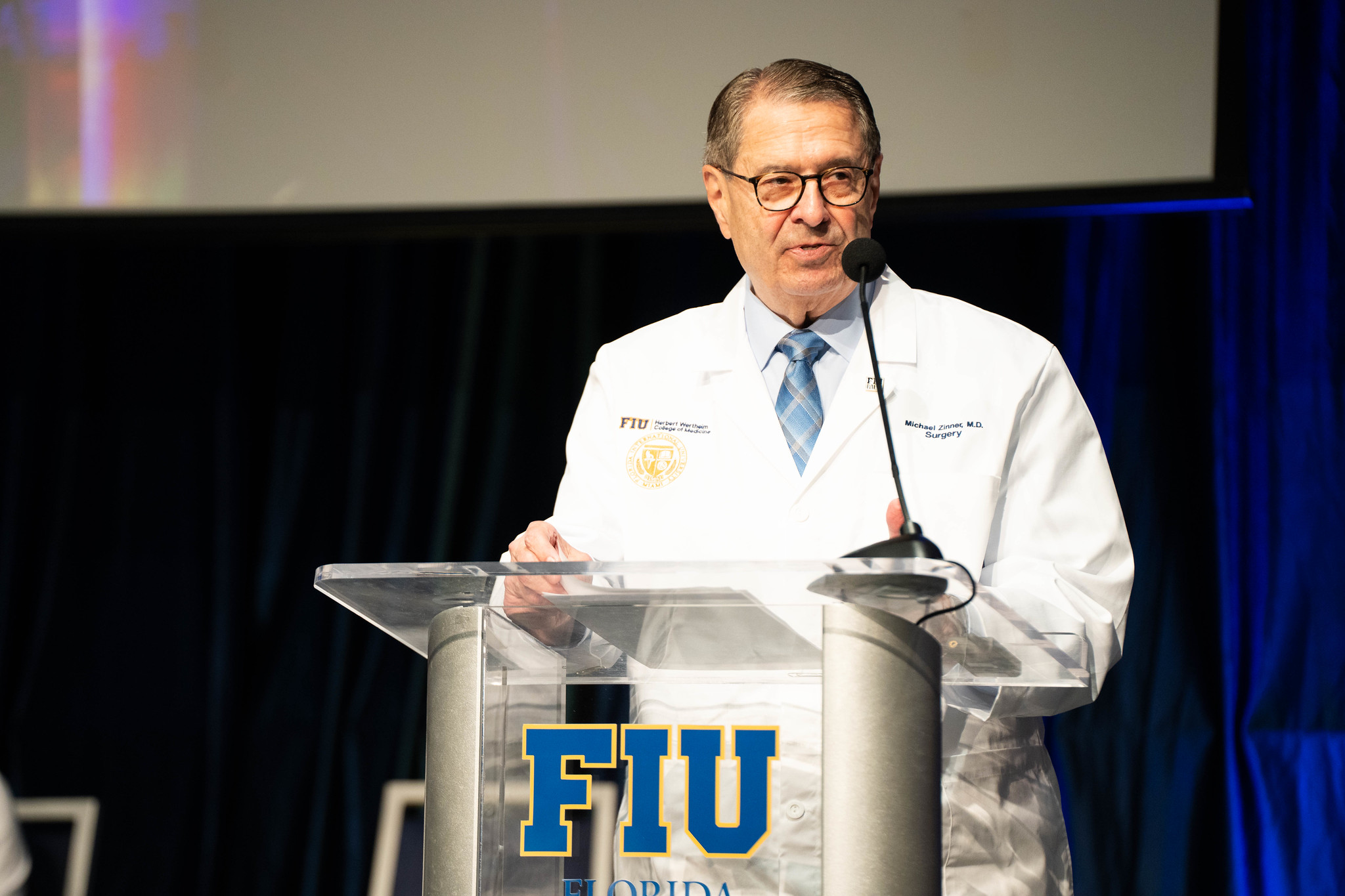 Inspiring words
Fittingly, the keynote speaker is a Miami native of what he calls "ordinary" beginnings who became a world-renowned surgeon. Dr. Michael Zinner recalled growing up less than five miles from FIU - an airport back then -graduating from a public school and living in a small trailer while attending medical school at the University of Florida. Today, Zinner is CEO and executive medical director of the Miami Cancer Institute at Baptist Health and chair of the college's department of surgery.
"No matter what your background, no matter what your upbringing, no matter what your history, you have the potential to make a difference in this world. And you will," Zinner told the budding doctors.
The Class of 2027 is starting its medical journey at a transformational time for the Wertheim College of Medicine. The medical school is talking with Baptist Health, South Florida's largest not-for-profit healthcare system, to form an alliance that will expand undergraduate and graduate medical education programs, develop clinical and teaching facilities, grow faculty-physician practices and deepen capabilities around pioneering research.